Diospyros whyteana (Hiern)
Family: Ebenaceae
Common names: bladder-nut, blackbark (Eng.); swartbas (Afr.); mohlatsane (NS); munyavhili (V); umTenatane(X); uManzimane or umKahze(Z)
SA Tree No: 611
Introduction
This enticing little tree has so many wonderful features: dark green, strikingly glossy leaves; creamy fragrant flowers; unusual smooth, dark grey, almost black bark and distinctive reddish brown, papery, balloon-like fruit pods. Altogether, it is a very attractive and pleasing garden subject.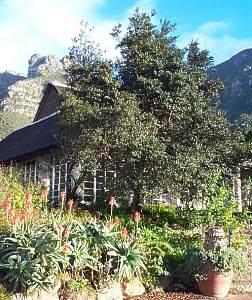 Description
Description
The bladdernut is an evergreen shrub or small multi-stemmed tree with a straight trunk that branches low down to form a dense, round to pyramidal crown. The bark on young branches is yellow-green to pinkish, covered by fine coppery hairs; but smooth and blackish grey on older stems and branches.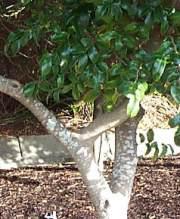 The shiny leaves, also with a fringe of ginger hairs, are leathery, dark green above and lighter below. An occasional bright red or orange leaf occurs adding to the overall attractiveness of this plant. Scented flowers, hanging from hairy stalks, appear in spring. They are bell-shaped, white to creamy-yellow, and male and female flowers occur on different trees.
The fruits, borne throughout summer, are fleshy berries that turn scarlet when ripe. They are enclosed in inflated, bladder-like capsules that dry to red and remain on the tree for many months after the fruit has fallen and so may be found on the trees at almost any time of the year.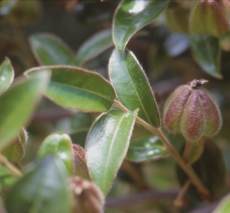 Distribution and habitat
Distribution description
This tree can be found naturally in forest, on mountain slopes and in rocky places. It has a wide distribution occurring in all the provinces in South Africa and stretching as far north as Ethiopia.
Derivation of name and historical aspects
History
The name is derived from diospyros = divine pear (Greek) and whyteana (Latin) = named after the Scottish plant explorer Alexander Whyte.
Ebenaceae is a widely distributed family worldwide. The ebony traded by ancient merchants came from trees in this family. Only two genera are native to South Africa, Euclea and Diospyros. The latter includes the jackal-berry, blue bushes, monkey plums, and bladdernuts. Diospyros kaki, the edible persimmon, also belongs to this genus, but is not indigenous to Africa.
Ecology
Ecology
The leaves are browsed by stock and game. Birds (Rameron pigeon, African green pigeon, loeries, barbets and bulbuls) open the papery fruit covering as soon as it starts to turn red to get at the ripe, fleshy berries inside.
Uses
Use
The fruits are edible but are somewhat bitter and so not very tasty. The roasted seeds have been used as a coffee substitute. The wood is variable in colour, mainly whitish with brown to purple stripes, dense, evenly grained, strong and suitable for furniture, but large logs are often not available. Smaller diameter stems are used for implement handles. Bark extracts are administered as enemas for treating menstrual pain, impotency and infertility. A leaf and root infusion can be used to treat rashes.
Growing Diospyros whyteana
Grow
The neat growth habit, glossy dark green leaves and masses of red fruit make Diospyros whyteana an excellent tree for the garden. It can be planted as an accent plant, particularly in a small garden where space is limited. As it is decorative and responds so well to clipping it is an outstanding plant to grow as a hedge.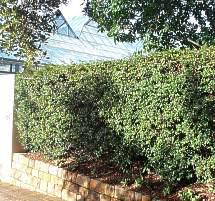 The bladdernut makes an attractive container plant for the patio and is also a good species for bonsai. It attracts birds to the garden and sweetly scented flowers add that something special to the garden.
Diospyros is relatively slow-growing and can be cultivated from seed, which should first be scratched (scarified) before sowing. Fresh seed germinates readily in four to eight weeks.
Regular applications of compost, manure or inorganic fertilisers will result in strong, healthy growth. Occasionally the plants are attacked by brown scale or sooty mould, if this occurs, treat as per usual with a recommended pesticide.
References
Coates Palgrave, K. 1977 Trees of Southern Africa. Cape Town: Struik
Coates Palgrave K.P et al. 1985. Everyone's Guide to Trees of Southern Africa. Cape Town: Struik.
Thomas,V. and Grant, R. 1998. Sappi tree spotting :Highveld and Drakensberg. Johannesburg: Jacanna.
van Wyk,B. P. 1997. Field Guide to the Trees of Southern Africa. Cape Town: Struik.
van Wyk, B. P and van Wyk, B-E. 2000. Photographic guide to the trees of Southern Africa. Pretoria: Briza.
Venter, F. and Venter, J-A. 1994. Bladder-Nut in Farmers Weekly 9 Sept 1994.p.66
Winter, J. 1984. Diospyros whyteana in Veld& Flora Vol 70(1)28
Credits
Cherise Viljoen
Kirstenbosch Botanical Garden
June 2002
Plant Attributes:
Plant Type: Tree
SA Distribution: Eastern Cape, Free State, Gauteng, KwaZulu-Natal, Limpopo, Mpumalanga, North West, Western Cape
Soil type:
Flowering season: Spring, Early Summer
PH:
Flower colour: White, Cream, Yellow
Aspect: Shade
Gardening skill: Average
Special Features:
Attracts birds
Fragrant
Hedge/screen
Edible plant
Medical plant
Useful plant
Feeds honeybees
Horticultural zones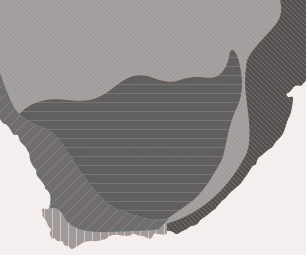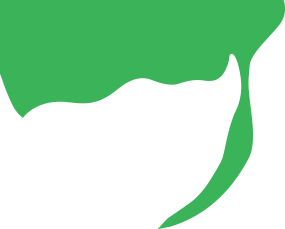 Zone 1 Coastal summer rainfall, frost free
Zone 2 Coastal winter rainfall, frost free
Zone 4 Summer rainfall Karoo and Highveld, Frost in winter
Zone 5 Bushveld summer rainfall, Light frost
Google QR Code Generator