Disa nivea H.P.Linder
Family: Orchidaceae
Common names: snow disa
Introduction
Its common name may suggest the pure white colour of the flowers, the red spots, however, carries the mystery for its survival, where it occurs in the wild!
Description
Description
Disa nivea is a semi-robust terrestrial orchid, up to 400 mm tall. Leaves are rigid, erect and overlapping. Inflorescence is loose, 10–20 flowered. Flowers are creamy white, often with dark red spots at the tips of the sepals and lip. The median sepal is hooded; the spur is speckled dark red, horizontal and curved down near the tip. Flowering is in midsummer, January and February.
Disa nivea is closely related to Disa oreophila, from which it may be distinguished by the larger flowers and longer spurs; the plants are also more robust than D. oreophila.
Conservation Status
Status
Although confined to specific habitat conditions, throughout its range of occurrence Disa nivea is assessed as Least Concern (LC) in the Red list of South African plants, possibly because of the large population sizes. Orchids are generally protected by law and ordinances of various Provinces in South Africa, according to which they may not be collected in the wild without a permit and such permits are issued only for scientific studies.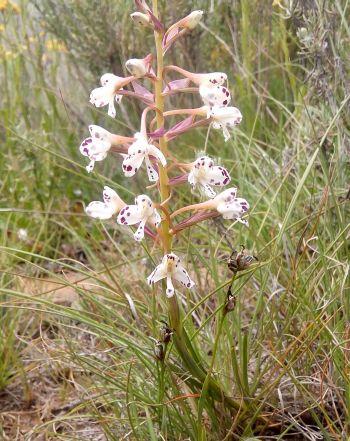 Distribution and habitat
Distribution description
Disa nivea is known to be endemic to the Eastern Mountain Region (EMR), also known as the Drakensberg Alpine Centre, and appears to be restricted to an altitude between 2 200 and 2 400 m, where it is occasional on moist grassy slopes and on rock ledges. Outlying from this region and rather lacking in population numbers, is the record from Rooiberg in the Ladismith area, where it occurs at about 1 400 m altitude. Regardless of the thorough search from the collector, only 2 specimens were located from this locality, but there is no doubt about its identity. Rainfall is almost entirely restricted to the summer months, when dense fog occurs and probably the reason for moist habitat preference.
Derivation of name and historical aspects
History
Disa is a large genus of terrestrial African orchids and was described by the Swedish botanist P.J. Bergius, in 1767. There are several theories regarding the derivation of its name, but it is most likely that the genus was originally named after Queen Disa in a famous Swedish saga. The species name nivea is Latin and means 'of the snow' or 'snow white', referring to the colour of the flowers.
Disa nivea belongs to the section stenocarpa, which is widespread in southern and south-central Africa, along the Eastern Escarpment Mountains, with most of the species in the Drakensberg, in KwaZulu-Natal and Eastern Cape. The species in this section are generally associated with rocky mountainous areas and have extensive morphological characters. There are 144 species in South Africa, Lesotho and Swaziland, 128 endemic to these regions and 88 only found in the Cape Floral Region.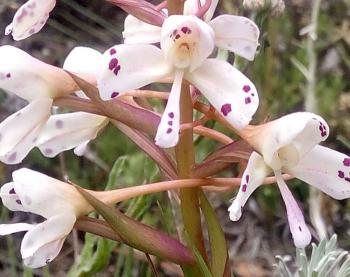 Ecology
Ecology
According to the pollination study done by Anderson et al., Disa nivea lacks nectar and because of this, it mimics a co-occurring plant, Zaluzianskya microsiphon, which rewards the pollinator, a long-proboscis fly. Thus the pollinator is deceived by the orchid, visits it and pollinates it, but gets no reward. The dark red speckled spur on the flower, which is where the pollinator usually places its tongue in search of the nectar, resembles both the general morphology and floral spectral reflectance of Zaluzianskya microsiphon. The latter species is not found in the Western Cape, where the outlying record was made, and this might explain the very small number of individuals recorded there. Most sources consulted do not even recognize the Rooiberg record in the distribution range of Disa nivea.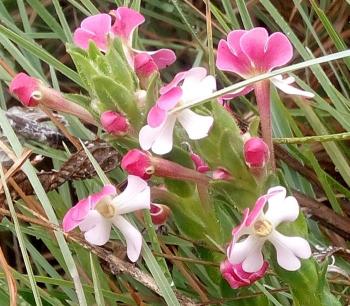 Uses
Use
No traditional or medicinal uses are recorded for this species, but certainly its stunning flowers make it a good candidate as a pot plant and give it high potential for hybridizing.
Growing Disa nivea
Grow
The orchids in the Disa uniflora group are said to be comparatively easy to grow and are by far the best known group of disas when it comes to the cultivation of orchids. Species occurring in wet conditions, such as that of Disa nivea, can be difficult to cultivate as they can get killed by rot in cultivation. Although specific information on how to grow Disa nivea could not be found, the following rules are applicable to all disas and local orchid societies can be contacted to purchase seeds from which this beautiful disa can be grown.
Disas in general require a very well-drained medium, such as washed, coarse river sand or silicon sand, with 10% peat added. It is important that the growing medium should not break down when kept moist, but should be able to remain aerated, and maintain a slightly acidic pH. Roots must never be allowed to dry out, but over watering and sogginess should be avoided at all times, as free drainage is critical. It was found that drip irrigation improved biomass accumulation, compared to ebb-and-flood irrigation. Temperature in the root zone must be kept between 5 and 15ºC in winter and 10 and 20ºC in summer. Ambient summer temperatures of above 30ºC can be tolerated, as long as the pots and roots are kept cool. Disas are prone to fungal infections, but bacterial diseases are not seen as a problem and no viruses have been identified yet.
References
Anderson, B., Johnson, S.D. & Carbutt, C. 2005. Exploitation of a specialized mutualism by a deceptive orchid. American Journal of Botany 92(8): 1342–1349.
Johnson, S. & Bytebier, B. 2015. Orchids of South Africa: a field guide. Penguin Random House, South Africa.
Kurzweil, H. 2004. Disa cardinalis H.P.Linder. (Orchidaceae). PlantZAfrica. Online. http://pza.sanbi.org/disa-cardinalis
Linder, H.P. 1981. Taxonomic studies on the Disinae. III. A revision of Disa Berg. excluding Sect. Micranthae Lindl. Contributions from the Bolus Herbarium 9: 1–370.
Pooley, E. 2003. Mountain flowers, a field guide to the flora of the Drakensberg and Lesotho. Natal Flora Publications Trust, Durban.
Credits
Vathiswa Zikishe
Custodians of Rare and Endangered Wildflowers (CREW)
June 2019
 
Plant Attributes:
Plant Type: Orchid
SA Distribution: Eastern Cape, KwaZulu-Natal
Soil type: Sandy
Flowering season: Early Summer
PH: Acid
Flower colour: Red, White, Cream
Aspect: Full Sun
Gardening skill: Challenging
Special Features:
Good potplant
Horticultural zones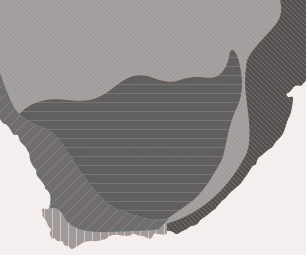 Zone 4 Summer rainfall Karoo and Highveld, Frost in winter
Google QR Code Generator