Drimia loedolffiae Van Jaarsv.
Family: Hyacinthaceae
Common names: Kei drimia (Eng.); dassiekweek (Afr.)
Introduction
A small bulb which grows in dense clusters on riverine cliffs in the Eastern Cape, South Africa. Easily grown from division and great for hanging baskets or small containers.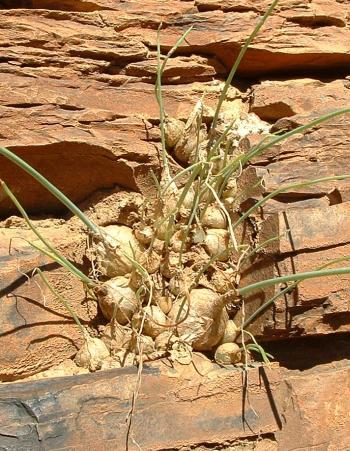 Description
Description
Drimia loedolffiae is an evergreen bulb, which divides, forming dense, rounded clusters, up to 150 mm in diameter and consisting of up to 15 bulbs. The bulbs grow above the rocky substrate, sometimes half submerged. The mature bulb is egg-shaped to rounded, 40–45 × 25–50 mm, each bulb with up to 3 or 4 leaves. The outer bulb scales are greyish white, papery, exposing purplish green inner bulb scales. The leaves are soft and flaccid, linear, rounded and tapering towards the apex, 200–260 × 1–4 mm. The leaf surface is faintly striped, bright green, withering from the tip.
The inflorescence consists of a raceme, 350–400 mm long, initially erect, becoming spreading. The flowers are about 1–3 mm apart, densely arranged at the end of the stalk. The flower stalk (scape) is rounded and 200–270 mm long, 1.5 mm in diameter. The racemes are 60–65-flowered, 120–150 mm long, with triangular bracts, 2 × 0.5 mm, each bract with a spur up to 4 × 1 mm. The flowers are small and cream-coloured and 12 mm in diameter, on flower stalks, 1.5–2.5 mm long, enlarging to 4–5 mm in fruit. The flowers are regular and the petals on one plain, linear-elliptic, about 5.0 × 1.5 mm, with dark brownish median stripe on the lower surface. Stamens 2.5 mm long; filaments linear and the anthers (male portion) 1 mm long, with yellow pollen. The tiny ovary is egg-shaped and 3-lobed, tapering, with a short style, 2 mm long. The fruiting capsule is egg-shaped, 5.0 × 2.5–4.0 mm. The seeds are flattened and sickle-shaped, 2.5–3.0 × 1.0–1.8 mm, black. Flowering time is summer, from October to February, with flowers opening late in the afternoon.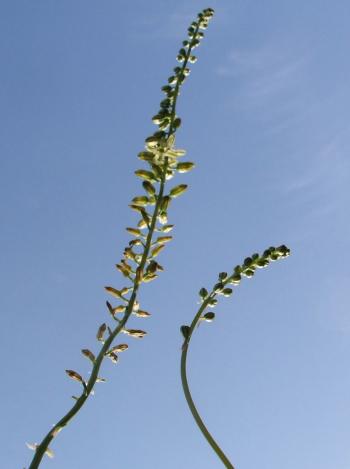 Conservation Status
Status
Drimia loedolffiae is not threatened and consequently is listed as Least Concern (LC) in the Red List of South African plants (Raimondo et al. 2009; Victor, Desmet & Van Wyk 2009).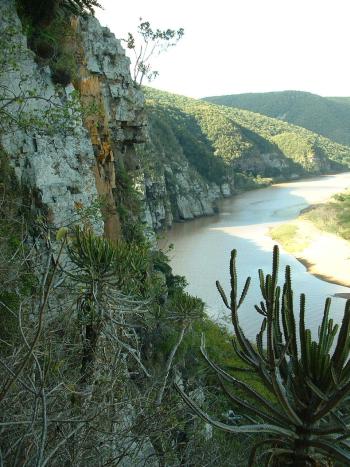 Distribution and habitat
Distribution description
Drimia loedolffiae is confined to the Kei River and its tributaries in the Eastern Cape. It grows on south- and east-facing cliffs and the plants grow firmly rooted in crevices, at an altitude of 300–500 m. The winters are cool, but frost is absent. The average daily maximum temperature is about 22ºC and the average minimum about 14ºC. Rainfall occurs mainly in summer, and to a lesser extent in winter, ranging from 600–1 250 mm per annum. The geology is mainly Beaufort shales of the Emakwezini Formation (Beaufort Group, Karoo Supergroup), but it also grows on Dolerite cliffs (intrusions).
Drimia loedolffiae grows mainly in succulent-rich, subtropical short forest, thicket, savanna and grassland vegetation. The plants sharing its habitat with Cotyledon petiolaris, Crassula cultrata, C. orbicularis and C. perforata, Gasteria excelsa, Ornithogalum juncifolium, Peperomia blanda, Plectranthus spicatus and P. strigosus, Pyrrosia africana and Curio talinoides var. aizoides (= Senecio aizoides).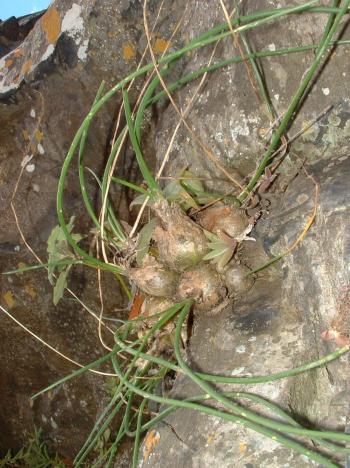 Derivation of name and historical aspects
History
Drimia loedolffiae was named by the author and Braam van Wyk in 2006, from plants gathered by the author along cliffs along the Kei River. The name honours Jeanette Loedolff, former botanical artist of SANBI, stationed at Kirstenbosch National Botanical Garden, who illustrated the plant. Jeanette was working at Kirstenbosch for a period of 20 years (1982–2002) and is still actively drawing plants for the cliff-face project.
Drimia loedolffiae is one of several Drimia species belonging to the hyacinth family (Hyacinthaceae) in southern Africa. D. Loedolffiae can be related to D. flagellaris, another cluster-forming plant, which also grows on cliffs, (coastal sandstone) in the Durban region of KwaZulu-Natal. Drimia flagellaris has somewhat similar bulbs and pendent, terete leaves. However, the bulb of the latter is angular and has white flowers on longer pedicles. The inflorescence of D. loedolffiae is not persistent after flowering as in D. flagellaris, which remains for some time on the plant. Drimia loedolffiae flowers in summer, from the end of October to January (February), whereas D. flagellaris flowers in winter and spring, from the end of July to October.
Ecology
Ecology
Little is known about the pollination of Drimia loedolffiae. The pollinators are probably insects. The succulent nature of the leaves and bulbs, ensures its long term survival on the cliffs. The bulbs are photosynthetically active, each with spreading-ascending to pendent, rounded leaves. Plants are long-lived, proliferate and divide, forming clusters. The vegetative clusters actively occupy crevices by growth, and should any bulb become dislodged and fall onto ledges below, it will root.
Uses
Use
Plants of both Drimia loedolffiae and D. flagellaris have been grown at Kirstenbosch and Babylonstoren Farm for a number of years.
Growing Drimia loedolffiae
Grow
Drimia loedolffiae is best grown in containers or hanging baskets, in climates where frost is severe. Locally it would be best suited for rockeries, grown among rocks. It would grow on embankments in dry bushveld gardens (Van Jaarsveld 2010a). Sow seed in a sandy soil mixture in spring or summer. Germination should be within 4 weeks. Transfer to individual containers when big enough to handle. The plants grow best in a sandy, slightly acid medium. Water well in summer, but keep dry in winter. The dense clusters are easily divided, planted in a well-drained, sandy mixture. Plants will react to a mild organic fertilizer during the summer months, enhancing its growth performance.
References
Gunn, M. & Codd, L.E. 1980. Botanical exploration of southern Africa. Balkema, Cape town.
Mucina, L. & Rutherford, M.C. (eds) 2006. The vegetation of South Africa, Lesotho and Swaziland. Strelitzia 19. South African National Biodiversity Institute, Pretoria.
Van Jaarsveld, E.J. 2010. Water wise gardening. Struik, Cape Town.
Van Jaarsveld, E.J. & Van Wyk, A.E. 2006. Drimia loedolffiae, a new succulent cliff-dwelling species from the Eastern Cape, South Africa. Aloe 43,2 & 3: 49–51.
Credits
E.J. van Jaarsveld
Kirstenbosch National Botanical Garden (Retired)
Babylonstoren Farm
Extraordinary senior lecturer and researcher, Department of Biodiversity and Conservation, University of the W. Cape.
August 2016
Plant Attributes:
Plant Type: Bulb, Succulent
SA Distribution: Eastern Cape
Soil type: Sandy, Loam
Flowering season: Spring, Early Summer
PH: Acid, Neutral
Flower colour: Cream
Aspect: Morning Sun (Semi Shade)
Gardening skill: Easy
Special Features:
Drought resistant
Good potplant
Horticultural zones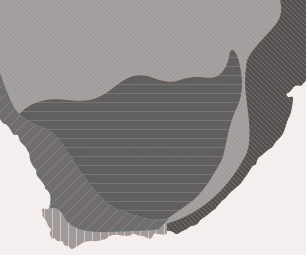 Zone 1 Coastal summer rainfall, frost free
Google QR Code Generator