Drosanthemum hallii L.Bolus
Family: Aizoaceae
Common names: None recorded
Introduction
Gardeners will welcome the bright yellow, showy flowers of Drosanthemum hallii . This shrubby perennial gives a lustrous display of flowers in early spring, and will attract many insects.
Description
Description
Drosanthemum hallii is a low-growing succulent shrub with an oval shape and a fibrous root system that allows it to take up water quickly. The branches can grow up to 270 mm long with 10-45 mm long internodes. Papillae occur on the reddish-brown bark on the younger stems as white distant dots in the dry state, which later becomes hairy or scaly as the plant grows older.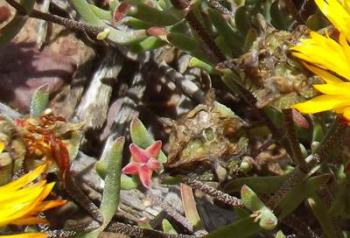 The attractive, 10-26 mm long, oblong, roundish leaves are also covered with glistening papillae. D. hallii has bright yellow solitary flowers with outer petals 18 mm long and inner petals 8 mm long. In the centre of the flower are numerous filamentous (thread-like) white or pink, as well as a few true black staminodes (sterile stamens) 0.5-1.5 mm broad and 2 mm long; the stamens are arranged in a cone; and the glands of the nectary are inconspicuous.
The capsules of this species are 4-6-locular with valve wings and expanding keels; the tubercle is very small or absent. The light brown seeds are fairly small and rough, with ribs and tubercles.
It is fast-growing and flowers from September to October.
Conservation Status
Status
Drosanthemum hallii is classified as Endangered according to C. Klak and D. Raimondo (Red Data list). Major threats include vineyard expansion and invasive alien species. The Karoo Desert National Botanical Garden, in association with the Millennium Seed Bank Project, is undertaking key conservation strategies through seed banking and propagation to conserve this species.
Distribution and habitat
Distribution description
Drosanthemum hallii is known from the Worcester-Breede River valley in the Western Cape and prefers the temperatures of the winter-rainfall region. It grows usually on north-facing slopes on shale-sandstone transition soils.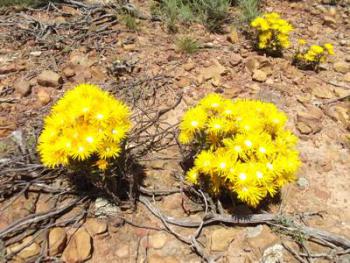 Derivation of name and historical aspects
History
Drosanthemum comes from the Greek word drosos which means dew, and anthemon which means flower, both of which refer to the glittering papillae on the leaves and young stems. The specific name honours Harry Hall, famous plant collector and for two decades curator of the succulent collection at Kirstenbosch. This genus is also referred to as the dew flowers.
Ecology
Ecology
Drosanthemum hallii flowers during the warm period of the day thus attracting many insects as pollinators, particularly bees which are specifically attracted to the showy yellow flowers.
This species has very fleshy leaves that store water and food during the dry and hot dormant period of the year.
Mature seeds are dispersed in a unique way: The capsules are adapted to dry conditions and only open when conditions are favourable. They are known as hygrochastic capsules which open when it rains; the rain droplets splash the seeds out of the capsule onto the ground, guaranteeing a higher rate of germination.
Uses
Use
There are no medicinal uses of this plant and few are seen in gardens as it is not well known. This species, however, would make a great border along pathways and could also be used in pots, rockeries and any water-wise garden.
Growing Drosanthemum hallii
Grow
Drosanthemum hallii can easily be grown from seed and cuttings.
Harvest seeds in late summer (January to February) and sow in autumn (March to April). Use a sterilized shallow seedling tray and fill it up with a mixture of 60% coarse river sand and 40% sieved compost. Sow seeds on top of the mix, ensuring that they are spread evenly. Cover with a fine layer of sand, and then water, using a mist sprayer. Seedlings will germinate within 2 weeks.
Propagation by cuttings is also easy. Take cuttings when the plant is in growth (June to August). Use only soft tip cuttings and insert them into coarse river sand. Always use sterilized equipment and growing mediums. A rooting hormone can also be applied to the end of the cutting for optimum results.
Water seeds and cuttings every morning and keep moist and in a humid area until transplanting. Transplanted seedlings and cuttings should be placed in a medium with a high compost ratio and in a sunny area.
Drosanthemum hallii does well in groups and is also famous as a plant for water-wise gardens, as it is drought-tolerant. Use it as a focal point during spring, as the colour will amaze any visitor.
There are several other drosanthemums suited to cultivation such as D.bicolor, D.micans, D speciosum, D.floribundum.
References
Herre, H. 1971. The genera of the Mesembryanthemaceae . Tafelberg, Cape Town.
Jacobsen, H. 1970. Lexicon of succulent plants . Blandford Press, London.
Schwantes, G. 1957. Flowering stones and mid-day flowers . Ernest Benn, London.
Credits
Ricardo Riddles
Karoo Desert National Botanical Garden
April 2013
Plant Attributes:
Plant Type: Succulent
SA Distribution: Western Cape
Soil type: Sandy, Clay
Flowering season: Spring
PH: Acid, Neutral
Flower colour: Yellow
Aspect: Full Sun
Gardening skill: Easy
Special Features:
Drought resistant
Good potplant
Feeds honeybees
Horticultural zones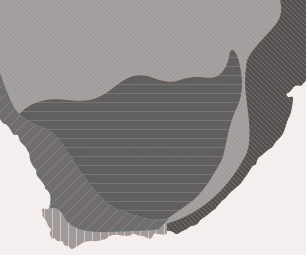 Zone 2 Coastal winter rainfall, frost free
Zone 3 Winter rainfall Karoo, light frost
Google QR Code Generator