Drosanthemum micans (L.) Schwantes
Family: Aizoaceae
Common names: Robertson vygie
Introduction
Drosanthemum micans is a colourful spring flowering vygie (Afr.) that is a good choice for arid gardens across the country.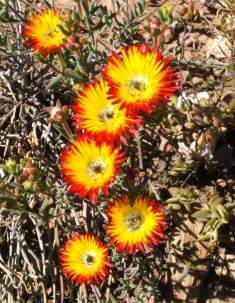 Description
Description
Drosanthemum micans is a low-growing, dense, compact, perennial shrublet that can attain a height of 0.6 m under ideal conditions. It has a fibrous root system and is shallow rooted. Like all drosanthemums, it is characterized by the dewdrop-like beads known as papillae found on the branches and flower stems. The leaves are opposite and nearly always equal. The flowers have red outer petals with chrome yellow inner petals. Flowers are borne in spring during the month of September.
The seeds are very small, medium brown and round in shape. The seeds are dispersed by means of rainwater that open the valves located in the seed capsule. This splashing action disperses the seeds some distance away from the parent plant. In some cases rainwater will wash the seeds under other karroid plants in the area. As with many succulents, life begins under the protection of a nurse plant. A nurse plant is a shrub from where the young plant germinates and grows, protected by its leaves and branches from the sun's strong rays. With time they eventually outgrow their nurse.
Conservation Status
Status
Drosanthemum micans has very recently been classified as Endangered mainly due to habitat destruction. This new classification will appear in the new Red Data Book scheduled for publication in early 2007. 
Distribution and habitat
Distribution description
There are over 110 species of Drosanthemum found in the arid areas of South Africa and neighbouring Namibia. Drosanthemum micans has a relatively small distribution in the winter rainfall area of South Africa. It occurs mainly in the karroid areas in the Worcester and Robertson lowlands. It is found growing in decomposed Malmesbury shale. It is used to extreme heat (above 40°C), but it can survive in relatively low temperatures (-3°C).
Derivation of name and historical aspects
History
The word Drosanthemum originates from the Greek word dros, meaning dew-like (hence the shining papillae) and anthemum means flower. If one looks at the flowers in the midday sun they do almost glisten. The specific epiphet micans also refers to the shiny, sparkling appearance.
This plant has only been used in ornamental horticulture relatively recently. It is unlikely that Drosanthemum micans has been planted very widely in cultivated gardens in South Africa. In fact, most drosanthemums are a relatively new introduction to ornamental horticulture.
Ecology
Ecology
Pollination is done mainly by bees and smaller bumble bees. It is possible that some evening moths could contribute to the pollination of this species.
Uses
Use
None are really known. It is possibly planted in a limited number of gardens mainly in the Western Cape. It is a hardy survivor in a water-wise garden!
Growing Drosanthemum micans
Grow
This is done primarily from seed. It is however, possible to grow this plant by means of cuttings. Cuttings should be harvested in October or early March. Cuttings are taken from young, healthy branches using a very sharp, clean knife. The severed ends should be dusted with flowers of sulphur to ensure no fungal spores rot the plant at a later stage. Root in sharp, clean river sand. Misting of the cuttings is essential.
Seeds are produced in late October of each year (southern hemisphere). The seed capsules must be dry and starting to split open before seed can be collected. The seed capsules tend to go a pale brown when they are ready for harvesting.
Use sandy loam with a small amount of very well-rotted, sieved compost. Place a top layer of sieved, coarse river sand on top of the growing medium. The seeds should be sown on top of this medium. The fine seeds will fall between the coarse particles of sand where they will become lodged and eventually germinate. Do not crowd too many seeds into a seed pan - this can lead to damping off when they start germinating. The sowing medium must be well drained. Do not over-water; too much water at a time when the seeds are germinating will ROT them. Mist, every day under warm conditions, 28°C or above. During the winter months only mist every three to four days depending on the weather. Move to a sunny location for the initial germination, especially during the cold winter months.
Sow the seeds in April or May (southern hemisphere). By April of the following year the plants should be strong enough to be planted in a small plastic pot. Use a 9 cm pot, and a well-drained potting medium.
Once established, Drosanthemum micans will grow quickly. These plants respond well to organic foodstuffs.
References
Germishuizen, G., Meyer, N.L., Steenkamp, Y. & Keith, M. (eds) 2006. A Checklist of South African plants. Southern African Botanical Diversity Network Report No. 41. SABONET, Pretoria.
Goldblatt, P. & Manning, J. 2000. Cape plants. A conspectus of the Cape flora of South Africa. Strelitzia 9. National Botanical Institute, Cape Town.
Herre, H. 1971. Genera of the Mesembryanthemaceae. Tafelberg, Cape Town.
Credits
Ian Oliver
Karoo Desert National Botanical Gardens
September, 2006
Plant Attributes:
Plant Type: Succulent
SA Distribution: Western Cape
Soil type:
Flowering season: Spring
PH:
Flower colour: Red, Yellow
Aspect: Full Sun
Gardening skill: Easy
Special Features:
Drought resistant
Horticultural zones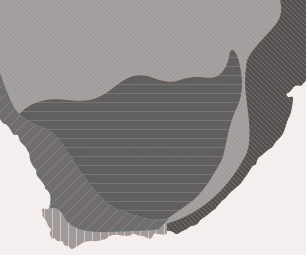 Zone 1 Coastal summer rainfall, frost free
Zone 2 Coastal winter rainfall, frost free
Zone 3 Winter rainfall Karoo, light frost
Google QR Code Generator