Englerophytum magalismontanum
Englerophytum magalismontanum (Sond.) T.D.Penn.
Family: Sapotaceae
Common names: Transvaal milkplum (Eng.); stamvrug (Afr.), motlhatswa (Tswana); mohlatswa (Northern Sotho); munombelo (Venda); amanumbela (Zulu); umnumbela (Swati) Old name: Bequaertiodendron magalismontanum
SA Tree No: 581
Introduction
This species is better known by its Afrikaans name, stamvrug and is one of South Africa's more popular veld fruits, a thirst quencher to be enjoyed whilst walking in the mountains.This is one of the families that contains a milky latex within the plants.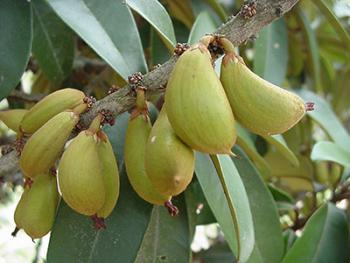 Description
Description
This is a small to medium size evergreen tree that varies in height from 3-15 m, depending on the habitat it grows in. The taller trees can be found in evergreen forests. It can be single or multistemmed, and may branch at ground level. The bark is greyish, smooth and slightly scaly. The young twigs or branchlets are densely covered with russet-brown hairs.
The leaves are single, alternatively arranged, and often crowded at the end of branchlets. The young leaves are golden brown and can be found at the tips of the branchlets. The older leaves are glossy dark to blue-green above and covered with a whitish, transparent, waxy bloom that rubs off when touched. From afar it gives the tree a silvery look. The under surface is densely covered with silky golden brown to sometimes silvery hairs. The midrib is very prominent. The margin of the leaf is entire and tightly rolled under. The shape of the leaf is narrowly elliptic to oblanceolate with a rounded apex that sometimes can be notched. The base of the leaf is narrowly tapering, continuing into the rather stout petiole covered with russet-brown hairs.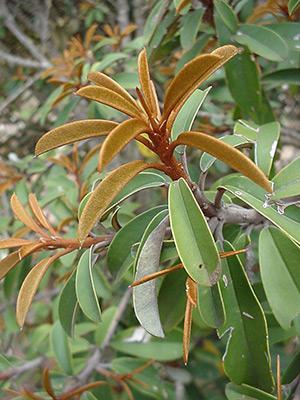 The flowers are small, rather strongly unpleasantly scented, star-shaped and brownish pink in colour. They are clustered on new and old wood, a few to many flowers per cluster. These trees flower from June to December and sometimes flowers and fruits can be found on the plant at the same time.
The fruit is a berry, ellipsoid to sometimes round, fleshy and contains sticky, milky latex. The fruit is densely crowded on the stems, branches and branchlets, hence the Afrikaans common name stamvrug referring to the fruit forming on the stem. The fruit is bright red when ripe and ripens from December to February. The edible fruit according to Van Wyk et al. (2000) has a Vitamin C content of 40mg per 100g.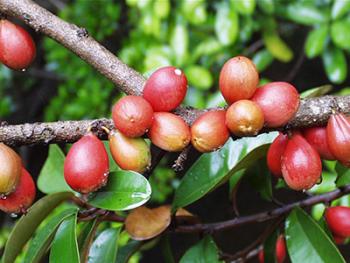 Distribution and habitat
Distribution description
This attractive plant is characteristic of rocky outcrops and quartzite ridges, and also occurs in riverine forest fringes in the following provinces of South Africa: Gauteng, North West, Mpumalanga, Limpopo and the northern part of KwaZulu-Natal.
Derivation of name and historical aspects
History
Magalismontanum means from the Magaliesberg.
Ecology
Ecology
The larvae of the butterfly Pseudacrea boisduvalii trimeni use the plant as a food source. Animals like baboons and monkeys eat the fruit while bushpigs readily eat the roots.
Uses
Use
The fruit is used for making syrup, jelly, jam, wine, vinegar and are sometimes distilled to produce a strong alcoholic drink known as mampoer according to Van Wyk et al. Recipes are available in Betsie Rood's (1994) book for jam and vinegar as indicated in the reference list. It really is something to try.
This plant has medicinal value as well. It is said that powdered roots can be rubbed into incisions made in the skin over affected areas to treat rheumatism, and a decoction is used to treat abdominal pain. It is also said that an infusion of finely powdered roots and fruits has been used to cure epilepsy.
Growing Englerophytum magalismontanum
Grow
This attractive tree is a hardy, frost and drought resistant plant although rarely cultivated in the trade. It does very well on quartzite outcrops and in rocky areas. It can be propagated from fresh seed or cuttings.
According to Steel & Behr (1988) the best sowing time for seed is January while the seed is still fresh. The germination period is about 37 days and plants are big enough to transplant two months later.
References
Coates Palgrave, M. 2002. Keith Coates Palgrave Trees of southern Africa, edn 3. Struik, Cape Town.
Fox, F.W. & Norwood Young, M.E. 1982. Food from the veld. Delta Books, Johannesburg.
Palmer, E. & Pitman, N. 1972. Trees of southern Africa, vol. 3. Balkema, Cape Town.
Rood, B. 1994. Kos uit die veldkombuis. Tafelberg, Cape Town.
Steel, B. & Behr, K. 1988. Cultivating Bequaertiodendron magalismontanum and Landolfia capensis from seed. Veld & Flora 74: 4.
Thomas, V. & Grant, R. 1998. SAPPI tree spotting. Highveld and the Drakensberg. 1998. Jacana, Johannesburg.
Van Wyk, B. & Van Wyk, P. 1997. Field guide to trees of southern Africa. Struik, Cape Town.
Van Wyk, B.,Van Wyk, P. & Van Wyk, B-E. 2000. Photographic guide to the trees of southern Africa. Briza Publications, Pretoria.
Van Wyk, P. 1984. Veldgids tot die bome van die Nasionale Krugerwildtuin. Struik, Cape Town. Venter, F. & Venter, J-A. 1996. Making the most of indigenous trees. Briza Publications, Pretoria. Karin Behr Pretoria National Botanical Garden February 2004
Credits
Karin Behr
Pretoria National Botanical Garden
February 2004
Plant Attributes:
Plant Type: Tree
SA Distribution: Gauteng, KwaZulu-Natal, Limpopo, Mpumalanga, North West
Soil type: Sandy, Clay, Loam
Flowering season: Late Summer, Autumn, Winter
PH: Acid, Neutral
Flower colour: Brown
Aspect: Full Sun, Morning Sun (Semi Shade), Afternoon Sun (Semi Shade)
Gardening skill: Challenging
Special Features:
Attracts birds
Drought resistant
Feature plant
Edible plant
Medical plant
Horticultural zones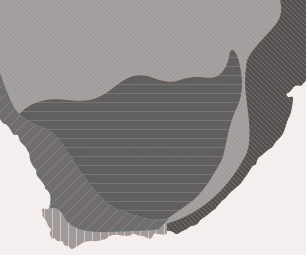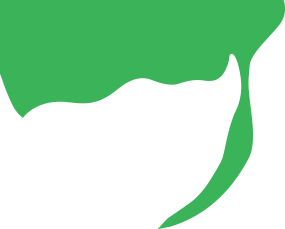 Zone 4 Summer rainfall Karoo and Highveld, Frost in winter
Zone 5 Bushveld summer rainfall, Light frost
Google QR Code Generator