Euchaetis albertiniana I.Williams
Family: Rutaceae
Common names: Albertinia bearded buchu, Albertinia mothflower
Introduction
An amazingly hardy, small shrub from the limestone fynbos. It's a diehard and can last for years! This endangered shrublet is a useful filler for the fynbos garden and a wonderful specimen for the rockery and pots, needing minimal irrigation once established.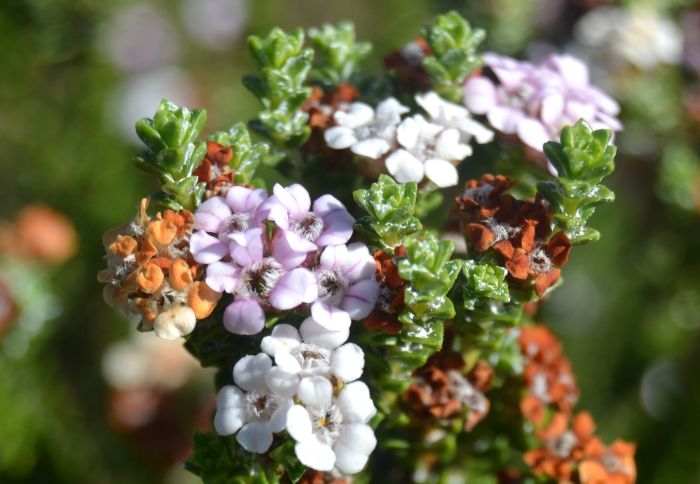 Description
Description
Euchaetis albertiniana is a dense, aromatic shrub of 0.5 × 1 m, single-stemmed at the base. The leaves are opposite, ovate, sessile and ascending to recurved. A resinous exudate is produced where the leaves are attached to the stem. 
Two or more flowers can be found on a single branch tip. The white to light pink, transversely hairy petals obscure the reproductive parts of the flower. Flowering is sporadic throughout the year, with a peak in winter to spring, from July to August.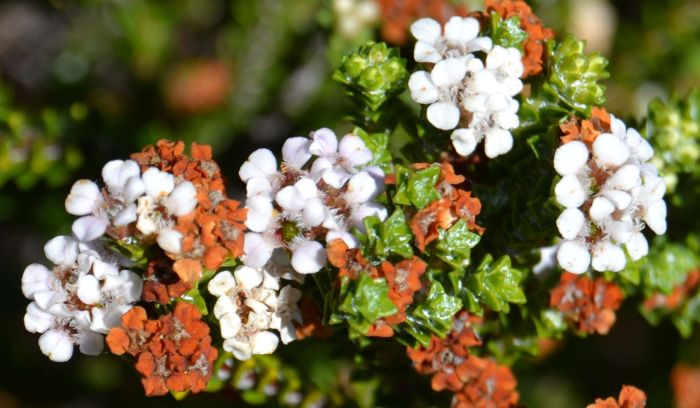 Distinctive horns can be observed on the fruits. As with all other species of buchu, Euchaetis also has a characteristic fruit which consists of 1–5 free carpels. These carpels completely separate during maturity as each one splits down an inward-facing line. Hygroscopic properties of the inner layer of the wall enable the powerful release of a large single seed. 
Conservation Status
Status
According to the Red List of South African plants website, this species is assessed as Endangered (EN). Euchaetis albertiniana has seen its population shrink roughly by half in the past 40 to 60 years because of a 55% decrease in habitat. Urban expansion and farming are the major factors driving the significant loss in habitat. In addition, invasive alien plants and habitat degradation, caused by vegetation management driven by an increasing demand for thatch from the area, place extra strain on populations in the wild.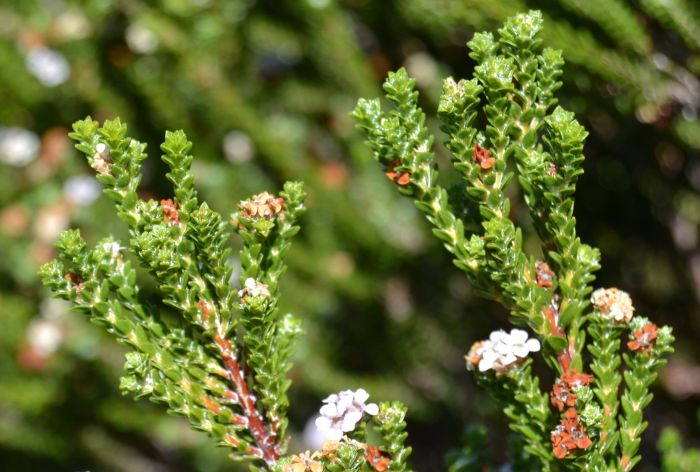 Distribution and habitat
Distribution description
Euchaetis albertiniana is found on deep red sands over limestone in fynbos on the Agulhas Plain, but most frequently around Albertinia in Albertinia Sand Fynbos, Canca Limestone Fynbos and Groot Brak Dune Strandveld. 
Derivation of name and historical aspects
History
The generic name Euchaetis, translated from Greek, literally means 'beautifully tufted with hairs', pointing to the bearded inner margin of the petals. The specific epithet albertiniana is in reference to the Western Cape village of Albertinia, along the N2- highway, where this species grows wild. 
There are 23 species in the genus Euchaetis of which almost half have a threatened status. Antother species covered in this series is Euchaetis meridionalis, the Agulhas Bearded Buchu.
Ecology
Ecology
As with most other buchus, the flowering period sees this species become abuzz with bees.
Uses
Use
No medicinal or cultural uses have been recorded to date. 
This species is an incredibly tough shrublet which also performs well in well-drained soil in coastal sandstone fynbos as a filler plants. 
Growing Euchaetis albertiniana
Grow
There is at present no record of this species being grown from seed. Given its threatened status and that of its Biome, it is important to investigate and determine how to propagate it successfully from seed. As a fynbos-species, it will in all likelihood favourably respond to some smoke-treatment prior to sowing. Follow the same guidelines given for other buchu-species. 
At Kirstenbosch National Botanical Garden this species is successfully propagated from cuttings. Make cuttings by using of 25–55 mm from the current year's growth, remove roughly a third of the leaves and make a cut below the node. Dip the cuttings in a rooting hormone and place in trays using a medium consisting of coarse river sand or equal parts of bark and vermiculite. The cuttings are then placed in a mist-unit. Once rooted, pot the cuttings into a well-drained fynbos soil mix and move them to a lightly shaded area for 2–4 weeks, to harden off. After this, move the plants into full sun. Prune the young plant regularly to ensure a bushy growth habit. Regularly feed the young plants with some balanced nutrient products. After 7–8 months, in the full sun, they should be ready for planting. 
Euchaetis albertiniana performs optimally in well-drained, sandy soil in full sun where it is best planted amongst other fynbos species. Planting should ideally be done in the rainy season between autumn and winter. This allows a plant to have a better chance of establishing itself in the garden before having to cope with the harsh, dry conditions of summer. Maintain planting-intervals of 200–300 mm to provide ample space to encourage growth. Dense plantings are preferred by buchus, since this method assists with retaining soil moisture. Provide a good thorough watering in autumn and winter. In summer irrigation should just be moderate; however, plants must never be allowed to dry out completely. Mulching also helps in keeping the roots and soil cool during summer.
No pests are known. Several buchus species are known to succumb to the fungus Phytophthora cinnamomi during the warm summer months. However, this bearded buchu has not been observed to be prone to this particular fungal disease. 
Plant this buchu with other fynbos plants such as: Phylica ericoides, Pelargonium capitatum, P. cucullatum and P. betulinum, Protea compacta, Osteospermum moniliferum, Erica plukenetii and Erica sessiliflora, Thamnochortus insignis, Restio dispar, Lobelia valida, Syncarpha argyropsis, Salvia aurea, Oedera imbricata, Felicia echinata, Chrysocoma coma-aurea and Cotyledon orbiculata. Some of the buchu species that make good companion plants may include: Agathosma serpyllacea, A. gonaquensis, A. capensis, A. collina, A. imbricata, A. ciliaris and A. apiculata, Coleonema album and C. pulchellum, Adenandra gummifera, Acmadenia mundiana, A. heterophylla and A. obtusata.
References
Gould, M. 1992. The buchus: cultivation and propagation. National Botanical Institute, Cape Town.
Manning, J. & Goldblatt, P. 2012. Plants of the Greater Cape Floristic Region 1: the Core Cape Flora. Strelitzia 29. South African National Biodiversity Institute, Pretoria.
Oliver, R. 2016 Euchaetis meridionalis I.Williams (Rutaceae). PlantZAfrica. Online. http://pza.sanbi.org/euchaetis-meridionalis
Powrie, F. 1998. Grow South African Plants. A gardener's companion to indigenous plants. National Botanical Institute, Cape Town.
Stearn, W. 2002. Stearn's dictionary of plant names for gardeners. Timber Press, Portland, Oregon.
Trinder-Smith, T.H. 2003. The Levyns Guide to the plant genera of the south western Cape. Bolus Herbarium, UCT, Red Roof Design CC, Cape Town
Vlok, J.H. & Raimondo, D. 2008. Euchaetis albertiniana I.Williams. National Assessment: Red List of South African plants version 2017.1. Accessed on 2020/04/30.
Credits
Roger Oliver
Kirstenbosch National Botanical Garden
May 2020
Plant Attributes:
Plant Type: Shrub
SA Distribution: Western Cape
Soil type: Sandy, Loam
Flowering season: Spring, Winter, Sporadic/All year
PH: Acid, Alkaline, Neutral
Flower colour: White, Pink
Aspect: Full Sun
Gardening skill: Easy
Special Features:
Drought resistant
Fragrant
Feeds honeybees
Horticultural zones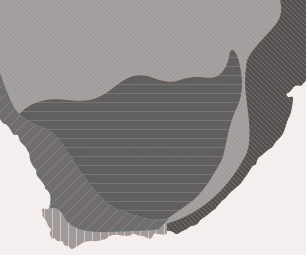 Zone 1 Coastal summer rainfall, frost free
Zone 2 Coastal winter rainfall, frost free
Google QR Code Generator