Eucomis autumnalis (Mill.) Chitt
Family: Hyacinthaceae
Common names: pineapple flower, pineapple lily (E), wildepynappel, krulkoppie (A), ubuhlungu becanti, isithithibala esimathunzi (X), umathunga, ukhokho, umakhandakantsele (Z)
Introduction
Handsome, striking, unique, peculiar, these are the kind of words that are used to describe this unusual plant.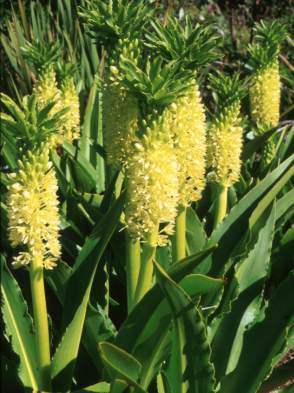 Description
Description
Eucomis autumnalis is a deciduous, summer growing bulb. The bulbs are large (8-10cm diameter), ovoid in shape, and give rise to a rosette of large, broad, soft-textured, fleshy, wavy-edged leaves, about 12-35 cm long x 6-7.5 cm wide. The inflorescence is a dense cylindrical raceme on a stout stalk, crowded with up to ±125 starry yellowish-green flowers with a tuft of leaf-like bracts at the tip. The inflorescence pushes the overall height of the plant up to ±50-60 cm.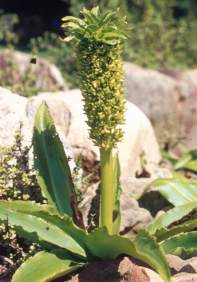 Flowers are produced in mid to late summer (December to February). After pollination, whilst the seeds are developing inside the swelling ovaries, the flowers turn green and the inflorescence remains decorative into autumn. The fruit is a trilocular capsule containing shiny black rounded seeds.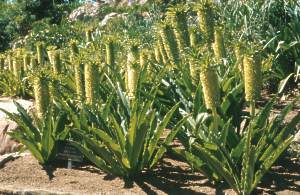 Distribution and habitat
Distribution description
Eucomis autumnalis is divided into three subspecies, most clearly distinguishable by the structure of the peduncle (stalk of the inflorescence) which is either club-shaped or cylindrical: Eucomis autumnalis subsp. autumnalis, (cylindrical) syn. Fritillaria autumnalis, Eucomis undulata, which occurs on mountain slopes, in open grassland and forest margins in the Eastern Cape, Limpopo Province, Zimbabwe and Malawi; Eucomis autumnalis subsp. clavata, (club-shaped or clavate) syn. Eucomis robusta, E. clavata, which grows in open grassland and marshes in KwaZulu-Natal, Lesotho, eastern Free State, Mpumalanga, Gauteng, Limpopo Province, North West Province and Botswana; and Eucomis autumnalis subsp. amaryllidifolia, (linear leaves, club-shaped peduncle) syn. Eucomis amaryllidifolia, which grows between rocks on mountain slopes of the western Free State and Eastern Cape.
Derivation of name and historical aspects
History
The name Eucomis is derived from the Greek eukomos meaning beautifully haired, from the Greek eu- meaning well and kome hair of the head, and refers to the tuft of leaf-like bracts that crown the inflorescence. This same feature also gave it its English and Afrikaans common names. The specific name autumnalis refers to its flowering and fruiting time. It has acquired a number of synonyms over the years, where variants were defined as separate species but these are now regarded as part of the same species, or where the same plant has been given different names by different botanists.
Eucomis is a member of the Hyacinthaceae (hyacinth family), formerly part of the Liliaceae (lily family), a family of perennial bulbous herbs consisting of ±46 genera and ±900 species found in Africa, Eurasia and North America but most richly represented in southern Africa and in the Mediterranean region to south west Asia. Related species known to South African gardeners include Lachenalia mathewsii, Veltheimia bracteata and Scilla natalensis while species more familiar to northern hemisphere gardeners include the hyacinth, Hyacinthus orientalis and the bluebell, Hyacinthoides non-scripta. The genus Eucomis consists of approximately eleven species that occur in southern Africa, Zimbabwe and Malawi. There are approximately ten in southern Africa, that occur in all eight provinces of South Africa, and in Botswana, Lesotho and Swaziland, where they are found widespread in grassland, forest, swamps and river banks but are absent from the drier areas.
Uses
Use
Although the bulb is toxic, Eucomis autumnalis is used medicinally in South Africa. Decoctions of the bulb in water or milk are usually administered as enemas for the treatment of low backache, to assist in post-operative recovery, and to aid in healing fractures. Decoctions are also used for a variety of ailments, including urinary diseases, stomach ache, fevers, colic, flatulence, hangovers and syphilis, and to facilitate childbirth. The subspecies clavata is also used for coughs and respiratory ailments, biliousness, lumbago, blood disorders, venereal diseases and to prevent premature childbirth. Several homoisoflavones are found in Eucomis autumnalis, and flavonoids are known for their anti-inflammatory and antispasmodic action. It also contains some steroidal triterpenoids and they are known to be beneficial in wound therapy.
Growing Eucomis autumnalis
Grow
Eucomis autumnalis is a magnificent garden plant, well suited to pockets in the rockery, it can also be used in groups in the herbaceous border, in a wall border in cold climates, planted en masse, and in large containers. The flowers look good for many weeks in the garden, and last for a week or two in the vase. The fruiting inflorescence is also decorative and can be kept for up to a month in the vase.
Eucomis autumnalis is not difficult to grow and once established does not require much attention. Bulbs should be planted with their tops at or just below ground level, in rich soil, in full sun or partial sale. They will tolerate poor soil, but perform much better in fertile soil. They benefit greatly from a generous application of well-rotted compost every spring and ample water whilst in active growth during spring and summer. Although dormant in winter, they will tolerate winter irrigation, and winter rainfall, provided the soil is well drained. They are frost hardy and should survive a winter minimum of -7 C / 20 °F (zone 9), although in regions where frost is expected, it is advisable to plant them in a sheltered position, in tight clumps, in very well-drained soil, and to keep them as dry as possible and to cover them with a thick protective mulch of leaves / straw during dormancy.
Propagation is by offsets, seed, leaf cuttings and tissue culture. Seed is sown in spring, in deep (±10 cm) containers in a well-drained seedling mix. Seed germinates readily in 4-6 weeks. Young bulbs can be planted into the garden in their third year when well-grown specimens may flower for the first time, although this species can take 4 to 5 seasons to flower. Offsets are produced rather slowly, and are best removed while the plant is dormant in late autumn or winter, kept cool and dry and planted in the spring. Bulbs can also be produced by taking leaf cuttings. While the plant is in active growth, an entire leaf can be removed and cut into approx. 5cm sections, each one 'planted' in sterilised well-drained potting soil and kept moist in a humid environment. Tiny bulbs should form after a month or two. Sterilised bulb scales, leaf bases or flower stalks can be used in tissue culture.
References
Leistner, O.A. (ed.), 2000, Seed plants of southern Africa: families and genera, Strelitzia 10., National Botanical Institute, Pretoria
Jackson, W.P.U., 1990, Origins and Meanings of Names of South African Plant Genera, U.C.T. Printing Dept., Cape Town.
Du Plessis, N., & Duncan, G., 1989, Bulbous Plants of Southern Africa, A guide to their Cultivation and Propagation, Tafelberg, Cape Town.
Reyneke, W.F. 1980. Three subspecies of Eucomis autumnalis. Bothalia 13: 140-142
Compton, J. 1990. Eucomis L'Heritier. The Plantsman 12(3) 128-139
van Wyk, B.E., van Oudtshoorn, B., Gericke, N., 1997, Medicinal Plants of South Africa, Briza Publications, Pretoria, South Africa
Credits
Alice Notten
Kirstenbosch NBG
January 2002
Plant Attributes:
Plant Type: Bulb
SA Distribution: Eastern Cape, Free State, Gauteng, KwaZulu-Natal, Limpopo, Mpumalanga, North West, Northern Cape
Soil type: Sandy, Loam
Flowering season: Early Summer, Late Summer
PH: Acid, Neutral
Flower colour: Green, Cream, Yellow
Aspect: Full Sun
Gardening skill: Easy
Special Features:
Feature plant
Good potplant
Poisonous
Medical plant
Horticultural zones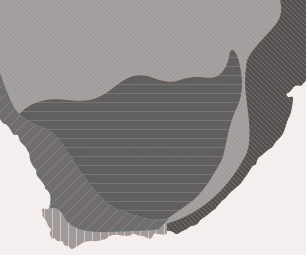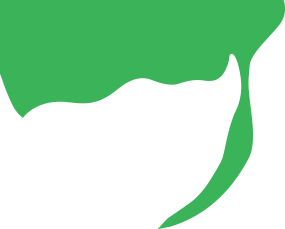 Zone 1 Coastal summer rainfall, frost free
Zone 2 Coastal winter rainfall, frost free
Zone 3 Winter rainfall Karoo, light frost
Zone 4 Summer rainfall Karoo and Highveld, Frost in winter
Zone 5 Bushveld summer rainfall, Light frost
Google QR Code Generator