Eucomis bicolor Baker
Family: Hyacinthaceae
Common names: forest pineapple flower, variegated pineapple flower (Eng.); bontpynappelblom, bospynappellelie (Afr.); imbola, umbola (isiZulu); khampumpu-ya-thaba (Southern Sotho)
Introduction
Eucomis bicolor is one of the most striking species within its genus. It is a summer-growing bulbous plant, with a two-coloured crown of leafy bracts.
Description
Description
E. bicolor is a summer-growing, deciduous bulbous plant, growing in clumps of up to 1 m high. Leaves are about 600 × 100 mm, often having purple spots at the base and purplish red, wavy margins. The hollow flower stem has purple spots or stripes, and grows up to 450 mm high. The unbranched inflorescence is 60–100 mm long; it is then enthroned by a large overhanging tuft of floppy leafy bracts with a reddish purple margin. The purple margins may not occur if the plant grows in shade. Flowers have an unpleasant smell, are closely packed together, facing downwards, with either white, green or mauve tepals, which have purple edges or purple in the centre; the stamens are also purple. It flowers from January to March. The 3-angled, capsular fruits are then produced from March, which later release round, brown seeds.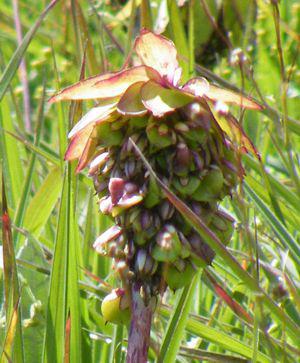 Conservation Status
Status
Eucomis bicolor is protected and its conservation status is rated as NT (Near Threatened) according to the Red List of southern African plants. The main threat is collections for medical uses, but it does not impact much, as large populations are well protected in the Drakensberg along the KwaZulu-Natal-Lesotho borders. Unlike other Eucomis species, it is not heavily targeted as many individuals grow on fairly inaccessible cliffs, thus, this species' risk of extinction is low.
Distribution and habitat
Distribution description
This species occurs along the Drakensberg in KwaZulu-Natal, Free State and Lesotho. It grows in damp, grassy gullies, montane forest and in masses below basalt cliffs, at high altitudes of up to 2 800 m.
Derivation of name and historical aspects
History
The name Eucomis is derived from the Greek word Euckomos, meaning 'beautiful hair' or 'topknot', refering to the crown of leafy bracts. The word bicolor means 'two-coloured'. About 10 species are found in South Africa, of which about four occur in the Drakensberg region. Eucomis species are commonly known as pineapple plants because their inflorescences resemble pineapples.
Ecology
Ecology
Flies are lured by the unpleasant smell of the flowers enabling pollination. E. bicolor may probably be pollinated by Carrion flies, although this has not yet been confirmed by actual sightings. Once the capsules have dried and opened, the seeds are then dispersed by wind.
In late autumn, most Eucomis bulbs that occur in cold regions, shed their above-ground parts and go through a dormant stage throughout winter to survive the harsh cold conditions.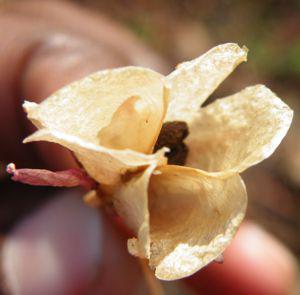 Uses
Use
Eucomis species are commonly known for their medicinal anti-inflammatory properties and are, therefore, used in traditional medicinal treatments. E. bicolor is used to treat colic.
It can also be used as a border plant or planted en masse adding a different look to the garden. It is also used as a cut flower by florists.
 
Growing Eucomis bicolor
Grow
E. bicolor can be planted as pocket plants in rockeries in semi-shade or full sun areas. They should be given enough time to fully establish when planted en masse.
It can survive in poor soils, though it prefers rich, well-drained soils. E. bicolor excel in sunny areas; they still bloom very well in shade, even when competing with tree roots; they just need adequate moisture. The purple markings are more pronounced in sunny areas.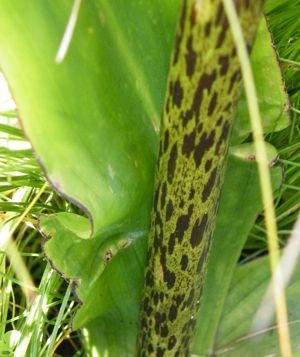 For container cultivations, bulbs grow well in deep, 250 mm diameter pots.
E. bicolor can be propagated from seeds, offsets and leaf cuttings. Sow seeds in spring in a well-drained soil mixture and they will flower during the third season. Seeds should germinate in about 4–6 weeks.
Divide offsets from the mother plant during the dormant winter season, however, they develop slowly.
Leaf cuttings can be taken during the active growing season and planted in a well-drained soil mixture.
Eucomis species have a large, flat-bottomed bulb that should be planted in spring, near the surface with their necks peeking above ground level. During their third season, transplant young bulbs out in the garden. Preferably in a well-drained soil with well-rooted compost. Even though bulbs become dormant in winter, irrigation is advisable. Eucomis species are rarely bothered by pest or diseases.
References
Borchers, H. 1996. Greening the KwaZulu-Natal Midlands. National Botanical Institute, Pretoria.
Duncan, G.D. 2010. Grow bulbs. Kirstenbosch Gardening Series. South African National Biodiversity Institute, Cape Town.
Du Plessis, N. & Duncan, G. 1989. Bulbous plants of southern Africa, a guide to their cultivation and propagation. Tafelberg, Cape Town.
Eliovson, S. 1967. Bulbs for the gardener in the southern hemisphere. Howard Timmins, Cape Town.
Killick, D ,1990. A field field guide to the flora of the Natal Drakensberg. Jonathan Ball and Ad. Donker Publishers, Johannesburg.
Leistner, O.A. (ed.). 2000. Seed plants of southern Africa: families and genera. Strelitzia 10. National Botanical Institute, Pretoria.
Pooley, E. 2003. Mountain flowers, a field guide to the flora of the Drakensberg and Lesotho. Natal Flora Publications Trust, Durban.
Credits
Dineo Dibakwane
Millennium Seed Bank Partnership (KwaZulu-Natal National Botanical Garden)
July 2015
Plant Attributes:
Plant Type: Bulb
SA Distribution: Free State, KwaZulu-Natal
Soil type: Sandy, Loam
Flowering season: Early Summer, Late Summer, Autumn
PH: Acid, Alkaline, Neutral
Flower colour: Green, White, Mauve/Lilac
Aspect: Full Sun
Gardening skill: Average
Special Features:
Good potplant
Medical plant
Horticultural zones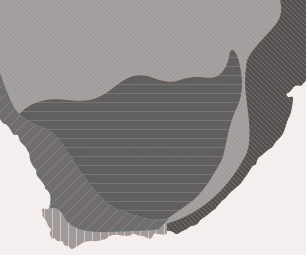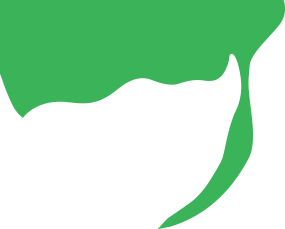 Zone 1 Coastal summer rainfall, frost free
Zone 2 Coastal winter rainfall, frost free
Zone 3 Winter rainfall Karoo, light frost
Zone 5 Bushveld summer rainfall, Light frost
Google QR Code Generator