Eucomis pallidiflora subsp. pole-evansii
Eucomis pallidiflora Baker subsp. pole-evansii (N.E.Br.) Reyneke ex J.C.Manning
Family: Hyacinthaceae
Common names: giant pineapple lily
Introduction
This is the largest of all pineapple lilies in the world. The tall flower spike together with its long leaves, are the reason why it is so popular.
Description
Description
Eucomis pallidiflora subsp. pole-evansii grows in summer and naturally occurs in vleis. It is a bulbous plant that stands up to 2 m tall. The long, bright green leaves have a deep midrib and may have either a wavy or straight margin. Leaves are about 600 mm long and 200 mm wide.
The tall flower spike can shoot up to 2 m tall and it is crowned by a tuft of leafy bracts.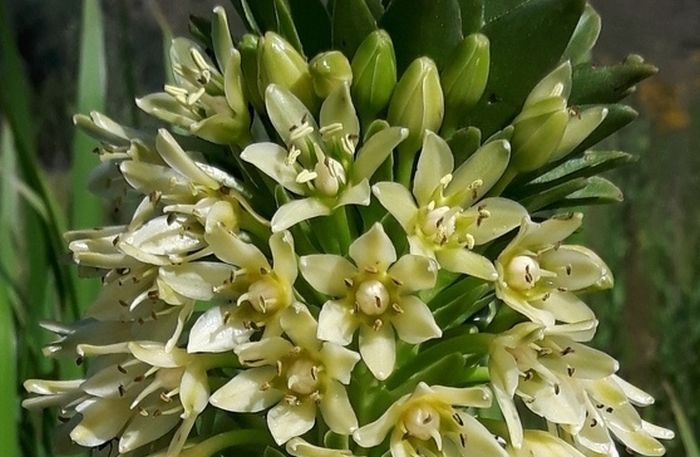 The flowers are yellowish green and have green or white ovaries. It flowers in midsummer, between December and February.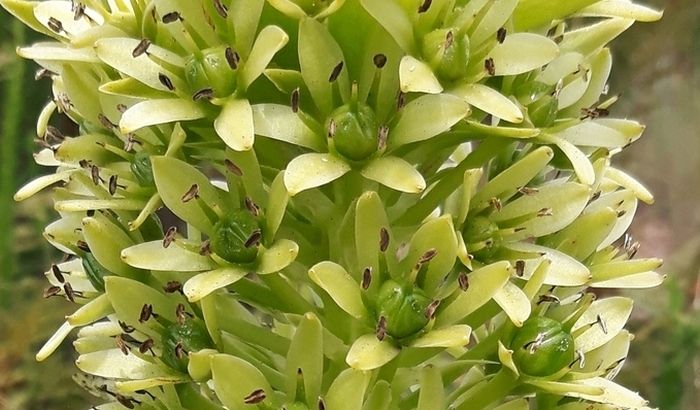 The pollinated flowers then give rise to 3-angled fruits that enclose black seeds. As with other species of Eucomis, it also continues to make a show after flowering, with its unripe brownish maroon fruits.
It looks very similar to typical subsp. pallidiflora. However, one of the main characteristics used to differentiate them, is the size of the plant and the density of the flower spike. E. pallidiflora subsp. pallidiflora has a densely packed flowering spike and is not as large as that of subsp. pole-evansii. The latter is very large and has a loosely packed flowering spike.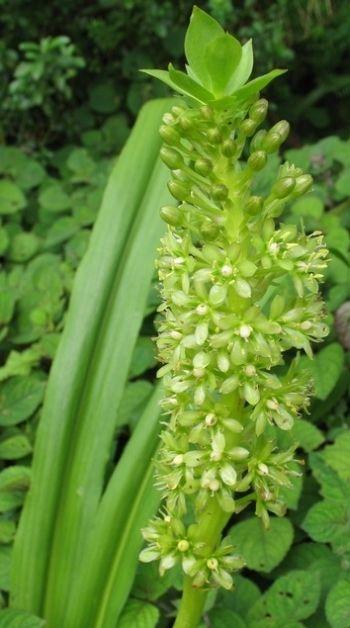 Conservation Status
Status
This Eucomis is protected by law and its conservation status is rated as Near Threatened (NT) according to the Red List of South African plants. It is currently declining in the wild due to harvesting for medicinal purposes, urban expansion and degradation of its habitat by cattle grazing and also drainage of wetlands for conversion to crop fields.
Distribution and habitat
Distribution description
Eucomis pallidiflora subsp. pole-evansii occurs in southern Africa in only 2 countries, South Africa and Swaziland. In South Africa it occurs in Mpumalanga, occupying about 1 000 km². It grows in damp grassy vleis.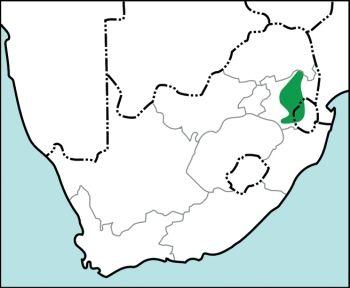 The subsp. pallidiflora occurs in KwaZulu-Natal.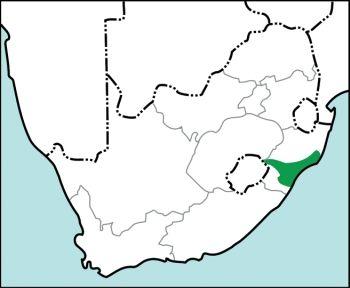 Derivation of name and historical aspects
History
The name Eucomis is derived from the Greek word eukomos, meaning 'beautiful hair' or 'topknot', referring to the crown of leafy bracts. The species name pallidiflora means 'pale flowers'. This subpecies is named after I.B. Pole Evans (1879–1968), a botanist and collector. In 1912 he was appointed head of the recently formed Division of Mycology and Plant Pathology of the Department of Agriculture of Transvaal.
This giant pineapple lily was first described and published by Nicholas Edward Brown in 1918. It was later on reclassified to today's valid botanical systematics by John Charles Manning in 2004, based on a prior description by William Frederick Reyneke. It was previously known as Eucomis pole-evansii and is now regarded as a subspecies of E. pallidiflora.
The genus Eucomis consists of approximately 12 species that occur in southern Africa, Lesotho, Swaziland, Zimbabwe, and Malawi. The giant pineapple lily is one of the 4 species that occur in the Mpumalanga Province. Eucomis species are commonly known as pineapple lilies because their inflorescences resemble pineapples. Other species covered in this series include E. autumnalis, E. bicolor, E. comosa, E. humilis, E. schijffii and E. vandermerwei. Related species known to South African gardeners, include Merwilla plumbea (previously known as Scilla natalensis), Schizocarphus nervosus (previously known as Scilla nervosa) and Ledebouria species, as they fall under the same family of Hyacinthaceae.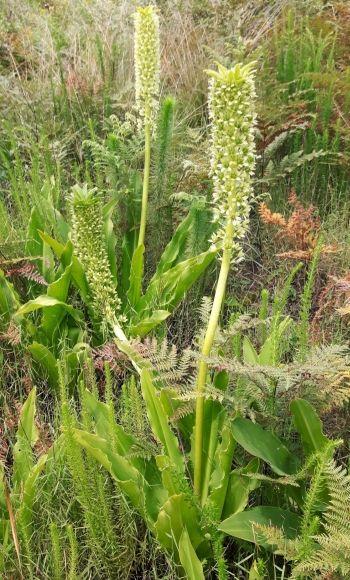 Ecology
Ecology
The giant pineapple lily flowers are visited by flies and beetles. After pollination, the flowers close and slowly turn dark brown to almost black. Once the capsules have dried, they open and the black seeds are dispersed by wind.
These Eucomis are adapted to a summer-rainfall climate, with frost in winter. They can survive the cold conditions and frost by shedding their above-ground parts as they go through a dormant stage throughout winter and re-sprout again in late spring.
Some grassland plants need fire to trigger flowering or flower better after veld fires, this might be the same with these pineapple flowers, although it has not been proven yet.
Uses
Use
Eucomis species are commonly known for their medicinal anti-inflammatory properties and are, therefore, used in traditional medicinal treatments.
This Eucomis can also be used as a border plant or planted en masse adding a different look to the garden. It also provides a long-lasting cut flower; florists can attest to that.
Growing Eucomis pallidiflora subsp. pole-evansii
Grow
Eucomis can be propagated from seeds, offsets and leaf cuttings. For container cultivations, bulbs grow well in deep, 250 mm diameter pots.
In general, the best way to propagate bulbous plants in masses, is by seed, as they mostly produce a lot of seeds. Furthermore, if seeds are sown at the correct time of the year, they immediately adapt to their surroundings. Sow seeds in spring in a well-drained soil mixture and they will flower during the third season. Seeds should germinate in about 4–6 weeks.
Bulbs on the other hand, once they are removed from different climatic zones, they take time to acclimatise. Split the offsets from the parent plant during the dormant season (preferably late winter), and they will quickly develop into independent plants.
Collect leaf cuttings during the active growing season and plant in a well-drained soil mixture. In time, they will produce roots and bulbs, but this is rather slow compared to other propagation methods.
E. pallidiflora and subsp. pole-evansii can be planted in pockets in rockeries in semi-shade or full sun. They should be given enough time to fully establish when planted en masse. As with most bulbs, the golden rule is well-drained soils. Pineapple flowers excel in sunny areas; they will still bloom very well in shade, they just need adequate moisture. Since they go dormant in winter, it is also advisable to plant them amongst evergreen groundcovers, so that flowerbeds do not look empty in winter.
Eucomis species have a large, flat-bottomed bulb that should be planted in spring, near the surface, with their necks peeking above ground level. During their third season, transplant young bulbs out into the garden, preferably in a well-drained soil with well-rotted compost. Even though bulbs become dormant in winter, irrigation is advisable. Species of Eucomis are rarely bothered by pest or diseases.
Geoff Nichols, the author of Growing rare plants, states 'The larger species like E. autumnalis, E. bicolor, E. comosa, E. humilis and the largest E. pallidiflora are all easily propagated from seed or bulb divisions and even leaf cuttings under fairly controlled conditions like a mist bed with bottom heat. The first four species mentioned in the previous sentence are frost hardy but E. pallidiflora is frost tender'.
References
Crouch, N. 2010. An adaptation of Reyneke's key to the genus Eucomis. PlantLife No. 39 & .40
Duncan, G. 2010. Grow bulbs. A guide to the cultivation of bulbs of South Africa and neighboring countries. Kirstenbosch Gardening Series. South African National Biodiversity Institute, Cape Town.
Du Plessis, N. & Duncan, G. 1989. Bulbous plants of southern Africa, a guide to their cultivation and propagation. Tafelberg, Cape Town.
Eliovson, S. 1967. Bulbs for the gardener in the southern hemisphere. Howard Timmins, Cape Town.
Leistner, O.A. (ed.). 2000. Seed plants of southern Africa: families and genera. Strelitzia 10. National Botanical Institute, Pretoria.
Nichols, G. 2005. Growing rare plants: a practical handbook on propagating the threatened plants of southern Africa. Southern African Botanical Diversity Network Report No. 36.
Notten, A. 2002. Eucomis autumnalis (Mill.) Chitt (Hyacinthaceae). PlantZAfrica. Internet. http://pza.sanbi.org/eucomis-autumnalis
Pooley, E. 1998. A field guide to wild flowers Kwazulu-Natal and the eastern region. Natal Flora Publications Trust, Durban.
Zonneveld, B.J.M. & Duncan, G.D. 2010. Genome sizes of Eucomis L'Hér. (Hyacinthaceae) and a description of the new species Eucomis grimshawii G.D.Duncan & Zonneveld. Plant Systematics and Evolution 284: 99–109.
Credits
Dineo Dibakwane
Walter Sisulu National Botanical Garden
March 2019
 
Plant Attributes:
Plant Type: Bulb
SA Distribution: Mpumalanga
Soil type: Loam
Flowering season: Early Summer, Late Summer
PH:
Flower colour: Green, Cream
Aspect: Full Sun
Gardening skill: Easy
Special Features:
Attracts butterflies
Good potplant
Medical plant
Horticultural zones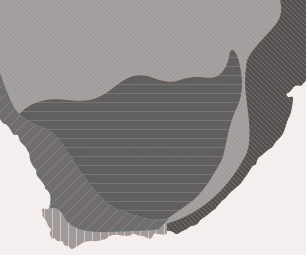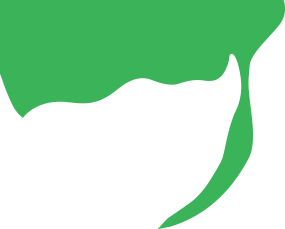 Zone 1 Coastal summer rainfall, frost free
Zone 2 Coastal winter rainfall, frost free
Zone 4 Summer rainfall Karoo and Highveld, Frost in winter
Zone 5 Bushveld summer rainfall, Light frost
Google QR Code Generator