Euphorbia bupleurifolia Jacq.
Family: Euphorbiaceae
Common names: cycad spurge, pine cone plant (Eng.); melkbol (Afr.); intsele, insema (Xho.); inkamamasane, insema (Zul.)
Introduction
Resembling a pine cone, pineapple or, some may say, a cycad, Euphorbia bupleurifolia is one interesting Euphorbia.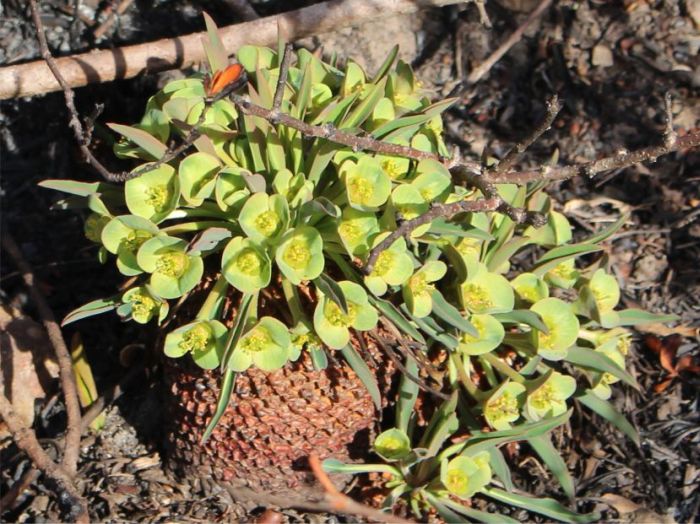 Description
Description
Euphorbia bupleurifolia is a spineless, dwarf succulent, growing 40–200 mm tall. The stem is usually unbranched, brown, bulb-like, and covered with numerous markings of scars of fallen leaves. These scars give it the look of a pine cone. The diameter of the stem is 40–70 mm. Leaves are deciduous, oblanceolate and tufted on the tip of the stem.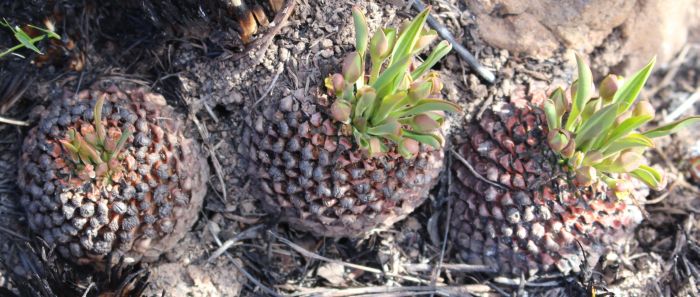 Cyathia are solitary, with stalks 10–50 mm long; several are produced in the centre of the tufted leaves; bracts are large, ± 10 × 20 mm, yellow-green, turning reddish in summer.
Fruits turn brown once dry and explode, releasing the seeds.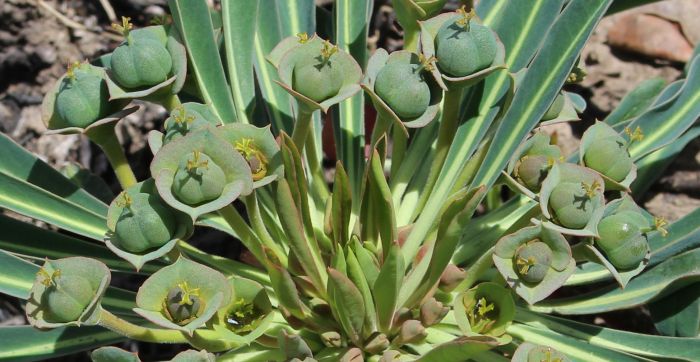 Flowering is from midwinter (July) to midsummer (January). The whole plant contains milky sap, which exudes when cut. This is a slow-growing plant.
Conservation Status
Status
In the Red List of South African plants, Euphorbia bupleurifolia is assessed to be Least Concern (LC). Although widespread and relatively common, the species is currently thought to be declining because of over harvesting for its medicinal properties.
Euphorbia bupleurifolia is listed on Appendix 2 of CITES (Convention on International Trade in Endangered Species), and thus plants need CITES permits to be traded (or moved) across an international border.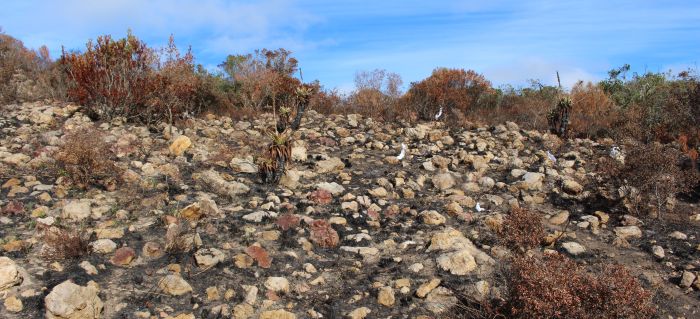 Distribution and habitat
Distribution description
Euphorbia bupleurifolia is endemic to South Africa and is distributed in the Eastern Cape from Grahamstown, where it grows in firm, acidic soil and hardly exceeds 90 mm in height, to Pietermaritzburg in KwaZulu-Natal, where gigantic specimens have been reported. It is found growing on higher grasslands slopes, hiding next to dolerite bed rocks. When it has no leaves, it is hard to find, especially in grassland, but when the grass is burnt, it is the easiest one to spot. When actively growing, it needs warmth, moisture and moderate light, but when dormant, this species should be left dry.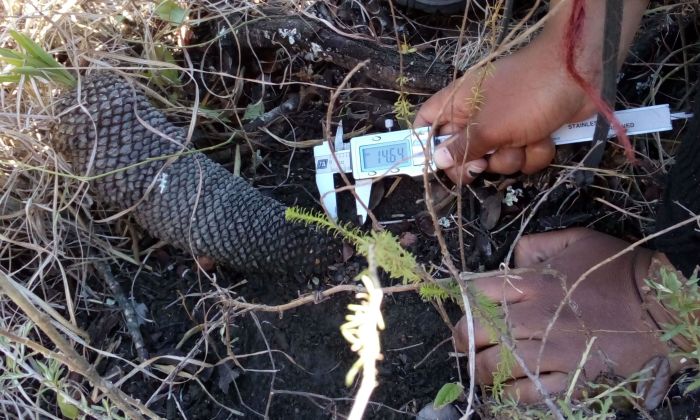 Derivation of name and historical aspects
History
The genus Euphorbia was established by Linnaeus commemorating Euphorbus who was the 1st century physician to King Juba of Mauritania, and believed to have used euphorbias medicinally. The species name bupleurifolia means 'with leaves like those of the genus Bupleurum', a large genus in the Apiaceae (carrot family), commonly called Hare's Ear. The genus name Bupleurum is also an ancient Greek word for 'umbelliferous plant'.
Euphorbia is a very large and diverse genus of flowering plants, having ± 2 000 species of which about 188 species occur in South Africa. Commonly they are called spurge, which is derived from English or old French espurge, which means 'to purge', because of the sap found in Euphorbia plants that is used as a purgative.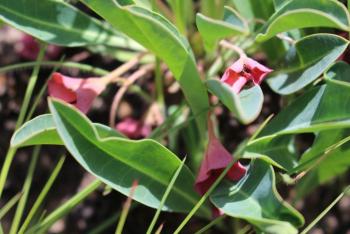 Ecology
Ecology
Cycad Spurge is an interesting species because of how it occasionally changes the sex of its cyathia: one year being a male and the next year being female and next being bisexual and so on. When the fruit has ripened, the capsule will dry out and pop open to release the seeds. To successfully harvest any seeds, once the fruit is ripe, cover it with a fine-mesh packet that will catch the seeds when it pops. The explosiveness of the capsule disperses the seeds and they will be banked in the soil, germinating after fires or the first rain.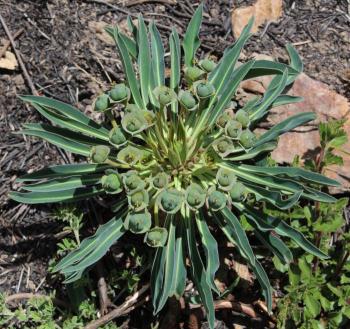 Uses
Use
Euphorbia bupleurifolia is currently decreasing in the wild because of the unsustainable harvesting that is happening for its medicinal uses. The white milky sap from this plant is used for cancerous sores, for painful cracked feet and for some sorts of eczema. However, the sap can be very poisonous depending on dosage taken. Euphorbia bupleurifolia is also a good pot plant because of it usually single stem and can also be used ornamentally in the garden.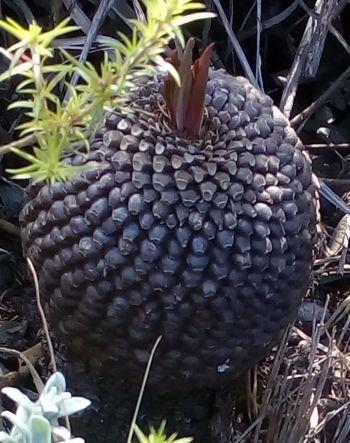 Growing Euphorbia bupleurifolia
Grow
Euphorbia bupleurifolia is slow growing, but easy to cultivate. They need a well-drained soil and a significant amount of sunlight or light shade. Unlike other euphorbias that don't require much watering, Euphorbia bupleurifolia may need weekly watering in summer, when the soil is dry and a small amount of fertiliser. In winter when the plant is dormant, watering should be limited.
It needs both male and female plants for seed production to take place especially during the period when the plant is not bisexual.
They can be propagated from seeds, but it is often a challenge to germinate them. When sowing seeds, the temperature should be maintained between 18 to 24ºC at night and the sunlight can take the air temperature of up to 43ºC during the day. The germination period of Euphorbia bupleurifolia can take up to 30 days, if germinated in these conditions.
References
Archer, R. 2005. Euphorbia L. (Euphorbiaceae). PlantZAfrica. Internet. http://pza.sanbi.org/euphorbia
Court, D. 1981. Succulent flora of southern Africa. Balkema, Cape Town.
Harvey, W.H. 1811–1866. Flora capensis: being a systematic description of the plants of the Cape Colony, Caffraria, & Port Natal (and neighbouring territories) Volume 2.
Manning, J. 2001. Eastern Cape. South African Wild Flower Guide 11. Botanical Society of South Africa, Cape Town.
Pooley, E. 1998. A field guide to wild flowers Kwazulu-Natal and the eastern region. Natal Flora Publications Trust, Durban.
Rowley, G.D. 1983. Euphorbia Journal. Vol.1, 2 & 8. Strawberry Press, Mill Valley, California.
Schwartz, H. 1991. The Euphorbia Journal. Vol. 7. Strawberry Press, Mill Valley, California.
Schwartz, H. 1992. The Euphorbia Journal. Vol. 8. Strawberry Press, Mill Valley, California.
Credits
Sibahle Gumede
Millennium Seed Bank Partnership
and Charlie Maimela
Kwelera National Botanical Garden
May 2019
Acknowledgements: The authors thank Ndileka Jaxa and Lungisani Zondi for providing useful information.
Plant Attributes:
Plant Type: Succulent
SA Distribution: Eastern Cape, KwaZulu-Natal
Soil type: Sandy, Loam
Flowering season: Spring, Early Summer, Winter
PH: Acid
Flower colour: Green, Pink, Yellow
Aspect: Full Sun
Gardening skill: Average
Special Features:
Feature plant
Good potplant
Medical plant
Useful plant
Horticultural zones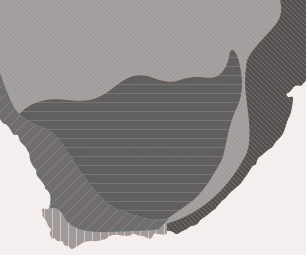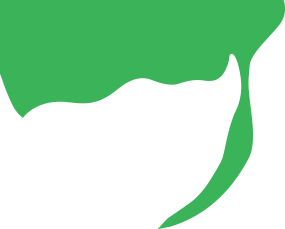 Zone 1 Coastal summer rainfall, frost free
Zone 2 Coastal winter rainfall, frost free
Zone 5 Bushveld summer rainfall, Light frost
Google QR Code Generator