Euphorbia groenewaldii R.A.Dyer
Family: Euphorbiaceae
Common names: none
Introduction
Euphorbia groenewaldii is a rare and endemic succulent from the Limpopo Province.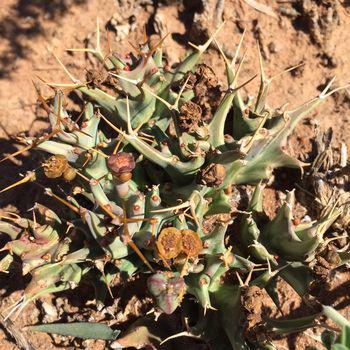 Description
Description
Euphorbia groenewaldii is a caudiform succulent with a single main stem and a large subterranean tuberous root system. The plant usually grows up to 300 mm high and 80 mm wide. Shoots are green, 25–70 mm long and 13–20 mm wide, have paired thorns and develop in a spiral on elongation. The flowers are small, unisexual and are arranged in cup-like structures with yellow, nectar-bearing glands around the rim. These structures are called cyathia (singular: cyathium). They are arranged in groups of three at flowering eyes, towards the end of the branches. In each group of three cyathia, the central one contains only male flowers and the outer two contain both male and female flowers. The flowers are yellow and produce greenish red fruits. The fruits are 3-lobed, with each locule containing one or two seeds.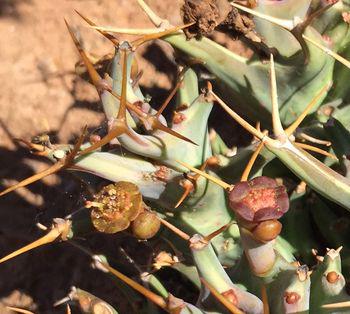 Conservation Status
Status
This species is assessed as Critically Endangered (CR). Population surveys show that 96% of the mature plants have disappeared. It is threatened by over-harvesting by specialist collectors for the horticultural trade, trampling and over-grazing by cattle, quarrying and urban development. It occurs over a small area of 4 square kilometers, and two supbopulations have already been lost.
Euphorbia groenewaldii is protected by the Limpopo Environmental Management Act (No. 7 of 2003) which prohibits the taking of plants out of the wild or natural environment. It is also listed on CITES Appendix 2, which means that plants may not be traded internationally without CITES permits. Despite this, the population trend continues to decrease.
Distribution and habitat
Distribution description
Euphorbia groenewaldii is endemic to the Polokwane area in the Limpopo Province. The plants occur in isolated populations in the semi-rural areas of Ga Mothiba and Dalmada. The plants grow on rocky outcrops, in between rocks, on small granite hills and ridges between bands of schist or in gritty red sandy loam soil, at 1100-1500 m altitude, and prefer growing on north- and north-west facing slopes.
The climate is dry and cold in winter with the coldest temperatures in June-July when the temperature can drop to -4 degrees Centigrade. Summer is hot, with temperatures rising to 36oC. Rain falls during summer with an average summer rainfall of about 80 ml per month during the summer (November, December, Janary).
Derivation of name and historical aspects
History
The genus Euphorbia was named after the first-century AD Greek physician Euphorbus who first used the seeds of a Euphorbia plant for medicinal purposes. The species was named after B.H. Groenewald, a close friend of Dr F. van der Merwe, who discovered the plant.
Ecology
Ecology
Euphorbia groenewaldii plants can be damaged by fire, but fire also has a stimulating effect on mature plants, resulting in new growth, flowers and fruits. Fire also clears the surrounding ground of grass, which allows more seedlings to establish. This species is able to survive fast-moving grass fires due to its underground tuberous rootstock.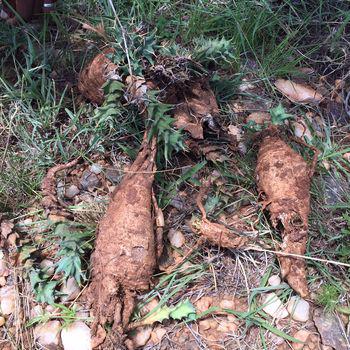 Uses
Use
The genus Euphorbia is characterized by the toxic, milky latex that the plants exude upon wounding. The latex of many spurges is traditionally used to stun fish, and to make rubber and wax. In horticulture the latex is also used to root stem cuttings of woody species.
Growing Euphorbia groenewaldii
Grow
The gathering of Euphorbia seeds poses a challenge for many horticulturalists as the fruit capsules burst open when ripe and the seeds are released explosively and scattered over long distances. To prevent loss of seeds, horticulturalists either place nylon stockings around the ripe fruit capsules or they apply a thin layer of glue to the capsule. The collected seeds are sown in pots or trays that contain a combination of fine to medium grain sand and loam soil. It is recommended that the soil should be sterilized in an oven or autoclave for 20 minutes or pre-treated with fungicides to prevent infections. The seeds are sown by pressing them lightly into the soil and covering them with a thin layer of sand, keeping the soil damp but not wet at a temperature of 27–30°C.
The plants can also be propagated by stem cuttings. Cuttings should be dipped in rooting powder and planted in a pot. Cuttings can also be placed in jar filled with water to promote rooting. Water should be changed daily to prevent contamination by excess latex exuding from the wound.
References
Dyer, R.A. 1938. Euphorbia groenewaldii R.A. Dyer. Flowering Plants of South Africa 18: 714.
Hoveka, L.N. 2010. In vivo and in vitro propagation of two Euphorbia species indigenous to Limpopo Province. B.Sc.Honours dissertation, University of Limpopo.
Van Tonder, R.C. 2012. The biology, ecology and conservation of Euphorbia groenewaldii an endangered succulent of the Limpopo Province. M.Sc. dissertation, University of Limpopo.
von Staden, L. 2008. Euphorbia groenewaldii R.A.Dyer. National Assessment: Red List of South African Plants version 2015.1. Accessed on 2016/05/29
Credits
Lerato Hoveka
National Herbarium, Pretoria
May 2016
 
Plant Attributes:
Plant Type: Shrub, Succulent
SA Distribution: Limpopo
Soil type: Sandy, Loam
Flowering season: Winter
PH: Acid
Flower colour: Yellow
Aspect: Full Sun
Gardening skill: Average
Special Features:
Drought resistant
Poisonous
Medical plant
Horticultural zones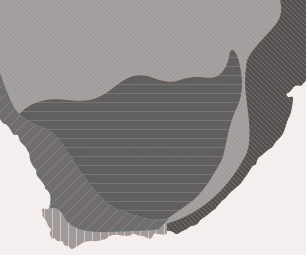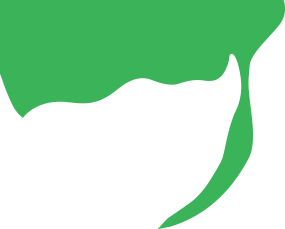 Zone 4 Summer rainfall Karoo and Highveld, Frost in winter
Zone 5 Bushveld summer rainfall, Light frost
Google QR Code Generator