Euphorbia stellispina Haw.
Family: Euphorbiaceae
Common names: sterretjie-noors, noorsdoring (Afr.)
Introduction
Euphorbia stellispina is a stunning architectural plant and a true survivor in the harsh landscape of the central Karoo and parts of Namaqualand.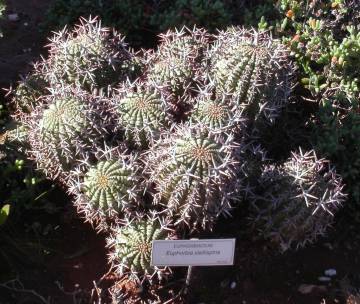 Description
Description
Euphorbia stellispina is a tall, unisexual, multi-stemmed spiny succulent which, under ideal conditions, can reach a height of 0.6-0.75 m. The plant forms a clump of up to twenty upright stems 40-750 mm thick, with from 10-16  ridges and heavily armed with spines.
Flowers, which are light yellow, are borne on or near the terminal apex (top part of the plant). Seed is produced in copious amounts in trilocular (three compartments) seed capsules. Seeds are dispersed when the capsules dry and burst open.
Conservation Status
Status
Euphorbia stellispina is not threatened.
Distribution and habitat
Distribution description
Euphorbia stellispina has a very wide distribution, stretching from Gordonia in the west to the Great Karoo. It can withstand a wide range of temperatures from 45 °C in summer to relatively low winter temperatures of -5 °C.
It appears able to tolerate widely different habitats, growing in deep soils, on dry, stony slopes or flats and under the protection of karroid bushes.
Derivation of name and historical aspects
History
Euphorbia stellispina was discovered in 1685 when Governer Simon van der Stel and his expedition were camped out in Namaqualand near the present town of Springbok. One of the natural scientists in the party, Mr H. Claudis apparently found the plant.
The name Euphorbia was given by King Juba of North Africa in honour of his doctor, Euphorbus. The specific epithet is derived from the Latin stella meaning star, and spina meaning spine, and refers to the star-shaped arrangement of the spines.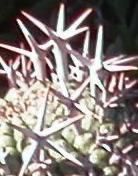 Ecology
Ecology
Pollination is mainly by bees and sometimes wasps. Euphorbia stellispina produces white latex sap which helps the plant to reduce transpiration, especially during the very hot summer months.
Uses
Use
Euphorbia stellispina is sometimes used by stock farmers in times of extreme drought: the stems are made more accessible to livestock by dragging burning tyres over the plant to burn off the spines.
E. stellispina is an excellent choice to have in a rock garden. They are strong architectural plants that make a definite statement.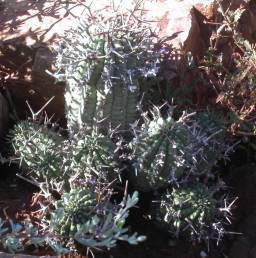 Growing Euphorbia stellispina
Grow
This can be done from cuttings or seed. Seeds can only be harvested when the capsule is light brown in colour. Due to the explosive nature of the seeds, one should place cottonwool over the seed capsules to stop them being blasted into the surrounding area. The soft cottonwool will effectively trap any seeds. Seeds are small, about 1 mm in diameter.
When sowing the seed, cover with a medium not deeper than 2-3 mm. Use a well-drained sowing medium of sandy loam with very well-rotted compost, and preferably sieved river sand to cover the seed. The ideal size of the sand grains should be 1 mm.
Move to a sunny (60% sun) well-ventilated location. Sow the seeds in March or April (southern hemisphere). By April of the following year, the plants should be strong enough to be planted in a small, 9 cm plastic pot.
Cuttings are relatively easy. The most important thing is to dry them out. This entails lowering the latex levels. Large cuttings, of 0.5 m or more, need to be dried out for at least three weeks. Too much latex could rot the plant. Strike the cutting in coarse sand. The best time to strike cuttings are August, September and October (southern hemisphere).
Euphorbia stellispina grows easily and rapidly. The plants are not difficult to cultivate and look after. They also make ideal pot plants and look very good in a ceramic pot in a courtyard.
References
Rowley, G.D. 1987. Caudiciform and pachycaul succulents. Strawberry Press, California, USA.
Credits
Ian Oliver
Karoo Desert National Botanical Garden
July 2005
Plant Attributes:
Plant Type: Succulent
SA Distribution: Northern Cape, Western Cape
Soil type: Sandy, Loam
Flowering season:
PH: Acid, Neutral
Flower colour: Yellow
Aspect: Full Sun
Gardening skill: Easy
Special Features:
Drought resistant
Feature plant
Good potplant
Feeds honeybees
Horticultural zones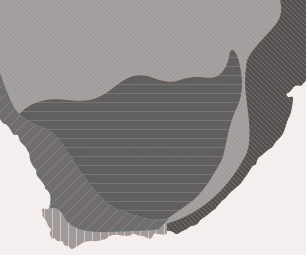 Zone 3 Winter rainfall Karoo, light frost
Google QR Code Generator