Euphorbia tuberosa L.
Family: Euphorbiaceae
Common names: milk-ball, wild charlock (Eng.); melkbol, wilderamenas (Afr.)
Introduction
A hardy, drought tolerant plant that is dormant in summer when conditions are harsh, by losing its wavy, grey-green leaves and leaving its succulent stem virtually impossible to detect. This interesting species has proven to be an enduring favourite among collectors.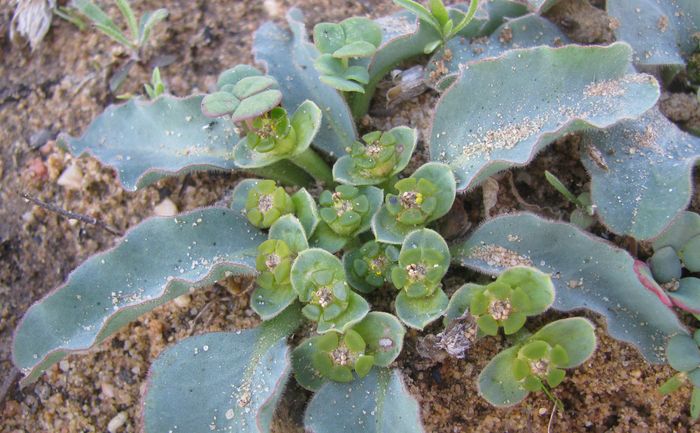 Description
Description
Euphorbia tuberosa is a spineless, deciduous, dwarf succulent geophyte (bulbous plant), up to 50 mm tall, with a tuberous underground stem that re-sprouts after fire. A cluster of wavy grey-green leaves are produced at ground level, forming a rosette and are up to 50 mm long and 10 mm wide.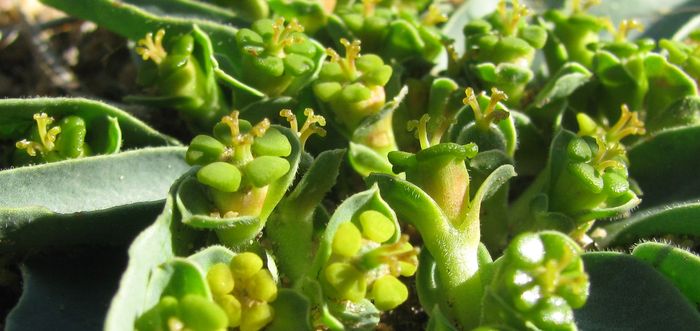 The species is unisexual, meaning that male and female flowers are found on separate plants. At the tips of trailing shoots, minute false flowers are borne in clusters, with 5, yellowish or green lobes, in winter and spring.
Conservation Status
Status
Distribution and habitat
Distribution description
Euphorbia tuberosa is an abundant and very widely distributed species from Namaqualand to the Cape Peninsula, Matjiesfontein and Riversdale. The plants occur in a wide range of habitats in the Fynbos and Succulent Karoo Biomes, in sandy and stony flats and slopes at an altitude of 60–1 100 m. This milkweed family member grows in sandy and loam soils. Plants are suited to be grown in the coastal winter rainfall, frost free area, winter rainfall Karoo, light frost area and coastal summer rainfall, frost free area, provided it is placed in a pot that can be moved around, because it must be kept dry in summer.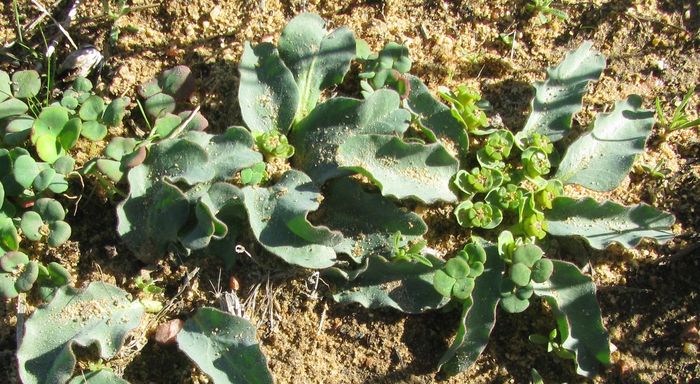 Derivation of name and historical aspects
History
The genus Euphorbia was named after Euphorbus (24 BC), a first century Greek physician to King Juba II of Mauritania, who was the first to use plants of this genus for medicinal purposes. The specific epithet tuberosa, comes from the Latin word tuberosus which means 'to be covered with tubers'.
Linnaeus described the genus Euphorbia in 1753. It is easy to recognize a Euphorbia, when damaged a milky sap is secreted which is highly irritant or poisonous in several species. There are over 2 000 species; this makes the genus Euphorbia the largest genera of flowering plants, of which twenty are fynbos species and about twenty occur in the Klein Karoo.
This genus varies much in growth form, from tall trees, to small plant bodies that hardly protrude above the ground, to shrubs that have erect leafless, often angled stems and branches, with short, sharp spines on their margins. Other noteworthy members of this genus are E. bupleurifolia, E. caput-medusae (medusa's head), E. clandestina, E. cooperi var. cooperi (bushveld candelabra tree), E. ingens (naboom), E. meloformis, E. obesa and E. pseudoglobosa.
Ecology
Ecology
Euphorbia tuberosa has minute, brightly coloured, yellowish greenish, false flowers, with extra-floral nectaries that secrete scented nectar, and are possibly pollinated by wasps. The seed capsules of euphorbia are 3-valved; each valve containing a single seed. The seeds are dispersed by explosive ejection when ripe, and when harvesting seeds, it is essential to cover the seed capsule with a fine net or ladies stocking. Melkbol grows in the winter rainfall region; the leaves and flowers appear in response to favourable winter rains, making the plant visible. In the summer season, when dormant and usually having no water, the leaves die off; this is an adaptation to cope with the seasonally dry habitat.
Uses
Use
There are no medicinal uses for this plant recorded. In the winter rainfall area, Euphorbia tuberosa can be used in a rockery as a water-wise plant.
Growing Euphorbia tuberosa
Grow
Euphorbia tuberosa can be propagated from seed or by dividing the tubers. Being unisexual, both male and female plants are needed for seed production. Sow the seeds in spring (September–November) when the seed capsules start to ripen, in a well-drained sandy soil. Cover the seeds with a thin layer of sand and keep the soil moist, until germination has occurred. Ensure that the area is well ventilated. Apply a fungicide to prevent damping off. Damping off may occur if the seedlings are overcrowded or overwatered.
The best time to divide the tubers of melkbol is in summer (December, January and February) in the southern hemisphere, when it is warm, taking care to keep the plants dry. Dust the severed area with sulphur to prevent possible infection and allow to heal (callus) in a cool, dry area, for a week.
Place the cuttings in coarse river sand, in a well-drained container, in a sunny spot, which must be kept fairly dry, until the roots start to appear. Once this has happened, water the cuttings once a day during very hot weather. Rooting of cuttings should take place in 2 weeks to a month.
This plant is still extremely sensitive and difficult to cultivate for any extended period of time, even when elevated in cultivation to reduce its exposure to moist soil. Seedlings produced and accustomed to cultivation, are best suited and can be transplanted and grown on in individual pots, thus limiting the plant from forming more underground tuberous stems. Once the tuberous underground stem has reached a decent size, elevate it above the ground, using a very coarse and fast-draining, soil mixture, giving the plant a bonsai effect and keeping watering to a minimum.
Euphorbia tuberosa can be planted in a rockery together with companion plants such as, Babiana sambucina (bobbejaantjie), Cotyledon orbiculata (pig's ear or plakkie), Crassula perfoliata var. minor (scarlet paintbrush) and C. rupestris subsp. rupestris (concertina plant), Lampranthus otzenianus and Tylecodon paniculatus (botterboom). The flower colours and textures of the leaves complement one another. 
References
Court, D. 1981. Succulent flora of southern Africa. Balkema, Cape Town.
Hall, H. 1984. The Euphorbia Journal Vol. 2. Strawberry Press, California.
Koutnik, D. & Van Jaarsveld, E. 1987. The succulent euphorbias of the Cape Peninsula of South Africa. The Euphorbia Journal Vol. 4. Strawberry Press, California.
Kesting, D. & Clarke, H. 2011. Botanical names: what they mean. Flora documentation programme, Muizenberg
Manning, J.C., Goldblatt, P. 1996. West Coast. South African Wild Flower Guide 7. Botanical Society of South Africa, Cape Town
Manning, J. 2007. Field guide to Fynbos. Struik Publishers, Cape Town.
Oliver, I.B. 2005. Grow succulents: Kirstenbosch Gardening Series. Mills Litho, Cape Town.
Van Jaarsveld, E., Van Wyk, B-E. & Smith, G. 2005. Succulents of South Africa: a guide to the regional diversity. Tafelberg Publishers, Cape Town.
Vlok, J. & Schutte-Vlok, A-L. 2015. Plants of the Klein Karoo. Umdaus Press, Hatfield.
Credits
Shireen Harris
Karoo Desert National Botanical Garden
November 2018
Plant Attributes:
Plant Type: Bulb, Succulent
SA Distribution: Northern Cape, Western Cape
Soil type: Sandy, Loam
Flowering season: Spring, Winter
PH: Acid
Flower colour: Green, Yellow
Aspect: Full Sun, Morning Sun (Semi Shade), Afternoon Sun (Semi Shade)
Gardening skill: Average
Special Features:
Drought resistant
Poisonous
Horticultural zones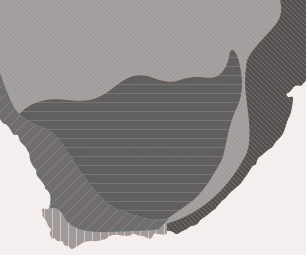 Zone 1 Coastal summer rainfall, frost free
Zone 2 Coastal winter rainfall, frost free
Zone 3 Winter rainfall Karoo, light frost
Google QR Code Generator