Ficus sycomorus subsp sycomorus 
Ficus sycomorus L. subsp. sycomorus
Family: Moraceae
Common names: sycamore fig, common cluster fig, mulberry fig (Eng.); trosvy, geelrriviervy, geelstamvy, gewone trosvy, wildevyeboom, sycomorusvy (Afr.); umkhiwa (Ndebele); mogo, mogoboya, mohlole (Northern Sotho); mochaba, motshaba, nkuwa (Tswana); muhuvhoya, muhuyu, muhuyu-lukuse, mutole, muvhuyu-vhutwa (Tshivenda); mogoboya, umkhiwane isikhukhuboya, umncongo, umkhiwane (Zulu)
SA Tree No: 66
Introduction
A medium-sized tree with yellowish red edible figs.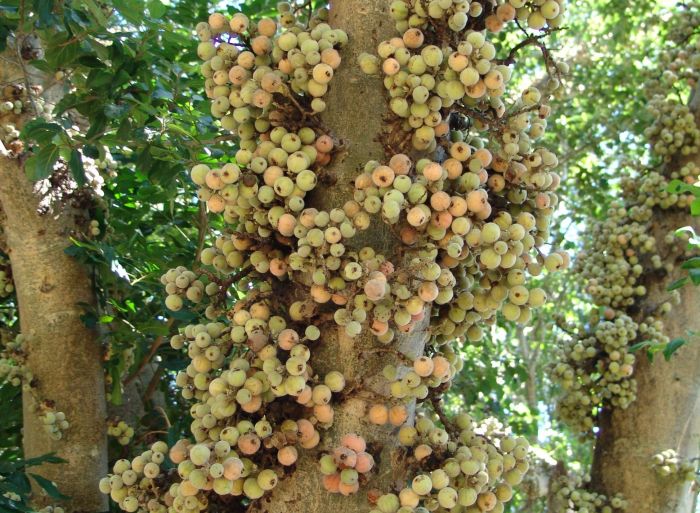 Description
Description
Ficus sycomorus subsp. sycomorus  is a semi-deciduous tree, up to 35 m tall. Bark on young branches is covered in long hairs, greenish yellow, but pale brown to yellowish brown and flaking in papery strips on older branches and stems. The main trunk sometimes grows to more than 2 m in diameter.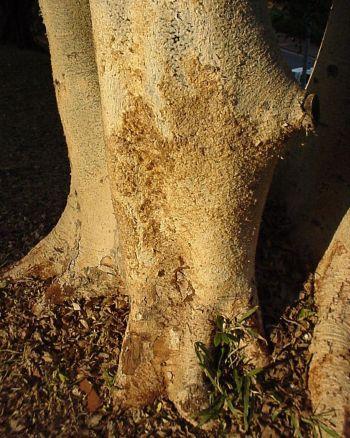 Leaves on new growth, simple, oval to elliptic and up to 170 × 150 mm, base lobed, leaf tip rounded, veins raised on lower surface, leaves rough to the touch. Stipules covering the growth tip. The 20–30 mm long leaf stalks are hairy on young leaves, but become glabrous in older leaves.
Figs are in close-packed clusters on many-branched, fruit-bearing branchlets, nearly round, 20–50 mm in diameter and yellowish red to red when ripe, with 25–35 mm long stems.
The fruiting time is in winter, spring and early summer (July–December), but some figs can be found at most times of the year. Wood is soft, very light (air-dry 510 kg/m3), pale brown, without noticeable heartwood. Milky latex is in all parts of the tree.
Conservation Status
Status
This taxon is assessed as Least Concern (LC) in the Red List of South African plants.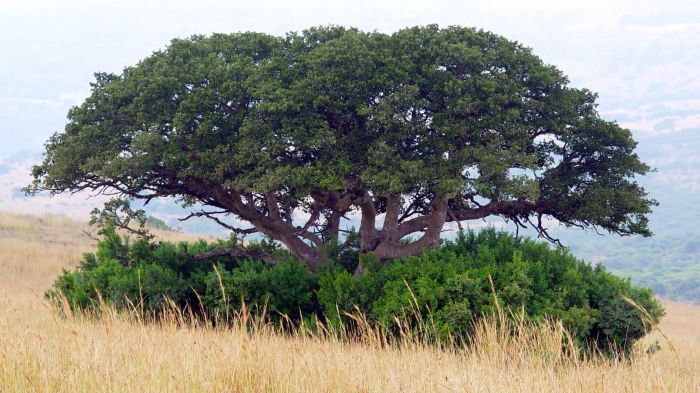 Distribution and habitat
Distribution description
It is a bushveld species, on alluvial soils, along river banks and streams, usually found in Namibia, Botswana, Swaziland and South Africa, where it is found in the Provinces of Limpopo, Mpumalanga and KwaZulu-Natal.
Derivation of name and historical aspects
History
The genus name Ficus is the classical Latin name for the cultivated fig and sycomorus because it is the sycamore tree of the Bible.
Ecology
Ecology
Ripe figs are relished by many fruit-eating birds, fruit-eating bats and game, including elephant, giraffe, kudu, nyala, bushbuck, impala, grey duiker, bushpigs, warthogs, baboons, monkeys and bushbabies.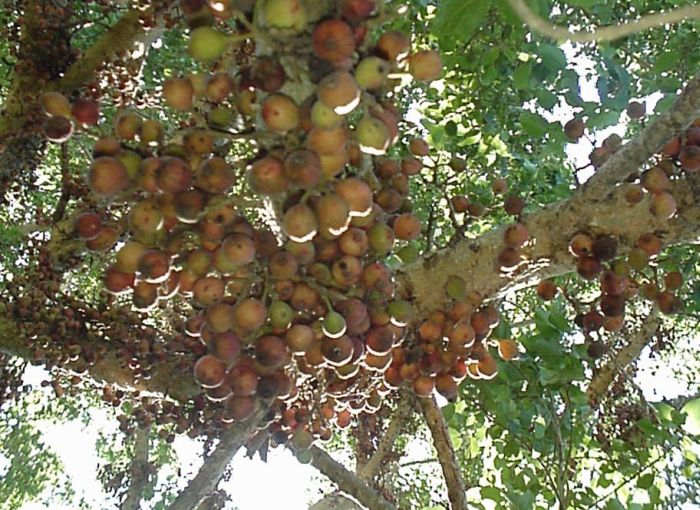 Uses
Use
The figs are commonly eaten raw or dried for later use. In Namibia fermented fruits are distilled to make an alcoholic beverage. In Egypt the bark is used for timber. A cold water infusion is made to stimulate milk production and the cows can be fed with the highly nutritious and easily digested leaves of this tree. The leaves are a valuable fodder in overstocked, semi-arid areas, where the tree occurs naturally. Latex sap or bark extracts are drunk for chest complaints, glandular problems, pharyngitis and diarrhoea. Bark powder is sprinkled on burns. Decoctions of 2 hand-sized pieces, are drunk for diarrhoea. Fruit infusions are drunk for tuberculosis. Two handfuls of bark are boiled with 3 glasses of water and the vapour inhaled, as a galactagogue. One handful of fallen leaves is boiled with 1 cup of water, and the filtrate is drunk for dysentery. A piece of dry wood is used as the base block when making fire, by means of the friction method. The soft wood is good for making drums. A strong rope can be made from the inner bark.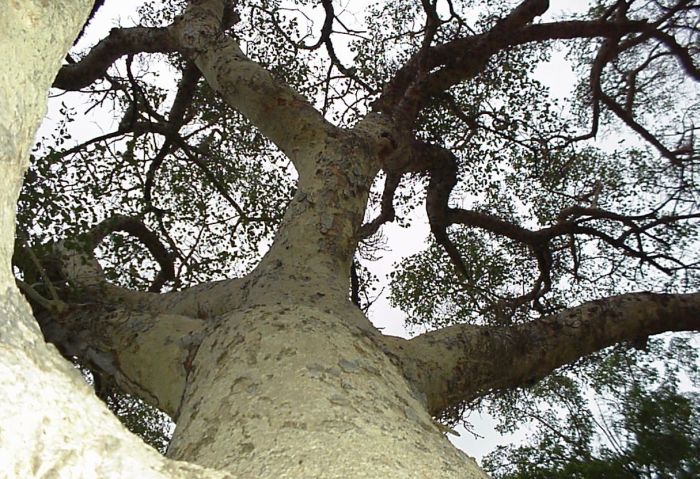 Growing Ficus sycomorus subsp sycomorus 
Grow
This tree can be cultivated from cuttings or truncheons, as viable seeds are difficult to obtain. Truncheons must be left in the shade for a few days to dry, before planting. Remove about one half to two thirds of the leaves before planting in a hole 1 m deep, with some sand on the bottom. This tree can be planted next to streams, rivers, springs or dams, as it needs substantial amounts of water. However, its roots are invasive, and it should not be planted near to houses, walls, sewer lines etc.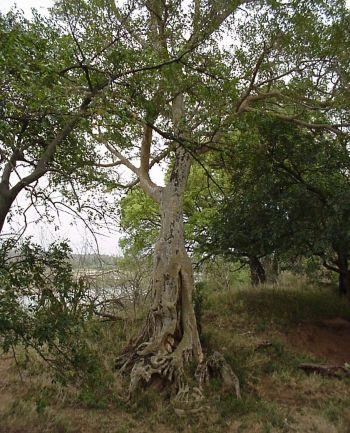 References
Watt, J.M. & Breyer-Brandwijk, M.G. 1962. The medicinal and poisonous plants of southern and eastern Africa , edn 2. Livingstone, Edinburgh & London.
Berg, C.C. 1989. Flora of tropical East Africa: 54. Royal Botanic Gardens, Kew.
Coates Palgrave, K. 2002. Trees of southern Africa. Struik, Cape Town.
Neuwinger, H.D. 2000. African traditional medicine: a dictionary of plant use and applications. MedPharm, Scientific Publishers, Stuttgart.
Van Wyk, A.E., Van Wyk, P. & Van Wyk, B-E. 2000. Photographic guide to trees of southern Africa. Briza Publications, Pretoria.
Venter, F. & Venter, J.A. 2015. Making the most of indigenous trees. Briza Publications, Pretoria.
Credits
Cathbert Makgakga
National Herbarium, Pretoria
June 2019
All photographs by Geoff Nichols
Plant Attributes:
Plant Type: Tree
SA Distribution: KwaZulu-Natal, Limpopo, Mpumalanga
Soil type: Sandy, Loam
Flowering season: Spring, Early Summer, Winter
PH:
Flower colour:
Aspect: Full Sun
Gardening skill: Easy
Special Features:
Attracts birds
Feature plant
Edible plant
Medical plant
Useful plant
Horticultural zones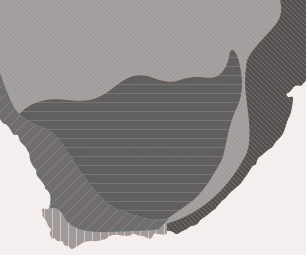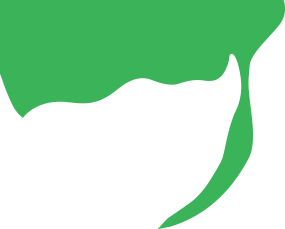 Zone 1 Coastal summer rainfall, frost free
Zone 2 Coastal winter rainfall, frost free
Zone 5 Bushveld summer rainfall, Light frost
Google QR Code Generator