Freesia leichtlinii subsp. alba
Freesia leichtlinii Klatt subsp. alba (G.L.Mey.) J.C.Manning & Goldblatt (=Freesia alba (G.L.Mey.) Gumbl.)
Family: Iridaceae
Common names: white freesia, wild freesia (Eng.); ruikpypie (Afr.)
Introduction
With its showy white spring flowers, exquisite perfume and relative ease in cultivation, Freesia leichtlinii subsp. alba is one of the most rewarding Cape bulbs to grow. It was previously known as Freesia alba.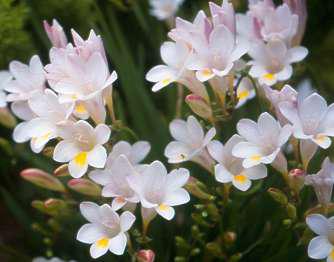 Description
Description
Freesia leichtlinii subsp. alba is a geophyte, i.e. a plant that produces underground buds (bulbs, corms, tubers or rhizomes). In this case, the underground part is a corm, conical in shape, about 10 mm wide at the base, and covered with tunics of finely netted fibres. Freesia leichtlinii subsp. alba is deciduous; growing in autumn to winter, flowering in spring and dormant in summer. Several leaves are produced, they are usually upright, and are sword-shaped, tapering to a sharp point. The leaves and flowering stem are roughly the same height, 120-400 mm.
The flowers are produced in a horizontally bent, 2-8-flowered spike from mid-winter until early summer (July to October). They are white, often with a purple flush on the outside, sometimes with a yellow mark on the lowest tepal, and sometimes with purple in the throat, and have the strongest and sweetest fragrance of all the freesias, that includes the wild species and the hybrids. The flowers are broadly funnel-shaped, 20-30 mm long, and are almost actinomorphic (radially symmetrical, i.e. divisible into two identical halves). In fact this is an easy way to identify this species as the others are more obviously irregular. The fruit is a lightly warty capsule of hard, rounded, shiny seeds.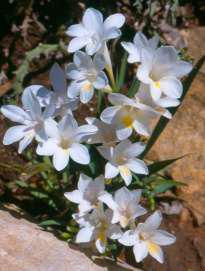 Distribution and habitat
Distribution description
Freesia leichtlinii subsp. alba is found growing in sandy or stony soils amongst dune scrub or at forest edges, usually in light shade, also in damp places near water, mainly along the coast, from Hermanus to Plettenberg Bay.
Derivation of name and historical aspects
History
The genus Freesia is named after F.H.T. Freese (died 1876), a German physician from Kiel and a pupil of Ecklon. The species name alba means white in Latin.
Freesia belongs in the large and very diverse Iridaceae, a family of about 65 genera and 1 800 species distributed all over the world. Africa south of the Equator is home to the greatest concentration of species, 46 genera occur here, including many well-known ornamentals, e.g. Gladiolus, Sparaxis, Tritonia, Moraea, Watsonia, Ixia, Crocosmia, Babiana, Dierama and of course, Freesia.
Freesia is endemic to southern Africa and consists of 16 species: Freesia alba, F. andersoniae, F. caryophyllacea, F. corymbosa, F. fergusoniae, F. fucata, F. grandiflora, F. laxa, F. leichtlinii, F. occidentalis, F. refracta, F. sparrmannii, F. speciosa, F. verrucosa and F. viridis. The genus was revised in 1935 by N.E. Brown and again in 1982 by Goldblatt. Goldblatt reduced the 19 species defined by Brown to 11, then the genus Anomatheca was sunk into Freesia and then Goldblatt & Manning discovered Freesia fucata in the Renosterveld in 2001.
Freesia has a rather complicated and confusing history with lots of wrong names, misapplication of names and synonymy - for the full version see the 1982 revision by Peter Goldblatt. The first two species that were cultivated in Europe in 1766, were both placed in different genera viz. F. corymbosa was thought to be a Gladiolus and F. caryophyllacea was thought to be an Ixia. Freesia refracta arrived there in 1795 and was also thought to be a Gladiolus. Freesia sparrmannii was collected in 1770 and described in 1814, also as a Gladiolus, and the fifth species was called Gladiolus xanthospila but this one has never been related to any wild plant and is thought to be a form of F. caryophyllacea.
Ecklon, Zeyher and Drege, all active in the early 1800s, sent back several species including F. sparrmannii, F. refracta, F. corymbosa, F. leichtlinii and F. andersoniae. It was only in 1866 that Freesia was described as a distinct genus. Freesia alba was first described in 1878 by G.L.Meyer, and became well known in Europe, as F. refracta var. alba. Gumbleton recognized Freesia alba as a distinct species in 1896.
None of the early collections were widely grown, nor were they used in breeding experiments, furthermore they probably did not persist in cultivation and were grown only by collectors. It was only when yellow-flowered plants of F. leichtlinii were discovered in 1874 that Freesia entered the world of horticulture. Max Leichtlin found them in the Botanic Gardens at Padua - how they got there is a mystery, but he spotted them, grew them and distributed material widely. F. leichtlinii was repeatedly figured in horticultural journals in the following decade and was evidently a popular ornamental pot plant available in the nursery trade.
There is no record of how it got there, but Freesia alba first appeared in the English nursery trade in 1878 and quickly spread to Europe and North America. It appears to have caused quite a sensation, and appeared in almost every horticultural publication of note in both Europe and America in the years following its introduction. Breeding began immediately after F. alba appeared on the market and continues to this day.
Today there are hundreds of hybrids and varieties in any imaginable colour. Most of these hybrids are derived from F. alba, F. leichtlinii, a rose pink form of F. corymbosa known then as F. armstrongii, and a deep yellow form of F. corymbosa known then as F. aurea.
Ecology
Ecology
Freesia leichtlinii subsp. alba is mostly pollinated by solitary bees.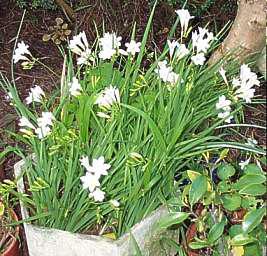 Growing Freesia leichtlinii subsp. alba
Grow
Although wild freesias are not as easy to grow as their myriad of hybrid relatives now available for sale at garden centres throughout the world, Freesia leichtlinii subsp. alba is nevertheless one of the easiest Cape bulbs to grow. It makes a wonderful pot plant that can be enjoyed on a sunny patio, or sunk into the garden during its growing season or just for spring and removed and stored dry during summer, or it can be grown permanently outdoors in pockets of the rock garden. Freesia leichtlinii subsp. alba is frost tender to half hardy (USDA zone 9) and thus needs protection in very cold climates.
When growing Cape bulbs like Freesia leichtlinii subsp. alba it is wise to follow these guidelines: use an acid, sandy (well-drained) growing medium, e.g. 3 parts medium-grained river sand to 1 part fine acid compost or finely milled acid bark. Use 15 to 20 cm pots, and plant the corms at a depth of approx. 3 times the height of the corm, in autumn. Place the pots in a well-ventilated, sunny spot, preferably one that receives morning sun and afternoon shade and water them thoroughly every seven to ten days. Take note that overwatering, particularly of container-grown species, will soon lead to rotting. As the temperatures start to rise again towards the end of spring and the plants start to go dormant (indicated by a yellowing of the leaves), stop watering completely and let the growing medium dry out completely.
Store the containers in a cool dry place during summer. If you wish to grow them in a permanent spot in the garden, choose a mole-proof rockery or sink a wire basket and plant them in the basket, and choose a spot that gets as little water in summer as possible, although Freesia leichtlinii subsp. alba  tolerates the summer watering it receives in the Fragrance Garden at Kirstenbosch.
Propagate Freesia leichtlinii subsp. alba by seed sown in autumn. Fresh seed germinates readily in 4 to 5 weeks. Some plants flower in their second season, most in their third. They also reproduce by cormels. Freesia leichtlinii subsp. alba is free-flowering, sets seed freely and seeds itself pretty freely too, and, with the production of cormels, a pot will be filled with plants in 2 to 3 years. Clumps are best lifted and divided every three years.
Thrips and aphids can cause extensive damage to leaves, and aphids can transmit viral diseases to which freesias are very susceptible. Slugs and snails can also damage the leaves, and a fungal dry rot attacks the corms.
References
Duncan, G. 2000. Grow bulbs. A guide to the species, cultivation and propagation of the South African Bulbs. National Botanical Institute, Cape Town.
Du Plessis, N. & Duncan, G. 1989. Bulbous plants of southern Africa, a guide to their cultivation and propagation. Tafelberg, Cape Town.
Germishuizen, G. & Meyer, N.L. (eds). 2003. Plants of southern Africa: an annotated checklist. Strelitzia 14. National Botanical Institute, Pretoria.
Goldblatt, P. 1982. Systematics of Freesia Klatt (Iridaceae). Journal of South African Botany 48:39-91.
Jackson, W.P.U. 1990. Origins and meanings of names of South African plant genera. University of Cape Town Printing Department.
Jeppe, B. & Duncan, G.D. 1989. Spring and winter flowering bulbs of the Cape. Oxford University Press, Cape Town.
Manning, J., Goldblatt, P. & Snijman, D. 2002. The colour encyclopedia of Cape bulbs. Timber Press, USA.
Credits
Alice Notten
Kirstenbosch National Botanical Garden
August 2004
Plant Attributes:
Plant Type: Bulb
SA Distribution: Western Cape
Soil type: Sandy
Flowering season: Spring, Winter
PH: Acid
Flower colour: White
Aspect: Full Sun, Morning Sun (Semi Shade)
Gardening skill: Easy
Special Features:
Fragrant
Good potplant
Horticultural zones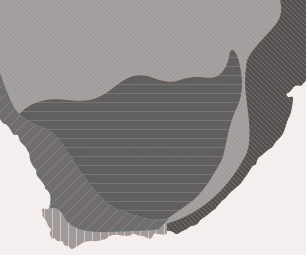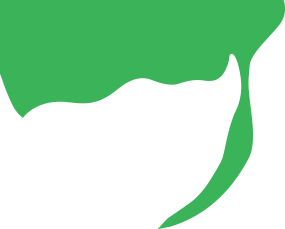 Zone 1 Coastal summer rainfall, frost free
Zone 2 Coastal winter rainfall, frost free
Zone 3 Winter rainfall Karoo, light frost
Zone 4 Summer rainfall Karoo and Highveld, Frost in winter
Zone 5 Bushveld summer rainfall, Light frost
Google QR Code Generator