Frithia humilis Burgoyne
Family: Aizoaceae
Common names: window plants, fairy elephant's feet (Eng.);bobbejaanvingers, glasies, toontjies (Afr.) Status: Endangered
Introduction
This miniature leaf succulent is attractive even when not flowering as the windowed leaves with crenulate markings are showy and unique.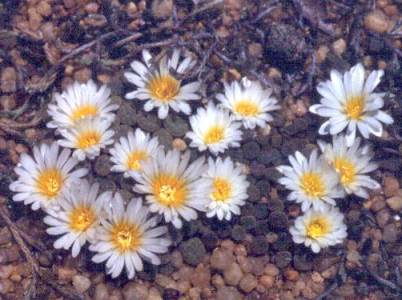 Description
Description
This minute plant comprises a cluster of succulent, spirally arranged leaves, windowed at the tips. The windows are just visible above the soil surface and thickened rootstocks are formed underground.
The stems are much reduced and during periods of drought the plants retract into the sandy soil. This has been thought to be achieved by means of contractile roots, but no such roots have been found. The cells of the leaves are arranged in columnar rows and when moisture is lost and the contents shrink, the tangential walls contract, drawing the plants deeper into the soil. This this way they avoid desiccation during the dry winter months and times of drought. Retraction into the ground is thus achieved by means of contractile leaves, not contractile roots.
Flowers are white with a yellow centre, sometimes tipped with light pink. They are generally about 15-20 mm in diameter and are borne singly on very short stalks or are stalkless. They are subtended by five unequal sepals closely resembling the cylindrical leaves. The petals number between 20 and 30 and usually have acuminate tips. After pollination flowers turn pink or yellow.
Fruits are very delicate, spongy capsules resembling a barrel and open when wetted and close again when they dry out (hygrochastic capsules). However, the capsules become detached from the plants and break up shortly after ripening, releasing the seeds. This is an unusual feature as most other capsules in the family are woody and open and close repeatedly as they become wet (open) and dry (closed).
Conservation Status
Status
This plant is Red Listed as Endangered ( IUCN Species Survival Commission 1994) as only nine subpopulations are known (Burgoyne et al. 2000). One subpopulation was lost because of pressures on the habitat. All the populations together cover less than 2 hectares. The populations are severely fragmented but many seed capsules are produced every year and plants seem healthy.
Distribution and habitat
Distribution description
Frithia humilis is one of a few mesembs growing exclusively in the summer-rainfall region of South Africa. It is restricted to two provinces of South Africa, namely Gauteng and Mpumalanga.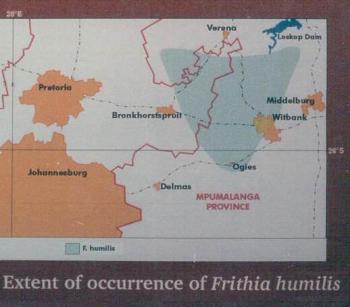 Derivation of name and historical aspects
History
The genus Frithia (Mesembryanthemaceae) was first mentioned (in a key) in The Gardeners' Chronicle (Brown 1925). At that stage no species were assigned to this genus and only later was a full description of Frithia pulchra given (Brown 1926). It was named after Frank Frith (1872-1954). In 1968 De Boer published the name Frithia pulchra var. minor in the Dutch journal Succulenta, but as no type material was cited, the name was invalid. Plants of this variety are generally smaller than those included in var. pulchra and are restricted to the eastern parts of the distribution range of the genus. These differences were again alluded to by Hardy & Fabian (1992). In 1996 Zimmermann confirmed the different characters of variety minor, but gave no formal description or type validating the varietal epithet. This species was validly described only recently (Burgoyne 2000). The specific epithet humilis is derived from the Latin word which means 'smaller than others of its kind'.
Ecology
Ecology
F. humilis is found predominantly in shallow, sandy gravel on large, flat, rock plates of the coarse sandstone sediments of the Irrigasie Formation of the Ecca Group of the Karoo Sequence. The lithology is very rough, porous sandstone which weathers to form a very coarse gravel. This substrate reaches very high temperatures in summer, but organic matter insulates the plant bodies from heat and desiccation. Altitudes range from 1 368 m to 1 550 m and rainfall varies between 700 and 800 mm per annum. Winters are cold and dry and severe frost occurs in the areas where the plants grow.
Other species growing in the immediate vicinity are the fern Selaginella dregei and the legume Indigofera melanadenia. Species sometimes found associated with Frithia are the succulents Anacampseros subnuda subsp. subnuda, Crassula lanceolata subsp. transvaalensis, Crassula setulosa var. setulosa and Mossia intervallaris. Grasses such as Microchloa kunthii are also found in these habitats.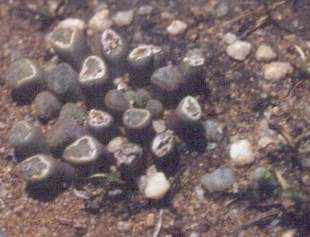 Although the plants grow in situations where there is little organic material to fuel a fire, they are able to withstand fire.
Interesting to note is that the white flowers of F. humilis turn light pink or yellow once pollination has taken place. It is obviously advantageous if pollinators focus only on the white unpollinated flowers, not wasting energy on flowers already pollinated.
Economic and cultural value Frithia humilis makes an attractive potplant and is popular with succulent collectors.
Growing Frithia humilis
Grow
Frithia is water tolerant and recent observations during periods of heavy rainfall indicated that, although the plants sometimes become inundated, it is never for long as the water drains away within 24 hours, owing to the porosity of the substrate. It seems that many growers are reluctant to water their plants sufficiently, often with unfortunate results. It is a good idea to add some peat to the potting soil of F. humilis, as the soil in its natural habitat contains large amounts of organic material. Water should be soft as this plant tends to die when given brackish water.
References
BROWN, N.E. 1925. Mesembryanthemum. Gardeners' Chronicle Ser. III 78: 433.
BROWN, N.E. 1926. Ficoidaceae. In J. Burtt Davy, A manual of the flowering plants and ferns of the Transvaal with Swaziland, South Africa 1,41: 162. Longmans, Green and Co. Ltd., London.
BURGOYNE P.M. KRYNAUW, S. & SMITH, G.F. 2000. Frithia - up close and personal. Aloe 37: 38-42.
BURGOYNE, P.M. SMITH, G.F. & DU PLESSIS, F. 2000. Notes on the genus Frithia (Mesembryanthemaceae) and the description of a new species, F. humilis, in South Africa. Bothalia 30:1-7
DE BOER, H.W. 1968. Frithia pulchra var. minor de Boer, var. nov. Succulenta 47: 147-148.
GERMISHUIZEN, G. 1975. 'n Aantal bedreigde vetplantsoorte in Transvaal. Fauna & Flora 26: 5 - 8.
HAMMER, S. 1998. Frithia's fairest friends. Mesemb Study Group Bulletin 13,3: 64.
HARDY, D. & FABIAN, A. 1992. Succulents of the Tranvaal. Southern Book Publishers, Halfway House.
HARTMANN, H.E.K. 1998. Groupings in Ruschioideae (Aizoaceae). Mesemb Study Group Bulletin 2: 35 - 36.
IUCN SPECIES SURVIVAL COMMISSION. 1994. IUCN Red List Categories. IUCN, Gland.
KROON, N. 1997. Tribute to two amateurs: William Nelson F.R.H.S., L.M.C.A., F.L.Sc. (1852 - 1922) and Frank Frith (1872-1954). PlantLife 16: 15 - 17.
PUNT, W., BLACKMORE, S., NILSSON, S. & LE THOMAS, A. 1994. Glossary of pollen and spore terminology. L.P.P. Contributions Series No. 1, Utrecht, The Netherlands.
SMITH, G.F., CHESSELET, P., VAN JAARSVELD, E.J., HARTMANN, H., HAMMER, S., VAN WYK, B-E., BURGOYNE, P., KLAK, C. & KURZWEIL, H. 1998. Mesembs of the world. Illustrated guide to a remarkable succulent group. Briza Publications, Pretoria.
VENTER, F. 1983. Frithia pulchra. Fauna & Flora 40: 19-20.
ZIMMERMANN, N.F.A. 1996. Frithia pulchra N.E.Br. - Eine Reise zu zwei Populationen im Transvaal mit Besprechung der succulenten Begleitvegetation. Kakteen und Andere Sukkulenten 47,7: 146 - 152.
Credits
Priscilla Burgoyne
National Herbaium, Pretoria
February 2004
Plant Attributes:
Plant Type: Succulent
SA Distribution: Gauteng, Mpumalanga
Soil type: Sandy
Flowering season: Spring, Early Summer
PH: Acid
Flower colour: White, Pink, Yellow
Aspect: Full Sun
Gardening skill: Challenging
Special Features:
Drought resistant
Good potplant
Feeds honeybees
Horticultural zones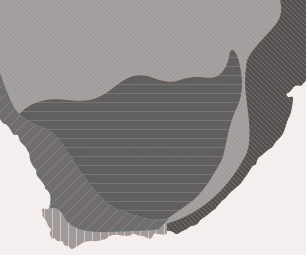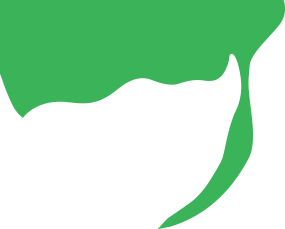 Zone 4 Summer rainfall Karoo and Highveld, Frost in winter
Zone 5 Bushveld summer rainfall, Light frost
Google QR Code Generator