Frithia pulchra N.E. Br.
Family: Aizoaceae
Common names: bobbejaanvingers, glasies, toontjies, window plants and, perhaps most appropriately fairy elephant's feet.
Introduction
Window-leaf succulents are always very popular as the shape of the leaves is unique and when in flower the magenta petals with lighter centres cover the plant completely. Although this is a miniature and could never become a spectacular garden plant as it would get lost among other larger plants, it is collected by discerning succulentophiles.
Description
Description
These minute plants are perennial succulents and are just visible above the soil surface in their natural habitat. Plants comprise a cluster of succulent leaves windowed at the tips, with a short, thickened rootstock underground. Stems are much reduced and during periods of drought the plants shrink in size as a result of moisture loss. They sometimes even disappear below the grit under adverse conditions, making them very difficult to find. The shrinkage is achieved by means of leaf cells arranged in columnar rows. When moisture is lost and the contents shrink, the tangential cell walls contract, drawing the plants deeper into the soil avoiding desiccation during the dry winter months or in times of drought.
The single flowers are bright magenta with a white or light yellow centre and are 25 - 35 mm in diameter and are borne on very short stalks or are stalkless. The five sepals are unequal and closely resemble the cylindrical leaves. Petals number between 30 and 45 and usually have blunt, rounded tips.
Fruits are quite robust, spongy capsules resembling a barrel and open when wetted and close when dry (hygrochastic capsules), releasing the seed.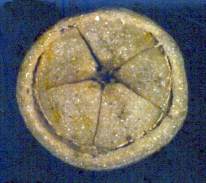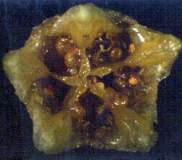 Conservation Status
Status
The Red List status of this plant is Vulnerable (D2) as only two subpopulations have been found, together covering no more than 13.25 hectares (Burgoyne et al. 2000). Plants in the populations are sparsely scattered and are not in dense groups. It would appear that either pollinators are not very successful, seeds are not very fertile or germination and growth are hampered in some way as these plants are not as numerous as the only other member of the genus.
Distribution and habitat
Distribution description
Frithia pulchra grows exclusively in the summer-rainfall region of South Africa has a restricted distribution. Populations of these miniature window plants occur in the Magaliesberg from Hartbeeshoek to the Rustenburg Nature Reserve (North-West Province and in Gauteng), where higher altitudes are favoured.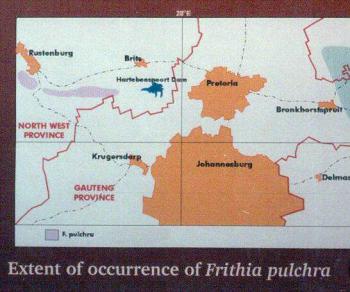 This species grows in very shallow soils derived from coarse sediments. Very rough quartzites of the Magaliesberg Formation of the Pretoria Group of the Transvaal Sequence are involved here and upon weathering, form a very coarse gravel.
Derivation of name and historical aspects
History
 Previously thought to be a monotypic genus and a Gauteng endemic, the genus Frithia was established by N.E. Brown (1925), a taxonomist based at Kew Herbarium. At that stage no species were assigned to this genus and only later was a full description of Frithia pulchra given (Brown 1926). It was named after Frank Frith (1872 - 1954), a railway services gardener stationed at Park Station, Johannesburg, who took the specimens to Brown at Kew while on a visit to London. Brown named Frithia in honour of the man who brought him the specimens. The specific epithet pulchra is derived from the Latin "pulcher" meaning beautiful.
Ecology
Ecology
Frithia pulchra grows mostly on exposed rock plates, the roots anchored in cracks between the coarse quartzites. This substrate reaches very high temperatures in summer and may experience frosts during severe winters.
Other succulent species sometimes associated with Frithia are Anacampseros subnuda subsp. subnuda, Crassula lanceolata subsp. transvaalensis, Crassula setulosa var. setulosa and Mossia intervallaris.
A hiking trail has been named after this plant and anyone visiting the Magaliesberg without seeing this plant in habitat has missed something truly unique.
Uses
Use
Frithia pulchra with its magenta flowers is an attractive potplant and is popular with succulent collectors. Forms with flowers of different colours are available.
Growing Frithia pulchra
Grow
Gritty, well drained soil containing a small amount of organic material will keep this species happy. They can be sown from seed sown in a gritty sandstone (acid) medium or propagated vegetatively. They can be grown in pots or out of doors in a rockery. Frithia is not shy of water and recent observations during periods of heavy rainfall indicated that they enjoy inundation for short periods, but the porosity of the substrate should be such that the water drains away swiftly. Under-watering can lead to disastrous results, so be generous with water in summer and refrain from any water in winter except as a light misting.
As Frithia pulchra is listed as vulnerable in the wild, please make sure that you acquire Frithia plants from reputable sources where they have been propagated in nurseries and not collected illegally from the wild. It is illegal to collect plants from the veld without a permit in South Africa.
References
BROWN, N.E. 1925. Mesembryanthemum. Gardeners' Chronicle Ser. III 78: 433.
BROWN, N.E. 1926. Ficoidaceae. In J. Burtt Davy, A manual of the flowering plants and ferns of the Transvaal with Swaziland, South Africa 1,41: 162. Longmans, Green and Co. Ltd., London.
BURGOYNE P.M. KRYNAUW, S. & SMITH, G.F. 2000. Frithia - up close and personal. Aloe 37: 38-42.
E BOER, H.W. 1968. Frithia pulchra var. minor de Boer, var. nov. Succulenta 47: 147-148.
GERMISHUIZEN, G. 1975. 'n Aantal bedreigde vetplantsoorte in Transvaal. Fauna & Flora 26: 5-8.
HAMMER, S. 1998. Frithia's fairest friends. Mesemb Study Group Bulletin 13,3: 64.
HARDY, D. & FABIAN, A. 1992. Succulents of the Tranvaal. Southern Book Publishers, Halfway House.
HARTMANN, H.E.K. 1998. Groupings in Ruschioideae (Aizoaceae). Mesemb Study Group Bulletin 2: 35-36.
IUCN SPECIES SURVIVAL COMMISION. 1994. IUCN Red List Categories. IUCN, Gland.
KROON, N. 1997. Tribute to two amateurs: William Nelson F.R.H.S., L.M.C.A., F.L.Sc. (1852-1922) and Frank Frith (1872-1954). PlantLife 16: 15-17.
PUNT, W., BLACKMORE, S., NILSSON, S. & LE THOMAS, A. 1994. Glossary of pollen and spore terminology. L.P.P. Contributions Series No. 1, Utrecht, The Netherlands.
SMITH, G.F., CHESSELET, P., VAN JAARSVELD, E.J., HARTMANN, H., HAMMER, S., VAN WYK, B-E., BURGOYNE, P., KLAK, C. & KURZWEIL, H. 1998. Mesembs of the world. Illustrated guide to a remarkable succulent group. Briza Publications, Pretoria.
VENTER, F. 1983. Frithia pulchra. Fauna & Flora 40: 19-20.
ZIMMERMANN, N.F.A. 1996. Frithia pulchra N.E.Br. - Eine Reise zu zwei Populationen im Transvaal mit Besprechung der succulenten Begleitvegetation. Kakteen und Andere Sukkulenten 47,7: 146-152.
Credits
Patricia Burgoyne
National Herbarium
January 2004
Plant Attributes:
Plant Type: Succulent
SA Distribution: Gauteng, North West
Soil type: Sandy
Flowering season: Spring, Early Summer
PH: Acid
Flower colour: White, Pink
Aspect: Full Sun
Gardening skill: Challenging
Special Features:
Drought resistant
Feeds honeybees
Horticultural zones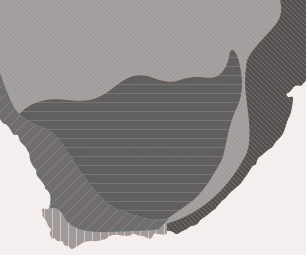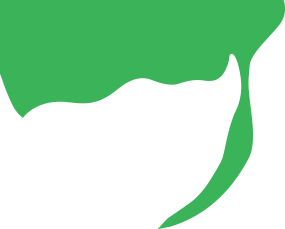 Zone 4 Summer rainfall Karoo and Highveld, Frost in winter
Zone 5 Bushveld summer rainfall, Light frost
Google QR Code Generator