Gazania rigens var. leucolaena
Gazania rigens (L.) Gaertn. var. leucolaena (DC.) Roessler
Family: Asteraceae
Common names: trailing gazania (Eng.); strandgazania, strandgousblom, rankbotterblom (Afr.); ububendle (Zulu)
Introduction
When in full flower, the bright yellow flower heads set against the greyish white leaves, create an attractive, bright, cheerful patch to lighten up any garden.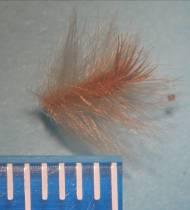 Description
Description
This is a decumbent (creeping) perennial herb, with milky latex. Stems are simple or sparsely branched, up to about 400 mm long, evenly and densely leafy throughout, with older stems becoming subwoody. Leaves are alternate, up to 110 mm long and 30 mm broad, narrowly obovate to obovate, tapering to the petiole, undivided or pinnatifid with 1 or 2 (3) pairs of obovate lobes, apex acute or subobtuse, densely, soft, white woolly-hairy on both sides. Flower heads are terminal, solitary, radiate, when fully expanded up to 40 mm in diameter, pedunculate, peduncle up to 100 mm long, soft, white woolly-hairy and without bracts. Involucre is campanulate or cup-shaped, up to 10 mm high and 15 mm broad, densely soft, white woolly-hairy, bracts in 2 or 3 rows, the whole structure partly connate with free, acute apices. Ray florets in one row, sterile, bright yellow. Disc florets are tubular below, 5-lobed above, bisexual, fertile, and bright yellow. The cypsela is yellowish brown, narrowly turbinate (obconical) or club-shaped, up to 5 mm long, densely covered with long, upwardly directed, with straight hairs. Pappus consists of 2 rows of linear, acuminate scales, hidden by the long hairs of the cypsela. Flowering time recorded from August to February.
Conservation Status
Status
According to Raimondo et al. (2009) Gazania rigens var. leucolaena is classified as LC (Least Concern) although urbanisation and expansion of holiday villages may present a threat to these plants in future.
Distribution and habitat
Distribution description
Gazania rigens var. leucolaena has a small distribution area along the Cape south coast from about Mossel Bay to Port Elizabeth, growing on sand dunes, often just above the high tide mark. It can often be found growing with G. rigens var. uniflora.
Derivation of name and historical aspects
History
The genus Gazania is named after Theodore of Gaza (1398-1478) who translated Theophrastus' botanical works from Greek into Latin. The specific name rigens means stiff, rigid, unbendable, perhaps referring to the acute, connate involucral bracts or the pappus scales. The variety name leucolaena was derived from Greek, literally meaning white cloak and refers to the white woolly tomentum (hair covering).
The genus Gazania belongs to the tribe Arctotideae, the subtribe Gorteriinae under the subfamily Cichorioideae of the family Asteraceae. It consists of about 17 species occurring mainly in Namibia and South Africa with one subspecies of G. krebsiana (subsp. serrulata ) extending to Angola and Tanzania and one variety of G. rigens (var. uniflora ) occurring also in southern Mozambique.
In the literature on garden plants and cultivation, there seems to be some confusion on the correct identity of the three varieties of G. rigens. The following descriptions provide some guidelines to the correct identification of the three varieties:
var. rigens :  Leaves glabrous above, rays golden yellow to orange with black spot (eye) near base of each floret; heads large, when fully expanded 40-80 mm in diameter; involucre cup-shaped, 10-15 mm long (high). This plant is not known from the wild, but only from cultivated plants.
var. uniflora :  Leaves glabrous above, rays bright yellow without black spot near base, heads smaller, when fully expanded 25-40 mm in diameter across rays; involucre campanulate, 7-8(-10) mm long. This variety occurs from about Knysna in the Western Cape, all along the coast to the Eastern Cape, KwaZulu-Natal, Swaziland and also southern Mozambique.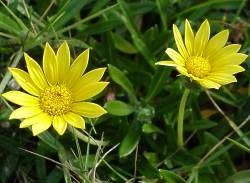 var. leucolaena :   plants densely and softly white woolly-hairy all over, rays bright yellow without black spot near base, heads smaller, when fully expanded 25-40 mm in diameter across rays; involucre campanulate, 7-8(-10) mm long. This plant occurs only in the eastern part of the Western Cape and the western part of the Eastern Cape, along the coast.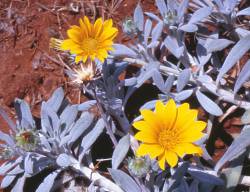 Ecology
Ecology
The bright yellow flowers are visited by many insects which are responsible for their pollination. The fruits are densely covered with long, straight hairs which probably help with wind dispersal of the fruits. The pappus scales crowning the fruit are so small and hidden by the hairs on the fruits that they probably don't play a significant role in fruit dispersal.
G. rigens taxa have become naturalised on coastal dunes in Australia (Paul 2006; Karis et al. 2009).
Other Gazania species in cultivation are G. krebsiana, G. lichtensteinii, G. linearis and G. maritima.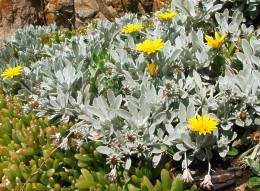 Uses
Use
An infusion of the roots of Gazani rigens var. uniflora was used by young Zulu men in a magical sense when courting (Hulme 1954).
Growing Gazania rigens var. leucolaena
Grow
Gazania rigens var. leucolaena is frost-resistant, resistant to sea spray and drought-tolerant, making it a waterwise garden plant. It is well suited for coastal and Cape flats conditions, as well as cold highveld gardens and dry karoo areas.
Propagate from rooted runners or stem cuttings. Plant them in a sunny spot, as the flowers will only open in full sun and close in the evening. They flower from spring to summer.
Plant as a groundcover, a border to a flower bed, in a rockery, or against a slope. A mixed flower bed containing G. rigens var. leucolaena with its brilliant bright yellow flower heads and the variously coloured Gazania krebsiana garden varieties, pink Pelargonium species and blue Felicia amelloides or F. heterophylla can create a very colourful display in a sunny spot. Even when not in flower, the greyish white foliage of G. rigens var. leucolaena provides an interesting contrast to the bright or dark green foliage of neighbouring plants. Although it is drought-tolerant, it will flower more profusely when watered regularly.
The plants tend to get a bit bare at their bases after a few years and will have to be replaced by younger, leafy suckers. They are not known to be attacked by any garden pests.
Apparently there are other cultivars of this species available, viz. Gazania rigens 'Sunglow', Gazania rigens ' Sunset', and Gazania rigens 'Yellow Star'.
References
Goldblatt, P. & Manning, J. 2000. Cape Plants. A conspectus of the Cape flora of South Africa. Strelitzia 9: 326-327.
H erman, P.P.J., R etief, E., Koekemoer, M. & Welman, W.G. 2000. Asteraceae. In O.A. Leistner (ed.), Seed plants of southern Africa : families and genera. Strelitzia 10: 101-170. National Botanical Institute, Pretoria.
Herman, P.P.J., Welman, W.G., Retief, E., Koekemoer, M. & Netnou, N. 2003. A steraceae. In G. Germishuizen & N.L. Meyer (eds), Plants of southern Africa : an annotated checklist. Strelitzia 14: 178-310. National Botanical Institute, Pretoria.
Hulme, M.M. 1954. Wild flowers of Natal. Shuter & Shooter, Pietermaritzburg.
Joffe, P. 1993. The gardener's guide to South African plants. Tafelberg, Cape Town.
Joffe, P. 2001. Creative gardening with indigenous plants: a South African guide. Briza Publications, Pretoria.
Karis, P.O., Funk, V.A., McKenzie, R.J., Barker, N.P. & Chan, R. 2009. Chapter 25. Arctotideae. In V.A. Funk, A. Susanna, T.F. Stuessy & R.J. Bayer (eds), Systematics, evolution and biogeography of Compositae : 385-410. International Association for Plant Taxonomy, Vienna.
Paul, A. 2006. Melbourne : a haven for South African flora. Veld & Flora 92(1): 22-23.
Pope, G.V. 1992. 34. Gazania Gaertn. Flora zambesiaca 6,1: 252-255.
Powrie, F. 1998. Grow South African plants. Kirstenbosch Gardening Series. National Botanical Institute, Cape Town.
Raimondo, D., Von Staden, L., Foden, W., Victor, J.E., Helme, N.A., Turner, R.C., Kamundi, D.A. & Manyama, P.A. 2009. Red list of South African plants 2009. Strelitzia 25. South African National Biodiversity Institute, Pretoria.
Roessler, H. 1959. Revision der Arctotideae - Gorteriinae (Compositae). Mitteilungen der Botanischen Staatssammlung München 3: 364-418 (71-500).
Smith, C.A. 1966. Common names of South African plants. Memoirs of the Botanical Survey of South Africa No. 35.
Stearn, W.T. & Smith, I.L.S. 1972. A.W. Smith's a gardener's dictionary of plant names. Cassell, London.
Credits
P.P.J Herman
National Herbarium, Pretoria
September 2010
Plant Attributes:
Plant Type: Ground Cover, Perennial
SA Distribution: Eastern Cape, Western Cape
Soil type: Sandy, Clay, Loam
Flowering season: Spring, Early Summer, Late Summer, Autumn
PH: Alkaline, Neutral
Flower colour: Yellow
Aspect: Full Sun, Morning Sun (Semi Shade)
Gardening skill: Easy
Special Features:
Attracts butterflies
Drought resistant
Horticultural zones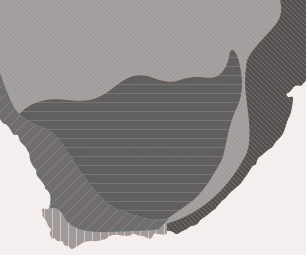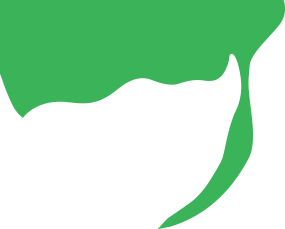 Zone 1 Coastal summer rainfall, frost free
Zone 2 Coastal winter rainfall, frost free
Zone 3 Winter rainfall Karoo, light frost
Zone 4 Summer rainfall Karoo and Highveld, Frost in winter
Zone 5 Bushveld summer rainfall, Light frost
Google QR Code Generator