Gazania splendidissima Mucina, Magee & Boatwr.
Family: Asteraceae
Common names: None
Introduction
Gazania splendidissima is an eye-catching perennial with striking greyish, semi-succulent leaves and golden-yellow to orange flowers.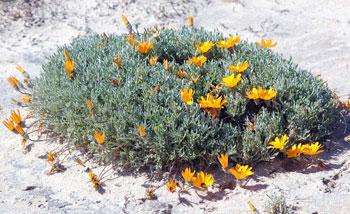 Description
Description
Gazania splendidissima is a perennial subshrub up to 200 mm tall with woody prostrate branches. The leaves are clustered at the branch tips and are simple to pinnatilobed, semi-succulent, greyish on the upper surface and white felted-araneose (cobwebby) beneath.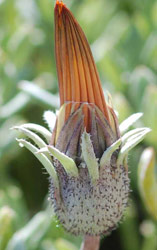 The flower heads are 40-65 mm in diameter. The radiate, solitary involucres have two to three rows of bracts inserted on the rim. The connate area is densely mealy with numerous bristle-like hairs and maculate due to the black colour of the hair base and surrounding involucre.  There are betweeen 12 and 21 neuter ray florets, the lamina of which are 15-30 mm long, golden-yellow to orange, and basally marked with black adaxially. The disc florets are bisexual, numerous and yellow. The fruits are narrowly obovate, hairy and crowned with a biseriate (in two rows) pappus of scales. Flowering time is from August to October.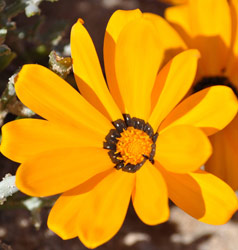 Conservation Status
Status
The species is currently listed as Vulnerable (Magee et al. 2011). The coastal habitat to which Gazania splendidissima is endemic is threatened by coastal diamond mining and disturbance caused by vehicles.  Populations however do appear to recruit readily from seeds and young plants and seedlings are regularly encountered (L. Mucina pers. obs.).
Distribution and habitat
Distribution description
Gazania spendidissima is endemic to a narrow strip of the west coast between Port Nolloth and Hondeklipbaai in the Northern Cape Province.
Derivation of name and historical aspects
History
This species was first collected by Neville Stuart Pillans at Port Nolloth in October 1924, but it remained largely unnoticed and new to science until described very recently by Magee et al. (2011). The specific epithet spendidissima refers to the splendour of the plants in flower, largely due to the striking contrast between the greyish semisucculent leaves and the large golden-yellow or orange flowers.
Ecology
Ecology
The plants grow in deep sands where they are at risk of being buried. They are usually found between the upper beach and adjacent coastal dune systems, receiving some salt spray during stormy and windy weather. They can be distinguished from the other species of Gazania Gaertn. by the subshrubby growth habit, the semi-succulent leaves which are greyish on the upper surface, and in particular the prominently maculate involucre formed by the bristle-like hairs with black bases.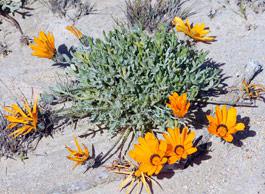 Growing Gazania splendidissima
Grow
Gazania spendidissima is ideal for coastal gardens and should be planted in full sun where the flowers will stay open for most of the day. In partial shade the leaves lose their striking greyish colour. Although this species has yet to be introduced into cultivation it is likely that it will be easily propagated from seeds as are the other species of Gazania (see Gazania krebsiana).
References
Magee, A.R., Boatwright, J.S. & Mucina, L. 2011. Gazania lanata and G. splendidissima: two new species of Asteraceae (tribe Arctotideae) from the Greater Capensis, with an updated key for the genus. South African Journal of Botany 77: 86-93.
Voigt, W. 2006-08. Gazania krebsiana Less. http://www.plantzafrica.com/plantefg/gazankrebs.htm
Credits
Anthony R. Magee
Compton Herbarium, Kirstenbosch
February 2012
Plant Attributes:
Plant Type: Perennial
SA Distribution: Northern Cape
Soil type: Sandy
Flowering season: Spring, Early Summer
PH: Neutral
Flower colour: Yellow, Orange
Aspect: Full Sun
Gardening skill: Easy
Special Features:
Drought resistant
Feeds honeybees
Horticultural zones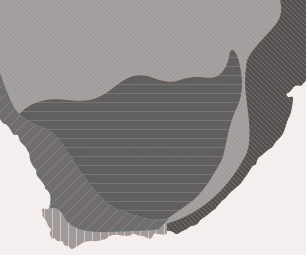 Zone 1 Coastal summer rainfall, frost free
Zone 2 Coastal winter rainfall, frost free
Zone 3 Winter rainfall Karoo, light frost
Google QR Code Generator