Gerbera viridifolia (DC.) Sch.Bip.
Family: Asteraceae
Common names: blushing barberton daisy (Eng.); griquateebossie (Afr.); iyeza lamazi (isiXhosa)
Introduction
Gerbera viridifolia produces beautiful cream, mauve or purple daisies for most of the year. It is one of the parents of today's popular florist Gerbera hybrids.
Description
Description
It is a stemless perennial herb, with numerous brown, thong-like roots and leaves emerging from the silky crown. The leaves are very variable, usually stalked, the upper surface is hairy at first, becoming smooth, and the lower surface is never densely hairy. The inflorescence stalks are up to 45 cm long, smooth at the base becoming hairy towards the apex, sometimes with glandular hairs ending in a small knob. The flower heads are solitary, with an outer series of long female ray-florets usually white inside and reddish or purplish on the margins and outside (in the northern areas), and often mauve or purplish in the Mpumalanga and KZN regions.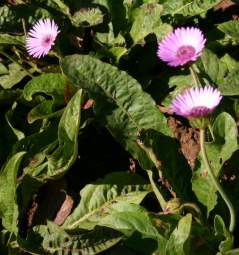 The central florets are numerous, functionally male, with whitish or purplish corollas. The fruit (known as a cypsela) is about 6 mm. long, somewhat flattened, and the pappus (the hairy parachute-like appendage) is dark purple or cream. Flowering occurs mostly in the Spring (September to November), but sporadic flowering may be observed throughout the year.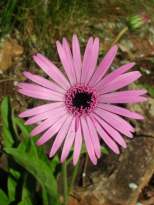 Conservation Status
Status
Gerbera viridifolia is not threatened.
Distribution and habitat
Distribution description
Gerbera viridifolia is widespread, particularly in the KwaZulu-Natal, Mpumalanga and Swaziland regions. The species is found in grasslands, in stony soil, on mountain slopes and even in damp areas throughout the eastern regions of Africa. It species is common and widespread in areas of moderate to high rainfall.
Derivation of name and historical aspects
History
The genus Gerbera was named by Jan Gronovius in 1737 for the Gerber brothers: Fr. Gerber, who collected plants in the West Indies, and Traugott Gerber, a German medical doctor baptised in 1710, and the curator of the oldest botanical garden in Moscow. In spite of extensive investigations, no link or reason has been found for the choice of their name for the genus (Ambrosius 2003).The specific epithet 'viridifolia', means 'with green leaves', possibly referring to the lack of white felting on the lower leaf surface, which is often found in the closely related G. ambigua.
This species is widespread and very variable, and a number of previously recognized separate species have been 'sunk' into it (G. burchellii, G. glandulosa, G. plantaginea, G. speciosa).
The genus Gerbera belongs to the tribe Mutisieae of the family Asteraceae, and consists of approximately 29 species, 15 of which occur in South Africa. Of these, 6 species are confined to the Cape.
Ecology
Ecology
Little is known about the pollination biology of this species, but it appears to be a generalist with its open bowl-shaped inflorescence, and its white to purple colour which should be attractive to most groups of insect pollinators.
The thickened fleshy roots allow it to survive dry, cold winters and frequent veld fires.
Uses
Use
Gerbera viridifolia is one of the parents of the commercially produced Gerbera hybrids, one of the top-selling cut flowers and pot plants in the world. The breeding of Gerbera started at the end of the 19th century in Cambridge, England, when Richard Lynch crossed G. jamesonii and G. viridifolia. Most of the current commercially grown varieties originate from this cross.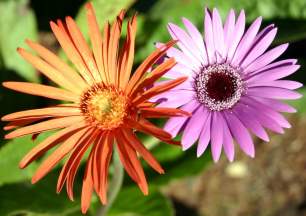 This is one of the species is referred to in the eastern Cape as 'Iyeza lamazi" or 'the herb of milk' and is probably used to stimulate milk production in cattle or as an ingredient of maas (the locally produced soured milk) (Dold et al 2002).
The smoke of G. viridifolia is inhaled by the Southern Sotho to treat head colds.
Growing Gerbera viridifolia
Grow
This species is a very rewarding horticultural subject. It grows easily from seed or from divisions. Fresh seed should be sown in a seedling mix and kept moist. Germination occurs within about two weeks, and seedlings can be pricked out at the four-leaf stage. Once planted out into a well composted sunny area, plants require little attention, and should receive little or no watering in winter. They should be placed towards the front of a bed because the flowerheads are borne on stalks of about 50 cm length. They are good subjects for grassland gardens and rockeries.
The purple forms are especially attractive because a range of colours from very pale lilac to deep mauve is often found in the same seed collection.
References
Ambrosius, P. 2003. How the Barberton Daisy got its name. Veld & Flora 89(1): 30.
Dold, A.P. & M.L. Cocks. 2002. The trade in medicinal plants in the eastern Cape Province, South Africa. South African Journal of Science 98:589-597.
Hansen, H. 1985. A taxonomic revision of the genus Gerbera (Compositae, Mutisieae) sections Gerbera, Parva, Piloselloides (in Africa), and Lasiopus. Opera Botanica 78: 5-36.
Hilliard, O.M. 1977. Compositae in Natal.University of Natal Press, Pietermaritzburg.
Watt, J.M. & M.G. Breyer-Brandwijk.1962. The medicinal and poisonous plants of southern and eastern Africa. E & S Livingstone Ltd., Edinburgh.
Credits
Isabel Johnson
KwaZulu-Natal National Botanical Garden
May 2006
Plant Attributes:
Plant Type: Perennial
SA Distribution: Eastern Cape, Free State, Gauteng, KwaZulu-Natal, Limpopo, Mpumalanga
Soil type: Sandy, Loam
Flowering season: Spring
PH: Acid, Neutral
Flower colour: Purple, Mauve/Lilac
Aspect: Full Sun
Gardening skill: Average
Special Features:
Medical plant
Useful plant
Feeds honeybees
Horticultural zones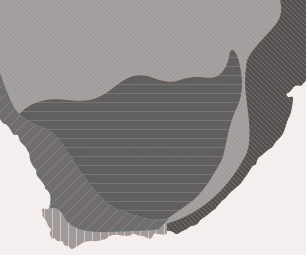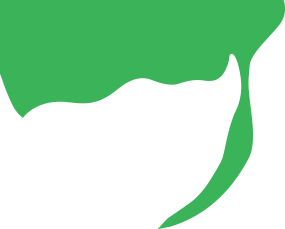 Zone 1 Coastal summer rainfall, frost free
Zone 2 Coastal winter rainfall, frost free
Zone 3 Winter rainfall Karoo, light frost
Zone 4 Summer rainfall Karoo and Highveld, Frost in winter
Zone 5 Bushveld summer rainfall, Light frost
Google QR Code Generator