Gibbaeum heathii (N.E.Br.) L.Bolus
Family: Aizoaceae
Common names: baby bums (Eng.); bababoutjies, hondebalvygie, hondebal, volstruiswater (Afr.)
Introduction
One of the curious miniature succulents that grow in between quarzitic stones and is endemic to the Klein Karoo. It is one of the most popular species in its genus and a real gem for any succulent enthusiast.
Description
Description
Gibbaeum heathii is a robust, compact, clump-forming, succulent plant, which normally grows above ground but is partially sunken into the ground in the dry season. It can grow up to 60 mm high and approximately 30 mm in diameter and has a long root system.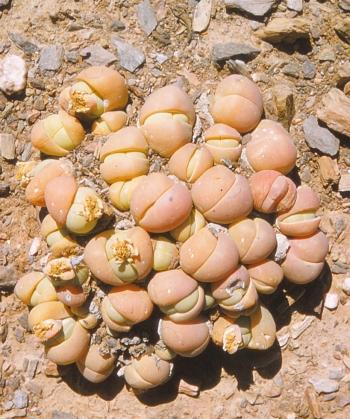 G. heathii forms 2-3 globe-like smooth leaves, partially identical. Old dead leaves cover the stems and enclose the new young leaves.
Flowers vary from white, pink to purple and are visible from late winter to early spring. The capsules of this species, which are 7 or 8 locular, contain very small seeds. It is a slow growing succulent, but can live for many years.
Conservation Status
Status
According to the Red List of South African plants website, accessed on 02 July 2018, this species is not threatened and has a conservation status of Least Concern (LC).
Distribution and habitat
Distribution description
Gibbaeum heathii can grow in and out of quartz outcrops and is endemic to the Klein Karoo in the Western Cape. It occurs in areas from Swellendam, Montagu and Ladismith. It is restricted to the winter-rainfall region and thrives in areas with minimal rainfall.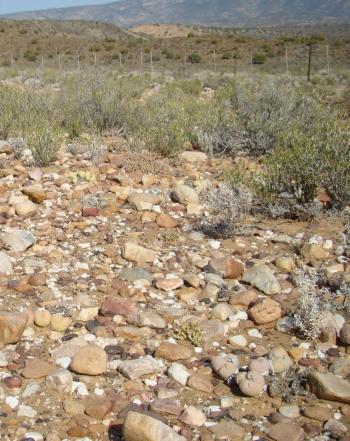 Derivation of name and historical aspects
History
Gibbaeum belongs to the family Aizoaceae, which are known to be leaf succulents. Aizoaceae is the largest family of succulent plants. Initially 21 species of Gibbaeum had been listed, but because of extensive research by H.F. Glen, these numbers have been reduced to 15 species and 1 subspecies. The number has increased to 16 with the latest description of Gibbaeum johnstonii. Gibbaeum is derived from the Latin word gibbus, which means 'hump', referring to the hump-shaped leaves of this genus. This species is named after Dr Francis Harold Rodier Heath (1874–1940), an English cultivator of succulent plants.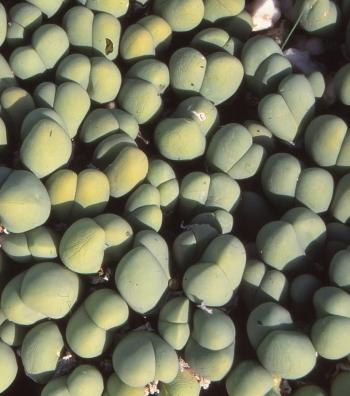 Ecology
Ecology
Gibbaeum heathii are small button-shaped succulents that occur in quartzite patches in the Klein Karoo, typically mimicking their surroundings. These quarzitic stones also reflect most of the heat, creating a much cooler climate for the plants. These plants shrivel during the dry season and become partially sunken into the ground, protecting themselves from extreme heat. Leaves become turgid and swell in the rainy growing season. G. heathii has the ability to withdraw water from their succulent leaves in dry months of the year, causing them to shrivel. The showy white to pink flowers attracts bees, which are the main pollinators. These flowers open during the day and close during the night. Capsules are specifically adapted to open when it rains and close during dry periods. These capsules are known as hygroscopic.
Uses
Use
Gibbaeum heathii is not known for any medicinal or cultural uses. It is, however, the most popular of all the Gibbaeum species in the horticultural trade and plants are mostly used in rockeries, personal collections and water-wise gardens.
Growing Gibbaeum heathii
Grow
Gibbaeum heathii can easily be propagated from seed and cuttings. Harvest seeds in summer (December to February) and sow seeds in autumn (March to April), or late spring (October to November). Use a sterilized, shallow seedling tray and fill it up with a mixture of 60% coarse river sand and 40% sieved compost. Sow seeds on top of the mix, ensuring that they are spread evenly. Cover with a fine layer of sand, and then water, using a mist sprayer. Seedlings will germinate within 1 or 2 weeks. Propagation by cuttings is also easy. Remove the whole plant during autumn (March to April). Take cuttings just below the growing point, where the body meets the stem. Ensure cuttings do not tear by using sharp secateurs. A rooting hormone can be applied to hasten root formation. Place cuttings in a growing medium mixture of 60% coarse river sand and 40% sieved compost, allowing enough space between cuttings. Always use sterilized equipment and growing mediums. Care should be taken not to overwater propagation material. Seedling and cuttings can be transplanted the following season and placed in a medium with a high compost ratio. Place rooted material in an area with partial sunlight.
Do not give too much water during the summer period, as plants might rot. G. heathii is not affected by too many pests, but occasionally it does get attacked by mealy bugs, woolly aphids and scale. A general insecticide can be used to prevent death by these pests.
G.heathii can be used as a windowsill pot plant or in a small rockery.
Credits
Ricardo Riddles
Karoo Desert National Botanical Garden
July 2018
 
Plant Attributes:
Plant Type: Succulent
SA Distribution: Western Cape
Soil type: Sandy, Loam
Flowering season: Spring, Winter
PH: Acid
Flower colour: Purple, White, Pink, Mauve/Lilac
Aspect: Full Sun
Gardening skill: Easy
Special Features:
Drought resistant
Good potplant
Feeds honeybees
Horticultural zones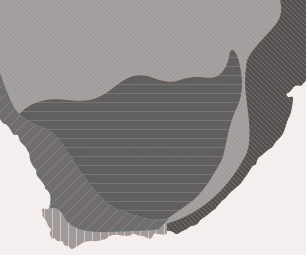 Zone 2 Coastal winter rainfall, frost free
Zone 3 Winter rainfall Karoo, light frost
Google QR Code Generator