Glottiphyllum regium N.E.Br.
Family: Aizoaceae
Common names: tongue-leaved mesemb (Eng.); tongblaarvygie, skilpadkos (Afr.)
Introduction
Glottiphyllum regium is a hardy, clump-forming succulent that produces masses of showy, large, yellow flowers from mid-winter until early summer.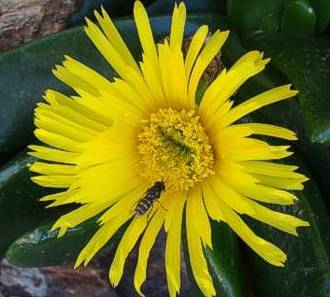 Description
Description
Glottiphyllum regium is a clump-forming succulent and can attain a height of 13 cm and a width of 15 cm. It has a semi-fibrous, shallow root system typical of succulents. The roots are not destructive and plants can be planted right next to structures. Branches are short and the leaves are oblong and tongue-shaped. Inflorescences are staked and flowers can measure up to 35 mm in diameter. The flowers are an iridescent yellow. It flowers from June to late December, its peak flowering time being September.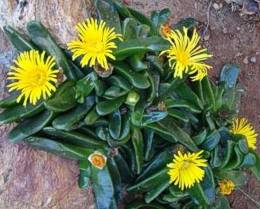 Conservation Status
Status
Glottiphyllum regium is assessed as Endangered (EN) on the Red List of South African Plants. It occurs over a relatively small area and at five locations, the populations are decreasing due to the habitat being degraded by grazing, trampling and soil erosion due to ostrich farming.
Distribution and habitat
Distribution description
Glottiphyllum regium is restricted to Sandstone slopes or sandy loam in the central Little Karoo region of the Western Cape.
Derivation of name and historical aspects
History
The genus name Glottiphyllum is derived from the Greek glotta = tongue and phyllon = leaf, thus Glottiphyllum means a tongue-like leaf. The specific epithet regium means 'of kings'.
Glottiphyllum regium is the largest and possibly the most attractive of the whole Glottiphyllum group. There are 16 species of Glottiphyllum found in South Africa.
The family Aizoaceae (vygies) is the largest of the succulent plant families in southern Africa. Aizoaceae are almost endemic to the southern Africa region where it is estimated that there are over 1800 species. They occur from elevations of 3500 m to sea-level. Vygies occur in a variety of landscapes ranging from afromontane, karroid and arid to subtropical coastal belts and grasslands. Vygies are even found growing on the most southern tip of Africa at Cape Agulhas.
Ecology
Ecology
Glottiphyllum regium . The flowers tend to open fully from 11:00 am as do many other Aizoaceae species. The reason for this is the need for sufficient sunlight and warmth.
Mainly bees pollinate the flowers during the day. In the evening the pollinators are most likely to be moth species.
Uses
Use
Glottiphyllum regium should be cultivated more widely in public and private gardens. It is cultivated at the Karoo Desert National Botanical Garden in Worcester and at Kirstenbosch National Botanical Garden in Cape Town. Another species, Glottiphyllum linguiforme, contains a small amount of oxalic acid. The African tribes are known to have made a beer from this plant and early Europeans have used Glottiphyllum linguiforme as a yeast, for bread-making.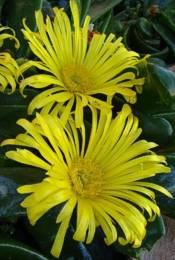 Growing Glottiphyllum regium
Grow
Glottiphyllum regium seeds germinate very easily. Seed matures nearly five months after flowering. Once the seed capsule is dry (pale brown colour), seeds should be extracted as soon as possible otherwise they will soon be lost to the elements - rain. Mesemb capsules are hygrochastic, an intriguing mechanism whereby seeds are dispersed by raindrops. When it rains, the keels of the wet seed capsules push open valves. Raindrops hitting the open seed capsule splatter seeds in different directions, thus ensuring recruitment and the subsequent survival of the species. Seeds are round, light brown in colour and 1.0-1.5 mm in diameter.
Seed can be sown at most times of the year. Avoid very hot weather (Jan./Feb. - southern hemisphere). Sow the seeds in a flat seed pan. Ensure that there is adequate provision for drainage in the bottom of the seed pan. If the seeds stand in too much water, they will more than likely rot. The best medium to sow the seeds in is a sandy loam mixture. On top of this mixture, sprinkle a thin layer of coarse river sand, 2 mm deep. It is into this sand that the seeds are sown. Keep the area weed-free and water every second day. During very hot and dry weather water daily, preferably in the early morning when it is cool. Ensure, when watering, that the seeds are not blasted out of the soil; gentle watering is advised. Ensure that the seed trays are positioned in a sunny area - morning sun only. Seeds should be sown 2 mm below the soil surface. Do not sow the seeds too deep. If sown too deep, they will be smothered and probably not germinate. Under ideal conditions, seedlings will grow rapidly. Plant the seedlings out when they are 3-5 cm in height.
Glottiphyllum regium flourishes in well-drained, loam soils. It can be cultivated in pots or planted in groups in the garden. Remember to plant it in a sunny locality, otherwise it will not flower properly.
Glottiphyllum regium is perennial and may live as long as 30 years in its natural habitat. In cultivation they may live for only 15 years. The main problem is people tend to over-water them, shortening their life-span considerably. Glottiphyllum regium is drought-resistant and as such is ideal for waterwise, sunny courtyard or container gardens.
A word of warning - great care must be taken not to plant this species in heavy clay soils.
Glottiphyllum regium occurs naturally only in the winter rainfall areas, but can be cultivated successfully in the summer rainfall areas of South Africa.
References
Shearing, D. 1994. Karoo - South African Wild Flower Guide 6. National Book Printers, Cape Town.
Trinder-Smith, T.H. 2003. The Levyns guide to the plant genera of the southwestern Cape. Bolus Herbarium, University of Cape Town.
Van Jaarsveld, E.J. & De Villiers Pienaar, U. 2000. Vygies gems of the veld. Grafica Quadro. Tradate (VA), Italy.
Van Rooyen, G. & Steyn, H. 2004. Cederberg. Associated Printing, Cape Town.
Watt, J.M. & Breyer-Brandwijk, M.G. 1962. The medicinal and poisonous plants of southern and eastern Africa. E. & S. Livingstone, Edinburgh and London.
Credits
Ian Oliver
Karoo Desert National Botanical Garden
March 2010
Plant Attributes:
Plant Type: Shrub, Succulent
SA Distribution: Western Cape
Soil type: Sandy, Loam
Flowering season: Spring, Early Summer
PH: Acid
Flower colour: Yellow
Aspect: Full Sun
Gardening skill: Average
Special Features:
Drought resistant
Good potplant
Feeds honeybees
Horticultural zones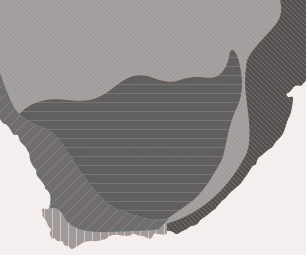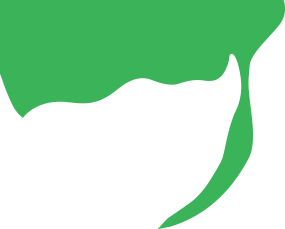 Zone 1 Coastal summer rainfall, frost free
Zone 2 Coastal winter rainfall, frost free
Zone 3 Winter rainfall Karoo, light frost
Zone 4 Summer rainfall Karoo and Highveld, Frost in winter
Zone 5 Bushveld summer rainfall, Light frost
Google QR Code Generator