Gomphocarpus cancellatus (Burm.f.) Bruyns
Family: Apocynaceae
Common names: wild cotton (Eng.); bergmelkbos, bergtontelbos, dermhout, gansiesbos, katoenbos, melkbos, regopmelkbos (Afr.)
Introduction
Gomphocarpus cancellatus, wild cotton, is an elegant bush, which in the sterile state resembles a protea bush. The flowers are accumulated in dense spherical balls making it an attractive accent plant for any garden.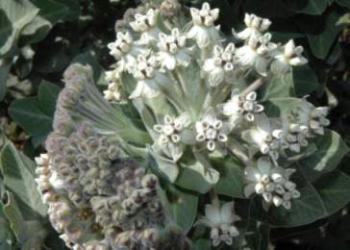 Description
Description
Gomphocarpus cancellatus is a perennial herb or shrublet 0.5-1.5 m tall. It produces a few branches at the base from an underground fibrous rootstock.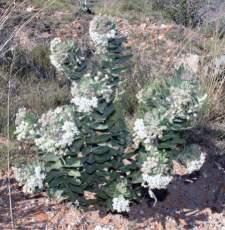 The leaves are broadly egg-shaped, rounded at the base with a sharp point, arranged opposite, slightly fleshy or leathery and with a shiny surface. The branches, stems and leaves vary from glabrous to velvety-hairy. Up to 30 flowers are carried in dense, ball-shaped inflorescences. The flower petals are pale mauve, green or greyish on the outside, and cream to white on the inside. The centre of the flower carries the five ivory-coloured, boat-shaped coronal lobes.
The flowers produce plentiful amounts of nectar. No apparent scent is detectable, although on some herbarium sheets it is noted that the flowers are sweetly scented. The fruit is beaked, inflated, and carries long elongated processes. The surface of the fruit varies from pale greenish to darker green with grey-maroon longitudinal stripes. The mature fruit bursts open and releases the black seeds. Each seed has a coma which is a tuft of white hairs attached at one end. All parts of the plants release milky latex when bruised or damaged. It flowers almost all year round (March to December), with peak flowering during April to August.

 Like most members of this genus, Gomphocarpus cancellatus also has a weedy nature.
Conservation Status
Status
Gomphocarpus cancellatus has been listed as a protected plant in the Cape Peninsula and Table Mountain. The current Red List status is Low Risk, Least Concern.
Distribution and habitat
Distribution description
Gomphocarpus cancellatus is a species endemic to southern Africa. It falls within a subgroup of the genus that is centred in southern Africa, the other group being centred in northern Africa. The genus consists of about 30 species throughout Africa and Asia, with about 10 species in southern Africa. Related species include G. fruticosus and G. physocarpus,

and G. tomentosus.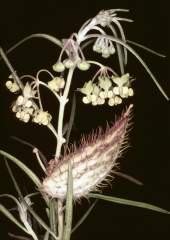 Wild cotton is found in the winter rainfall and transitional areas of southern Africa, in South Africa (Eastern, Northern and Western Cape Provinces), and Namibia. It is reported to be naturalised in parts of Australia (South Australia and Victoria), as well as St Helena.
It usually grows on rocky hillsides, in crevices or boulder scrub, in sandy and even clay soils, from sea level to about 1400 m. Although predominantly found in the Succulent Karoo Biome, this species is also found in Fynbos, Nama Karoo and even Savanna Biomes.
Derivation of name and historical aspects
History
The generic name is derived from the Latin words, gompho, meaning club, and carpus, meaning fruit, in reference to the shape of the fruit. The epithet cancellatus is also from Latin and means latticed (probably referring to the opposite arrangement of the leaves).
Ecology
Ecology
Gomphocarpus cancellatus is found in the winter rainfall area of southern Africa. It is especially common in the Western Cape where it is found as a pioneer along roadsides in disturbed areas. It is apparently rarer in the Northern Cape and Namibia.
After its introduction to Australia it became naturalised on roadsides and rocky hillsides in South Australia and Victoria, where it has become the larval food for the Wanderer butterfly. Because it has a fibrous root, it establishes itself easily and, because it can reach reproductive maturity within a year, members of this group can survive either as annuals, bi-annuals or perennials. The floriferous nature, combined with the abundance of pollinators and probably the ability to self-fertilise, ensure good seed set. Seeds are wind-distributed and establish easily in disturbed areas such as road verges.
The majority of taxa of this genus are short-lived perennial shrubs or subshrubs which behave as pioneers of open, disturbed habitats.
Bergtontelbos is attacked by plant lice and eaten by red locusts.
Like all asclepiads, the wild cotton also has an intricate mechanism of pollination. The pollinia, containing the pollen, are attached to the prospective pollinator's mouthparts when in search of nectar and carried to another flower. When the mature fruit bursts open, the coma fluffs out after drying to form a parachute carrying the seed. In the slightest breeze, the seeds are carried off and distributed by the wind.
Uses
Use
Despite the numerous common names, very little about the traditional use of Gomphocarpus cancellatus is known. The plants contain an alkaloid which has been regarded as a substitute for quinine. The roots are used as a medicine for various stomach ailments.
Gomphocarpus and the closely related genus, Asclepias, are well-known for their use as muthi (indigenous medicine). The ground leaves of G. fruticosus and G. physocarpus are used for a snuff to treat headaches. It is also used in the treatment of tuberculosis, and as an emetic to strengthen the body. G. fruticosus is used to relieve stomach pains, as well as general pains throughout the body. Powdered infusions of Asclepias syrica and A. tuberosa have been used in Europe and the US for relief of asthma, typhus fever, coughs and pain.
The possibility of using the milky latex for rubber-making has been proposed but has not received any further investigation.
Gomphocarpus physocarpus and G. fruticosus are popular garden plants in South Africa. The long-lasting follicles (fruit) have also found their way into the floral industry and are widely used in floral arrangements. G. cancellatus has potential (like its closely related members) for cultivation for the cut-flower industry, for its fruit, and as greenery.
Growing Gomphocarpus cancellatus
Grow
This species would be best used in natural gardens in the natural distribution range of the plant. It definitely makes an accent plant when in flower or in the sterile state. Combine it with other species of contrasting colour (leaf and flower) for the best effect.
Plants are very rarely seen at general nurseries, and even specialised indigenous nurseries seldom have stock. They do, however, grow quite easily from fresh seed and this is probably the best way to grow them. It is quite difficult to root this plant from cuttings and, because it forms a fibrous rootstock, it is also quite difficult to transplant mature plants. 
In nature, plants grow in sand, stony ground, and even clay. One needs to simulate similar growing conditions for the plant in gardens. This species has apparently been cultivated in Europe since 1714.
This is surely a plant worthy of cultivation and would be an asset to the garden of any indigenous plant lover.
References
Bruyns, P.V. 1995. New records and new species of Asclepiadaceae from Namibia. Bothalia 25: 155-172.
Bruyns, P.V. 2000. Gomphocarpus cancellatus. In P. Goldblatt & J.C. Manning, Cape plants. A conspectus of the Cape Flora of South Africa. Strelitzia 9. National Botanical Institute, Cape Town.
Endress, M.E. & Bruyns, P.V. 2000. A revised classification for the Apocynaceae s.l. Botanical Review 66:1-56
Goyder, D.J. & Nicholas, A. 2001. A revision of Gomphocarpus R.Br. (Apocynaceae: Asclepiadeae). Kew Bulletin 56: 769-836.
Le Roux, A. & Whal, Z. (photographer). 2005. Namaqualand. South African Wild Flower Guide 1, edn 3. Botanical Society of South Africa, Cape Town.
Leistner, O.A. (ed.). 2000. Seeds plants of southern Africa : families and genera. Strelitzia 10. National Botanical Institute, Pretoria.
Nicholas, A. 1999. A taxonomic reassessement of the subtribe Asclepiadinae (Asclepiadaceae) in southern Africa. Ph.D. Thesis. University of Durban-Westville.
Smith, C.A. 1966. Common names of South African plants. Memoirs of the Botanical Survey of South Africa No. 35.
Van Rooyen, G., Steyn, H. & De Villiers, R. (photographer). 1999. Cederberg, Clanwilliam and Biedouw Valley. South African Wild Flower Guide 10. Botanical Society of south Africa, Cape Town.
Van Wyk, B-E. & Gericke, N. 2000. People's plants: a guide to useful plants of southern Africa. Briza Publications, Pretoria.
Watt, J.M. & Breyer-Brandwijk, M.G. 1962. The medicinal and poisonous plants of southern and eastern Africa, edn 2. Livingstone, Edinburgh and London.
Credits
S.P. Bester
National Herbarium
April 2008
Plant Attributes:
Plant Type: Perennial, Shrub
SA Distribution: Eastern Cape, Northern Cape, Western Cape
Soil type: Sandy
Flowering season:
PH:
Flower colour: White, Cream, Mauve/Lilac
Aspect: Full Sun
Gardening skill: Average
Special Features:
Feature plant
Poisonous
Medical plant
Pioneer plant
Horticultural zones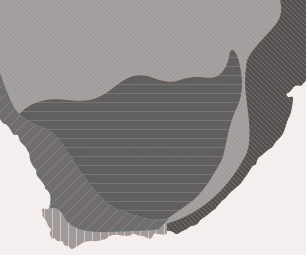 Zone 2 Coastal winter rainfall, frost free
Zone 3 Winter rainfall Karoo, light frost
Zone 4 Summer rainfall Karoo and Highveld, Frost in winter
Google QR Code Generator