Halleria elliptica Thunb.
Family: Stilbaceae
Common names: rock tree-fuchsia, bush honeysuckle, wild fuschia (Eng.); kinderbessie, bergnotsung, klipnotsung (Afr.)
SA Tree No: 670.2
Introduction
Pretty, orange, fuchsia-like flowers, burgeoning with nectar and irresistible to insects and birds, on a neat, shade-loving, versatile shrub or small tree, all combine to make this plant an essential addition to every South African garden.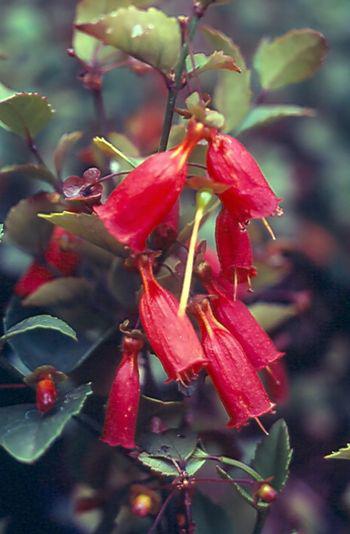 Description
Description
A long-lived, erect shrub or small tree, growing 1–2 m tall. Leaves are paired, opposite and stalked, elliptically shaped, 12–36 mm long and 6–22 mm wide, bright green, thin leathery, toothed in the upper two-thirds of the leaf margin and tapering to a point.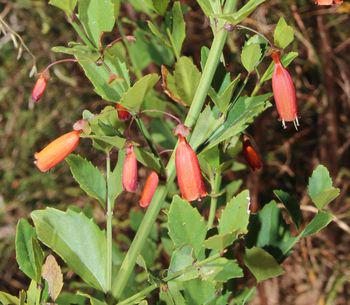 Pendulous, tubular, orange flowers, 10–17 mm long, occur in autumn, winter and spring (April to October), in pairs in the leaf axils, sometimes solitary or in clusters and occasionally on older, woodier, leafless branches or on the main stem. The cup-shaped calyx has 3–5 lobes and is very much shorter than the corolla, which is 4- or 5-lobed, with the upper lip 2-lobed and the lower lip shortly 3-lobed. The corolla tube is inflated to form a funnel-shape, which is curved or straight. From mid-winter to late summer (June to February) the plant bears ovoid fruits, which are green berries, ripening to a juicy black. The berries are filled with tiny, narrowly winged seeds that appear as very small, black flakes submerged in the jelly-like flesh of the fruit.
Conservation Status
Status
Distribution and habitat
Distribution description
The genus Halleria is widespread, occurring across Yemen, Madagascar, Africa; Ethiopia to the Cape Peninsula; also in Angola. Halleria elliptica occurs only in South Africa where it is found in the Western Cape. It occurs in mixed bush or on lower slopes, often near streams, from Algeria in the Cedarberg Mountains to Swellendam, within the Fynbos Biome. It is often found in montane to riverine forest, scrub and bush. There are only three species in southern Africa, the other two species being Halleria lucida and H. ovata.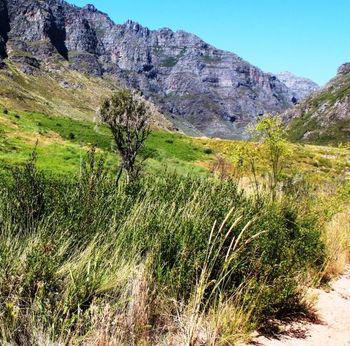 Derivation of name and historical aspects
History
Until recently, Hallleria was included in the Scrophulariaceae, a large family, consisting mainly of herbs and shrubs and well known for its exotic members, such as the snapdragon and foxglove. Recent molecular studies have shown that it belongs in the Stilbaceae, a smaller, mainly African family containing Stilbe and Retzia, and now also Ansastrabe, Bowkeria, Nuxia and Halleria.
The genus Halleria is named after Albrecht von Haller (1708-77), Swiss professor of botany at Gottingen. The species name elliptica refers to the elliptical shape of the leaves which are longer than wide and broadest in the middle.
The common names tree-fuchsia and wild-fuchsia come from the plant's fuchsia-like flowers and the Afrikaans common name, kinderbessie, meaning 'children's berry', is related to how much children enjoy the taste of the fruits.
Ecology
Ecology
Rich in nectar, it attracts insects, particularly bees and butterflies. It is also alluring to a wide variety of nectar-loving and fruit- and insect-eating birds, who adore the volume of nectar it produces and the delicious fruit. Children also like the sweet fruits. Cattle, goats and game browse on the leaves.
Uses
Use
Halleria elliptica is valuable in horticultural due to its versatility, pretty fuchsia-like flowers and attractiveness to both nectar- and fruit-eating birds, as well as many insects.
The fleshy fruits are edible and taste sweet, although they tend to dry the mouth out. They are ripe and juicy when black in colour. Fruits can be eaten fresh or stored for a while, consumed raw, or made into a jelly/jam.
A relative of Halleria ellpitica is H. lucida, which has medicinal, traditional, spiritual and construction uses, particularly for the Zulus. Halleria elliptica grows in the Western Cape and being so much smaller and more shrub-like, it was not utilized as much in these traditional ways.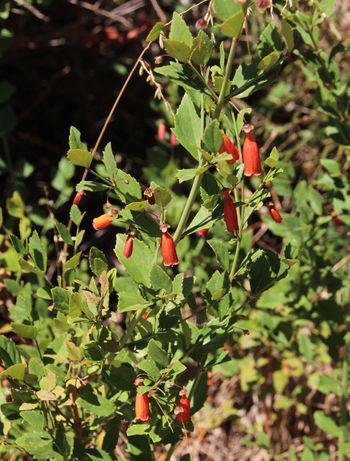 Growing Halleria elliptica
Grow
An excellent medium-sized shrub or small tree, that fits well into both large gardens planted in groups and smaller gardens used singularly. Halleria elliptica is best suited to semi-shaded and shaded areas, in any type of soil. As a Western Cape endemic, it has moderate to low water requirements and is well adapted to summer drought and is winter rainfall-waterwise. However, it does flourish in good soil with regular watering, growing faster and lusher. Hardy, adaptable and very versatile, they can be used as specimen plants or in mixed plantings. As part of a shrubbery, it will provide colourful vibrancy when in flower. It tolerates some morning or afternoon sun, and can be used in full or dappled shade, even doing well planted under trees.
Halleria elliptica may need tidying up to remove dead and twiggy growth, and it can be pruned to shape and clipped into a hedge, it makes a wonderful screening plant. The plant has few pest or disease problems. Although in nature they often grow in colonies, spreading by means of an underground rootstock, they have a non-aggressive root system, and lend themselves to propagation by layering.
Halleria elliptica is easily propagated from cuttings or seed. Sow seed in autumn or spring in a well-drained soil mix and cover lightly with the sowing medium. To prevent pre- and post-emergence damping off, the seed should be treated with a fungicide prior to sowing, or watered with a fungicide immediately after sowing. The flesh of the fruit contains germination inhibitors, so be sure to remove this outer covering first. The seed usually germinates within 3 to 6 weeks. Transplant the seedlings into individual bags/pots as soon as they are strong, after the first pair of true leaves has emerged. Feed generously with a liquid fertilizer and water moderately.
Take semi-hardwood stem cuttings in autumn or spring. Place in a well-aerated and supportive rooting medium and keep damp, but not wet, in a warm, well-lit and well-ventilated area, with no direct sunlight. The application of a rooting hormone is recommended, to increase success of rooting. Water consistently and rooting can be achieved within 6 to 8 weeks, with no bottom heat. After roots are established, pot on. Regular fertilizing will encourage the growth of the plantlets. Keep in the shade, semi-protected, until ready for planting.
References
Angiosperm Phylogeny Group (2009). An update of the Angiosperm Phylogeny Group classification for the orders and families of flowering plants: APG III. Botanical Journal of the Linnean Society. 161 (2)
Bean, A. & Johns, A. 2005. Stellenbosch to Hermanus South African wild flower guide 5. Botanical Society of South Africa, Cape Town.
Haschick, A. 2014. Coastal gardening in South Africa. Struik Lifestyle, Cape Town.
iSpot southern Africa: http://www.ispotnature.org/species-dictionaries/sanbi/Halleria%20elliptica?nav=search
Joffe, P. 2001. Creative gardening with indigenous plants. Briza Publications, Pretoria.
Leistner, O.A. (ed.). 2000. Seed plants of southern Africa: families and genera. Strelitzia 10. National Botanical Institute, Pretoria.
Pooley, E. 1993. The complete field guide to trees of Natal, Zululand and Transkei. Natal Flora Publication Trust, Durban.
Reader's Digest. 2006. Care-free plants. Heritage Publishing, Claremont.
Stearn, W. 2002. Stearn's dictionary of plant names for gardeners. Timber Press, Portland, Oregon.
Thomas, V. & Grant, R. 1998. Sappi tree spotting: Highveld and the Drakensberg. Jacana, Johannesburg.
Van Rooyen, G. & Steyn, H. 1999. Cederberg Clanwilliam & Biedouw Valley South African wildflower guide 10. Botanical Society of South Africa, Cape Town.
Credits
Cherise Viljoen
Kirstenbosch National Botanical Garden
July 2016
Updated March 2018
 
Plant Attributes:
Plant Type: Shrub
SA Distribution: Western Cape
Soil type: Sandy, Clay, Loam
Flowering season: Spring, Autumn, Winter
PH: Acid, Neutral
Flower colour: Red, Orange
Aspect: Full Sun, Shade, Morning Sun (Semi Shade), Afternoon Sun (Semi Shade)
Gardening skill: Easy
Special Features:
Attracts birds
Attracts butterflies
Drought resistant
Good potplant
Indoor plant
Hedge/screen
Edible plant
Useful plant
Feeds honeybees
Horticultural zones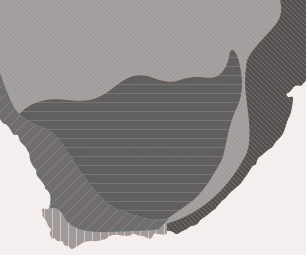 Zone 1 Coastal summer rainfall, frost free
Zone 2 Coastal winter rainfall, frost free
Google QR Code Generator