Halleria lucida L.
Family: Scrophulariaceae
Common names: tree fuchsia, white olive (Eng.), notsung, witolienhout, witolyfhout (Afr.), umbinza (isiXhosa), indomela, umbinza (isiZulu), lebetsa (Sesotho), murevhe (Tshivenda)
SA Tree No: 670
Introduction
Not only is Halleria lucida an attractive tree and an asset to any garden, it is also one of the best bird attracting trees.
Description
Description
This is an evergreen tree or large shrub, often multi-stemmed, with a spreading crown and attractive glossy bright green foliage on arching and drooping branches. In the more exposed situations it is generally a stocky or shrubby tree that reaches a height of 2-5 m but in well watered, protected situations it can reach up to 12 m, and in forests, it can grow up to 20 m in height.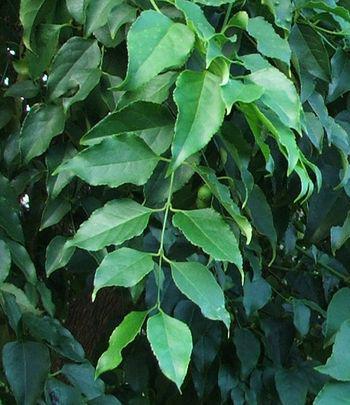 The bark is longitudinally grooved and pale grey and brown in colour. The flowers are tubular, orange to brick-red, or yellow, very rich in nectar and are produced in clusters in the axils of leaves and on short shoots on the old wood, even on the main trunk.  When in full flower in autumn to summer (May to December/January) it can be very showy, although the flowers are somewhat hidden amongst the leaves and inside the canopy.
Clusters of 10 mm diameter spherical green berries that turn juicy and black when ripe, follow the flowers (August onwards). These are edible, but never tasty, not even when ripe. They have a sickly sweet taste and tend to dry the mouth. The seeds are very small black flakes in the jelly-like flesh of the fruit.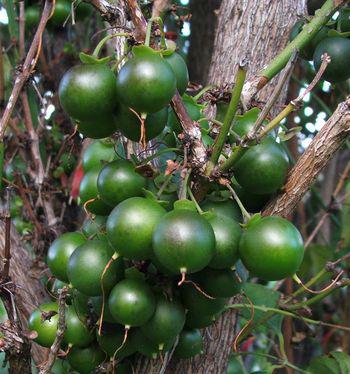 Conservation Status
Status
Halleria lucida is assessed as Least Concern (LC) according to the Red List of South African Plants (http://redlist.sanbi.org).
Distribution and habitat
Distribution description
Halleria lucida is found in coastal and karroid scrub, deep evergreen forest, forest margins, forested ravines, rocky mountain slopes, near rivers and on stream banks from the Cape Peninsula in the south in a strip up the eastern coast of South Africa, through the Eastern Cape to Lesotho, the eastern Free State, KwaZulu-Nataland Swaziland where it turns inland and roughly follows the escarpment into Mpumalanga, Gauteng and the Northern and North West Province. It also occurs in isolated pockets in Zimbabwe.
Derivation of name and historical aspects
History
Halleria lucida is a member of the Scrophulariaceae, the snapdragon and foxglove family, a large family of ±290 genera and ±4500 species widespread but mainly in temperate areas and tropical mountains. In southern Africa there are ±80 genera and ±760 species spread throughout the region. Trees are quite rare in this family; most of the members are herbaceous. Two southern African genera that should be familiar to most gardeners are Nemesia and Diascia.
The genus Halleria is named after Albrecht von Haller (1708-77), professor of botany at Gottingen. It is a small genus of ten species that occur in Yemen, Madagascar and Africa from Ethiopia to the Cape Peninsula. There are three species in southern Africa that are widespread in all regions and countries except for the Northern Cape and Namibia. The other two species are Halleria elliptica and Halleria ovata. The specific name lucida is Latin for shining or shiny and refers to the glossy foliage.
The derivation of the common name notsung is not entirely clear. It could be derived from the original Khoisan name. Marloth thought that it was derived from the name nutzeng meaning usufruct (the right of temporary possession of what is another's on condition that such possession causes no damage to it) given to it by early German foresters employed at the Cape, where these foresters had free use of the wood and fruits without need for a permit. The name tree fuchsia was acquired because of its fuchsia-like flowers. It has also been known as the white olive, witolienhout and witolyfhout as the quality of its timber is suggestive of that of the olive.
Halleria lucida has been in cultivation for many years. It was featured by Burman in 1739. William Burchell recorded it in his diary for February 1811 as growing in the Government Gardens in Cape Town, and in 1815 it was illustrated in Curtis' BotanicalMagazine from a specimen that was growing in a greenhouse in England.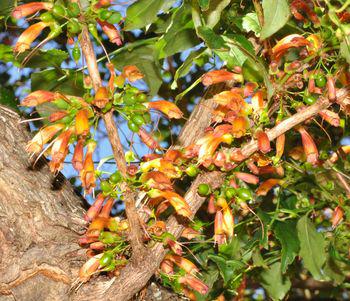 Ecology
Ecology
The nectar-rich flowers attract sunbirds and other nectar-feeding birds that pollinate the flowers. The fruits are eaten by fruit-eating birds, that then disperse the seeds that are in the jelly-like flesh of the fruits.
Uses
Use
The Zulu nation has a strong belief in traditional medicine and they use Halleria lucida for skin and ear complaints. Dry leaves are soaked in water and squeezed into the ear to relieve earache.
This tree is also considered to be a charm against evil. The twigs are burnt when offering sacrifices to the ancestral spirits. The plants are set alight each year, the ashes mixed with crocodile fat and this mixture is smeared onto cuttings of Rhamnus prinoides which are then driven into the ground around the village to protect the community from wizardry and lightning.
The wood can also be used to start a fire by friction. Halleria lucida timber is light coloured tinged with yellow, hard, heavy and strong, well suited to carpentry, but is not much used because the pieces are small. It was once valued for wagon poles, tools and spear shafts.
Growing Halleria lucida
Grow
Halleria lucida is tough and easy to grow, and thrives under many different conditions.  It is fast growing, and performs best in well-drained nutrient-rich loam with water provided all year round although it tolerates periods of drought. It is relatively hardy to frost (zone 9: minimum -7 °C/ 20 °F) but requires protection when young.
Halleria lucida makes a shapely specimen tree for the smaller garden, and looks at home in the larger landscape, where it can also be planted in groups.  It can be used to provide shade, or can itself be planted in shade as an under-storey tree. It can also be used in the fynbos garden. It is suitable for use as an informal hedge, and can be planted in a large container. It is also one of the best bird attracting trees. With Halleria lucida in your garden, the nectar-feeding sunbirds will be one of your most frequent visitors, and the berries will attract fruit-eating birds.
Halleria lucida is easily propagated by seed, and cuttings. It can also be propagated by truncheon cuttings or layering and transplants readily. Young plants may flower for the first time in their second year. Seed is best sown in spring to mid-summer (September to December) or in autumn (March to May), in a standard well-drained seedling mix and covered lightly with coarse sand or milled bark. The trays can be placed over bottom heat of 25 °C although this is not essential for germination to occur. Seed should germinate within 6 weeks. Seedlings can be transplanted as soon as they are large enough to handle. Softwood or herbaceous cuttings, or heel cuttings should be taken from actively growing shoots in spring to early summer (September to November) or in autumn (March to May), treated with a rooting hormone and placed in a propagator with intermittent mist and bottom heat of 28 °C.  Rooting should occur within 6 weeks, and the newly rooted cuttings require a weaning period of 1 month.
References
Van Wyk, B, & van Wyk, P., 1997, Field Guide to Trees of Southern Africa, Struik Publishers, Cape Town
Mabberly, D.J., 1987, The Plant Book, Cambridge University Press, Great Britain
Pooley, Elsa, 1993, The Complete Field Guide to Trees of Natal, Zululand and Transkei, Natal Flora Publications Trust, Durban
Flowering Plants of Africa Volume 25, Plate 961
Leistner, O.A. (ed.), 2000, Seed plants of southern Africa: families and genera, Strelitzia 10., National Botanical Institute, Pretoria
Jackson, W.P.U., 1990, Origins and Meanings of Names of South African Plant Genera, U.C.T. Printing Dept., Cape Town.
Palgrave, K.C., 1983, Trees of Southern Africa, Struik Publishers, Cape Town.
Smith, C.A., 1699, Common Names of South African Plants, Dept. of Agricultural Technical Services, Botanical Survey Memoir No 35, Government Printer.
Kirstenbosch Horticultural Notes No 16
Credits
Giles Mbambezeli & Alice Notten
Kirstenbosch NBG
January 2002 (updated June 2016)
Plant Attributes:
Plant Type: Shrub, Tree
SA Distribution: Eastern Cape, Free State, Gauteng, KwaZulu-Natal, Limpopo, Mpumalanga, North West, Northern Cape, Western Cape
Soil type: Sandy, Loam
Flowering season: Spring, Early Summer
PH: Acid, Neutral
Flower colour: Red, Yellow, Orange
Aspect: Full Sun, Morning Sun (Semi Shade), Afternoon Sun (Semi Shade)
Gardening skill: Easy
Special Features:
Attracts birds
Good potplant
Hedge/screen
Edible plant
Medical plant
Useful plant
Pioneer plant
Horticultural zones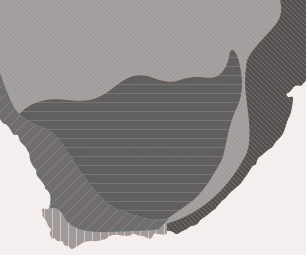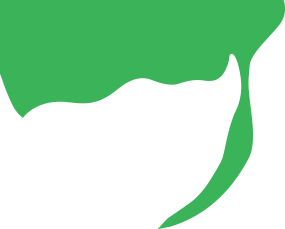 Zone 1 Coastal summer rainfall, frost free
Zone 2 Coastal winter rainfall, frost free
Zone 3 Winter rainfall Karoo, light frost
Zone 4 Summer rainfall Karoo and Highveld, Frost in winter
Zone 5 Bushveld summer rainfall, Light frost
Google QR Code Generator