Heterolepis aliena (L.f.) Druce
Family: Asteraceae
Common names: rock daisy (Eng.); rotsgousblom (Afr.)
Introduction
When walking through the Mathews Rockery in Kirstenbosch during early summer, it is impossible to miss Heterolepis aliena. It is quite dazzling, covered in large, golden yellow daisies. The only reason I can find for its low profile in the horticultural world is that, being adapted to a hot, dry, sunny, well-drained habitat, it finds the average well-watered suburban garden a bit too wet for its liking. Nevertheless, it does very well in rockeries, waterwise and fynbos gardens and has great potential for planting on sunny retaining walls.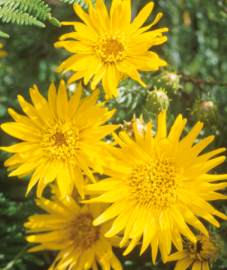 Description
Description
Heterolepis aliena is a rounded, densely leafy shrublet with a sprawling habit and a woody rootstock. It can reach up to 600 mm in height with an even wider spread. The leaves are long (about 25-40 mm)and narrow with the edges rolled under, nearly concealing the densely woolly underside.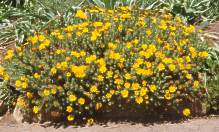 The spectacular daisies are about 60 mm in diameter and are held on short, roughly hairy stalks during spring to midsummer(Sept. to Dec.-Jan.). Some bushes flower so profusely that the flowers almost completely cover the plant. When freshly opened,the daisies have a dark gold centre, whereas older daisies havea ring of lighter gold around the centre. If you inspect one closely,you can see that the lighter ring is formed by the open disc florets while the unopened ones are dark gold in colour. When all of the disc florets are open they give the daisy a slightly puffy centre.
The seeds are very light, small (3 mm long) and covered with white fur, with an approx. 10 mm long pappus of coarse, bristle-like, yellow-brown hairs.
Distribution and habitat
Distribution description
Heterolepis aliena occurs on rocky sandstone slopes, in crevices and on outcrops from the Cedarberg Mountains to the Witteberg and Hermanus. It is most often found on steep, sunny, north or northeast-facing slopes or well-drained, rocky outcrops on shallow soils, in dry fynbos as well as in areas that receive high rainfall, such as Franschhoek.
Derivation of name and historical aspects
History
The genus name Heterolepis is from the Greek hetero meaning dissimilar and lepis a scale. This is one of the names that are often and easily mispronounced as many people put an extra s in and call it Heterolepsis. The species name aliena means from foreign soil, foreign, unconnected or hostile in Latin. Perhaps the botanist giving the name thought they looked like garden escapes that did not belong in the wild,or perhaps it is because they are often found growing in hostile conditions and disturbed areas.
This is a small genus of only three species and it is endemic to Western Cape.
Growing Heterolepis aliena
Grow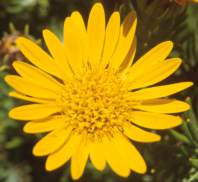 If you mimic its habitat, and provide a hot, dry, sunny, well-drained spot for it, Heterolepis aliena will thrive almost anywhere. In well-watered gardens with heavy soils it does not do so well. It is not that it does not need water or that it can be treated like a succulent that stores water, it must receive some water,but that water must not stand for long but should drain away relatively fast. It is well-suited to sunny fynbos gardens, waterwise gardens and succulent gardens, and sunny rockeries, slopes, banks, terraces and retaining walls.
Use a slightly acid, well-drained soil and don't over-water or make sure that any excess water drains away freely. Feed and mulch with compost, and although it does no tneed much more, you can supplement this with a balanced organic fertilizer. The compost mulch should be added to the bed in autumn,and again in spring.
Propagate from seed sown in late summer-autumn (February/March-May)and from heel cuttings taken in autumn or spring. Cuttings shouldbe rooted under mist with bottom heat, or harder growth can be rooted in a cold frame.
References
Burman, L. & Bean, A. 1985. Hottentots Holland to Hermanus. South African Wild Flower Guide 5. Botanical Society of South Africa, Kirstenbosch, Cape Town.
Goldblatt, P. & Manning, J. 2000. Cape plants. A conspectus of the Cape flora of South Africa. Strelitzia 9. National Botanical Institute, Pretoria & Missouri Botanical Garden Press, Missouri.
Hitchcock, A. Personal communication.
Leistner, O.A. (ed.). 2000. Seed plants of southern Africa: families and genera, Strelitzia 10. National Botanical Institute, Pretoria.
Jackson, W.P.U. 1990. Origins and meanings of names of South African plant genera. University of Cape Town Printing Dept., Cape Town.
Credits
Alice Notten
Kirstenbosch National Botanical Garden
November 2003
Plant Attributes:
Plant Type: Perennial, Shrub
SA Distribution: Northern Cape, Western Cape
Soil type: Sandy, Loam
Flowering season: Spring, Early Summer, Late Summer
PH: Acid, Neutral
Flower colour: Yellow
Aspect: Full Sun
Gardening skill: Average
Special Features:
Drought resistant
Horticultural zones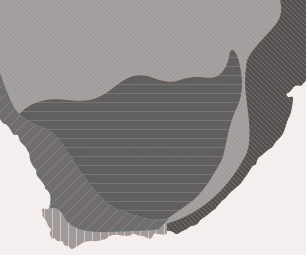 Zone 2 Coastal winter rainfall, frost free
Zone 3 Winter rainfall Karoo, light frost
Google QR Code Generator