Hymenolepis crithmifolia (L.) Greuter, M.V.Agab. & Wagenitz
Family: Asteraceae
Common names: coulter-bush (Eng.); koulterbos, pôbos, pokbos (Afr.)
Introduction
Do you need to brighten a dull area in your garden? Then plant Hymenolepis crithmifolia in masses there - it will bring a bright yellow glow to that dull area!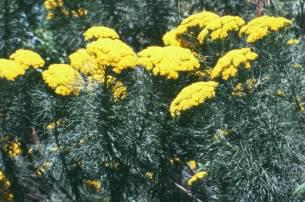 Description
Description
Hymenolepis crithmifolia is a soft shrub, up to 2.5 x 2 m, with finely divided, needle-like, grey-green leaves. The leaves are alternately arranged on the branches but the lower parts of the stem and branches are leafless.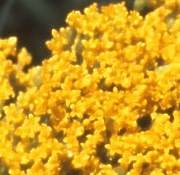 Masses of small, golden yellow, sweetly-scented flowers, arranged in compound heads, are borne in summer at the ends of the branches. The individual flowerheads are discoid, containing about 6 florets (see here for more about Asterceae and their flowers). Membranous paleae occur with each floret on the receptacle. The fruits (cypselae) are glabrous, cylindrical, with 5-10 faint ribs, and the pappus consists of basally united, small, fimbriate scales.
Conservation Status
Status
This species does not appear to be threatened as it seems to be quite common in the areas where it occurs naturally.
Distribution and habitat
Distribution description
Hymenolepis crithmifolia occurs naturally in the Northern and Western Cape (from about Springbok in Namaqualand, south to the Cape Peninsula and east, reaching Oudtshoorn). It grows on mountain or hill slopes in rocky or sandy soil.
Derivation of name and historical aspects
History
This plant was previously called Hymenolepis parviflora and before that Athanasia parviflora.
Hymeno is a Greek word meaning membranous. Lepis is also a Greek word which means scale, probably referring to the membranous involucral bracts or the membranous paleae found on the receptacle of the flowerheads. Parvi means small, and flora means flower, therefore referring to the many small florets aggregated together in compound heads.
Hymenolepis belongs to the tribe Anthemideae, under the family Asteraceae. The genus is endemic to the Northern, Western and Eastern Cape and consists of seven species. It is related to the genera Athanasia, Phymaspermum and Inulanthera. Athanasia consists of 39 species also endemic to the southern African region with almost all the species occurring in the Northern, Western and Eastern Cape, one species extending to KwaZulu-Natal and one to Namibia. Phymaspermum consists of 19 species occurring in Zimbabwe and widespread in southern Africa. Inulanthera consists of 10 species of which seven occur in southern Africa, in Limpopo, Mpumalanga, Swaziland, Free State, KwaZulu-Natal and the Eastern Cape. The other species occur in tropical Africa in Angola, Zimbabwe and Madagascar.
Ecology
Ecology
The flowers are sweetly scented. When in flower, the plants are visited by many insects such as bees and butterflies, which are obviously their pollinators. The fruits (cypselae) are not adapted to any special kind of long distance dispersal, as the pappus is very small. They are small and light and can easily be blown away by the wind, or drift off in streams.
Uses
Use
There are no specific uses recorded for this species.
Growing Hymenolepis crithmifolia
Grow
Hymenolepis crithmifolia is an evergreen, frost-hardy and wind-resistant plant. It needs to be planted in full sun but will tolerate some shade during the day.
It is easily cultivated from cuttings and seed sown in April, but seedlings should be protected from frost. Water during winter months, especially in the summer rainfall areas before flowering commences.
It is fast-growing and perfect as a temporary filler in new gardens or to transform a dull area into a bright, yellow spot. It can be used as a background where its grey-green leaves will contrast with the bright colours of flowers in the foreground of a flower bed. Use it as a border next to pathways and in flower beds. It may be lightly pruned after flowering to keep it neat. Replace the plants after three or four years.
The flowering time ranges from September to December (summer). Mix it with Euryops virgineus which flowers during the winter months to have a prolonged bright yellow corner in your garden.
It seems that this species has not been cultivated very widely, and therefore at this stage no garden pests are known to attack it.
References
Bremer, K. & Källersjö, M. 1985. Taxonomic notes on Hymenolepis (Asteraceae-Anthemideae). Nordic Journal of Botany 5: 517-520.
Joffe, P. 1993. The gardener's guide to South African Plants. Tafelberg, Cape Town.
Källersjö, M. 1985. Fruit structure and generic delimitation of Athanasia (Asteraceae-Anthemideae) and related South African genera. Nordic Journal of Botany 5: 527-542.
Van Rooyen, G., Steyn, H. & De Villiers, R. 1999. Cederberg: Clanwilliam and Biedouw Valley. South African Wild Flower Guide 10. Botanical Society of South Africa, Cape Town.
Credits
P.P.J Herman
National Herbarium, Pretoria
September 2005
Plant Attributes:
Plant Type: Shrub
SA Distribution: Northern Cape, Western Cape
Soil type: Sandy, Clay, Loam
Flowering season: Spring, Early Summer, Late Summer
PH: Acid, Alkaline, Neutral
Flower colour: Orange
Aspect: Full Sun, Morning Sun (Semi Shade), Afternoon Sun (Semi Shade)
Gardening skill: Easy
Special Features:
Attracts butterflies
Fragrant
Feeds honeybees
Horticultural zones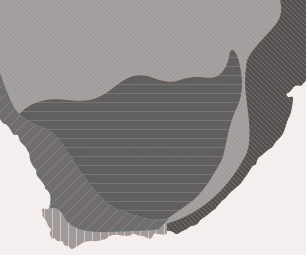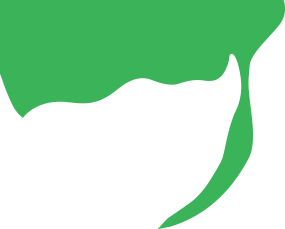 Zone 1 Coastal summer rainfall, frost free
Zone 2 Coastal winter rainfall, frost free
Zone 3 Winter rainfall Karoo, light frost
Zone 4 Summer rainfall Karoo and Highveld, Frost in winter
Zone 5 Bushveld summer rainfall, Light frost
Google QR Code Generator