Justicia petiolaris (Nees) T.Anderson
Family: Acanthaceae
Common names: blue justicia, kissing-leaves (Eng.); kiesieblaar (Afr.)
Introduction
Attractive and little-known perennial shrubs with soft velvety leaves and pretty pink-purple or mauve-blue, two-lipped, pouted flowers, present almost all year long, that create cheerful splashes of colour in semi-shady areas and attract butterflies.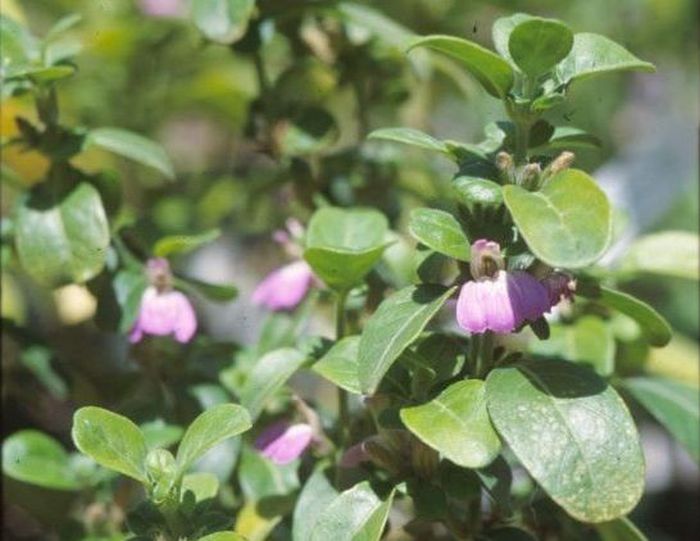 Description
Description
Semi-hardy, evergreen, much-branched, herbaceous perennials or shrublets, 100 mm to 1 m high, with oval-shaped, hairy or velvety leaves. Leaves are stalked and very variable, ranging from 6 mm to 145 mm in width and 9 mm to 70 mm in length, differing greatly in size on the same plant.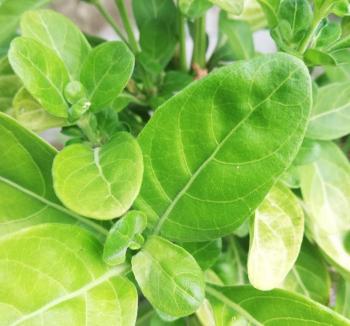 The calyx is green and pointed with 5 deep lobes. The corolla is either tube- or bell-shaped, and 2-lipped, with the upper lip being much smaller and quite shallow. The flower has a central channel containing the style and stamens, which bend back when ripe. Although each stem only bears a few flowers at a time, the total number of flowers it produces is large and it gives a very attractive overall impression. The main flowering months are November to May, late spring through summer to late autumn, but in cultivation, there are flowers present for most of the year. The fruit is a small, club-shaped capsule that bursts open to release the seeds.
Justicia petiolaris is divided into 3 subspecies, the differences between them are as follows: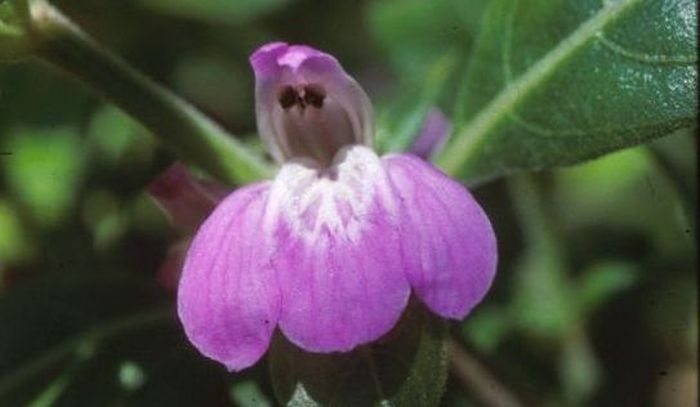 Justicia petiolaris (Nees) T.Anderson subsp. bowiei (C.B.Clarke) Immelman
Height: 0.8–1.2 m. Plants form rather dense upright bushes. Flower colour is pink-mauve to purple-mauve with a white mouth. The lower corolla lip has 3 slightly more deeply divided lobes that flare apart slightly, and on the upper corolla lip, the 2 fused petals form a more upright hood in which the dark anthers are clearly visible.
Justicia petiolaris (Nees) T.Anderson subsp. incerta (C.B.Clarke) Immelman
A smaller plant at 100–150 mm high, with small, widely spaced flowers, and it is not available in cultivation.
Justicia petiolaris (Nees) T.Anderson subsp. petiolaris
Height: 600 mm. Plants are spreading, low-growing bushes. Flower colour is mauve-blue with a white mouth. The lower corolla lip has 3, more parallel lobes, with only the tips slightly divided, and on the upper corolla lip, the 2 fused petals form a lower, flatter canopy.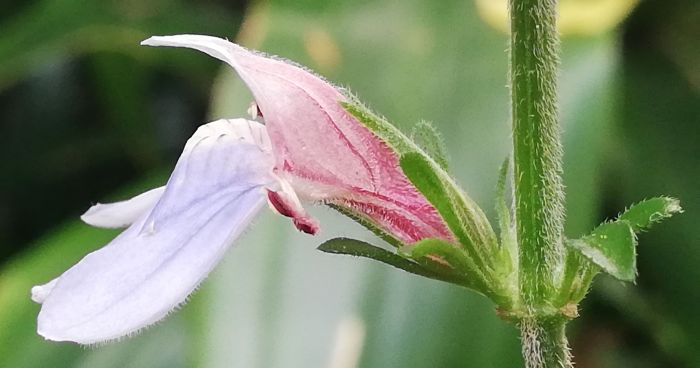 Conservation Status
Status
Justicia petiolaris is not threatened; the current conservation status for all subspecies is Least Concern (LC).
Distribution and habitat
Distribution description
Justicia petiolaris is found in woodlands and forest margins through eastern South and tropical Africa. It occurs naturally as forest undergrowth under trees and other shrubs, and on forest margins where the plants form low, dense bushes.
Justicia petiolaris subsp. bowiei occurs in the Eastern Cape, and is endemic to South Africa.
Justicia petiolaris subsp. incerta occurs in Gauteng, KwaZulu-Natal, Limpopo, Mpumalanga and North West, and is endemic to South Africa.
Justicia petiolaris subsp. petiolaris occurs in KwaZulu-Natal, Limpopo and Mpumalanga, and is not endemic to South Africa; it also occurs in Swaziland and Mozambique.
Derivation of name and historical aspects
History
The genus Justicia is named in honour of James Justice (1730–1763), a Scottish horticulturist. The species name petiolaris, means 'with petioles', and refers to the stalked leaves.
The acanthus family (Greek in origin meaning thorn, spine, or spike) is abundant in the tropics and subtropics. It comprises of ± 350 genera and ± 4 350 species, of which 44 genera and ± 350 species occur in southern Africa. Acanthaceae genera are identified by opposite leaves and irregular inflorescences, often having large leafy bracts; flowers are irregular or 2-lipped, bisexual, with a total of 4 stamens, which can be seen emerging from the corolla, and pollen grains that have a distinctive surface patterning, which is a diagnostic feature. Fruit is usually an exploding capsule, roughly club-shaped; seeds often have water-absorbing hairs.
The acanthus family members are widely spread and poorly known, with considerable variation, some species being climbers, some marsh plants, and others growing in inland or woodland conditions. Some noteworthy members of this family are Barleria spp., Dyschoriste spp., Hypoestes aristata, Mackaya bella, Metarungia spp, Ruttya ovata, Sclerochiton harveyanus, Thunbergia alata, and many more.
Ecology
Ecology
The fruit is a small capsule which explodes to release the seeds and the flowers are pollinated by a multitude of insects and attract various species of butterflies. The insects attract insectivorous birds; therefore, this plant is a good choice for attracting wildlife into the garden.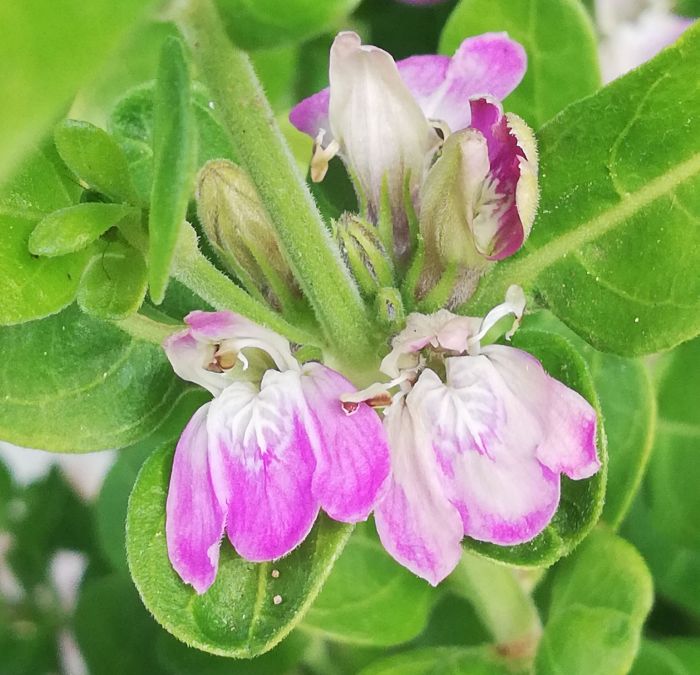 Uses
Use
Still relatively unknown in the landscaping and horticulture industries, these lovely indigenous shrubby perennials are sure to become more popular because of their fast-growing nature, suitability to shady conditions and unusually long floral display.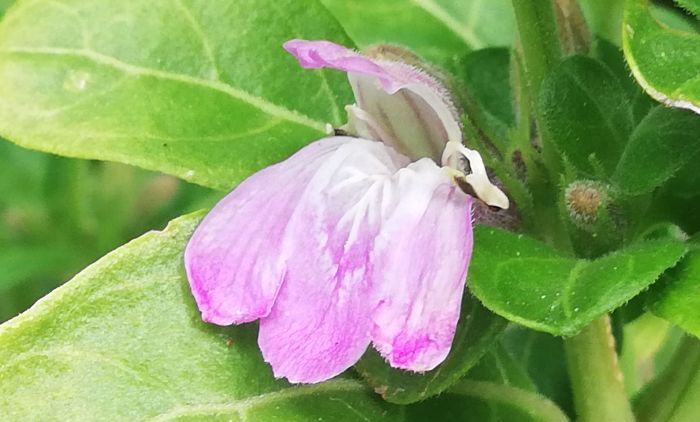 Growing Justicia petiolaris
Grow
Easy and fast-growing, best placed in semi-shade, although they will grow in full shade. Fairly hardy, the plants handle a wide range of rainfall and climatic temperatures, producing lush foliage when receiving ample water, although able to still do very well with less. They will tolerate poor soil, but take note that lots of compost with organic or chemical, slow-release fertiliser added to the soil, will give plants a good boost and improve performance. Spread a layer of mulch on the surface of the soil after planting, and renew regularly to mimic their natural habitat's forest floor conditions. Prune to shape and keep neat and to encourage more flowers, nip off the shoots in spring and early summer. To prevent yellowing of leaves and to encourage growth, feed the plant each season with an organic or inorganic fertiliser.
Provides colour throughout early or midsummer to midwinter, providing much needed interest in the garden at this time. Best positioned under the canopy of trees or large shrubs, massed and grouped together for best effect. Excellent used as fillers, in mixed informal beds and borders or on a shady patio planted in a container.
Can be grown from seed, and seeds itself freely in the garden, but good results can be obtained much quicker from stem and tip cuttings, which can be taken all year long.
The seeds must be collected before the seeds are dispersed, when the seed capsules turn brown. Sow in spring in a well-drained soil mix and cover lightly with the sowing medium. Keep trays in a shaded area. To prevent pre- and post-emergence damping-off, the seed should be treated with a fungicide prior to sowing, or watered with a fungicide immediately after sowing. Transplant the seedlings after the first pair of true leaves have emerged, or when they are large enough to handle, into individual bags/pots. Feed generously with a liquid fertiliser and water moderately.
Roots easily from nodal cuttings, 50–80 mm long; dip the base of tip or stem cuttings into a hormone powder to stimulate fast-root development and place in a mixture of even parts good soil and river sand. Put the cuttings in a shady place and water to not let them dry out completely, but don't keep them saturated. Use a liquid fertiliser and Kelpak to encourage strong roots and growth. Transplant the rooted cuttings after about 2 months into a good soil mixture in small growing pots, with drainage holes and grow on until large enough to plant out into the garden.
The plant has few pests or disease problems, if kept too wet, or planted or positioned incorrectly, mealy bug infestations can occur, in which case, treat with a suitable recommended pesticide.
References
Gledhill, E. 1969. Eastern Cape veld flowers. Department of Nature Conservation, Cape Town.
Manning, J. 2001. Eastern Cape. South African Wild Flower Guide 11. Botanical Society of South Africa, Cape Town.
Manning, J. 2009. Field guide to wild flowers of South Africa. Struik Nature, Cape Town.
Pooley, E. 1998. A field guide to wild flowers Kwazulu-Natal and the eastern region. Natal Flora Publications Trust, Durban.
Powrie, F. 1998. Grow South African Plants. A gardener's companion to indigenous plants. National Botanical Institute, Cape Town.
Raimondo, D. et al. 2009. Red list of South African plants. Strelitzia 25. SANBI (South African National Biodiversity Institute), Pretoria.
Moriarty, A. 1997. Outeniqua, Tsitsikamma and Eastern Little Karoo. South African Wildflower Guide 2, Botanical Society of SA, Cape Town.
Welman, W.G. 2003. Acanthaceae. In Germishuizen, G. & Meyer, N.L. (eds), Plants of southern Africa: an annotated checklist. Strelitzia 14: 92–106. National Botanical Institute, Pretoria.
Credits
Cherise Viljoen
Kirstenbosch National Botanical Garden
December 2003
Updated and expanded October 2019
Plant Attributes:
Plant Type: Perennial, Shrub
SA Distribution: Eastern Cape, Gauteng, KwaZulu-Natal, Limpopo, Mpumalanga, North West
Soil type: Sandy, Loam
Flowering season: Early Summer, Late Summer, Autumn, Sporadic/All year
PH: Neutral
Flower colour: Blue, White, Pink, Mauve/Lilac
Aspect: Full Sun, Morning Sun (Semi Shade), Afternoon Sun (Semi Shade)
Gardening skill: Easy
Special Features:
Attracts birds
Attracts butterflies
Good potplant
Feeds honeybees
Horticultural zones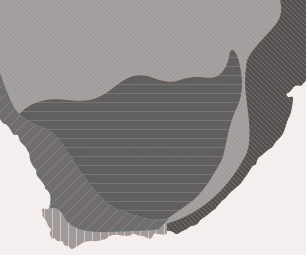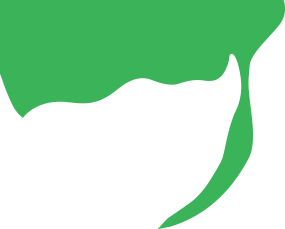 Zone 1 Coastal summer rainfall, frost free
Zone 2 Coastal winter rainfall, frost free
Zone 3 Winter rainfall Karoo, light frost
Zone 4 Summer rainfall Karoo and Highveld, Frost in winter
Zone 5 Bushveld summer rainfall, Light frost
Google QR Code Generator