Kniphofia ichopensis Schinz
Family: Asphodelaceae
Common names: Ixopo red-hot poker (Eng.), Ixopovuurpyl (Afr.) icacane (isiZulu).
Introduction
This is a delicate, grass-like plant, with dull green, distichous leaves and mostly creamy or rarely pink flowers in a lax inflorescence in summer.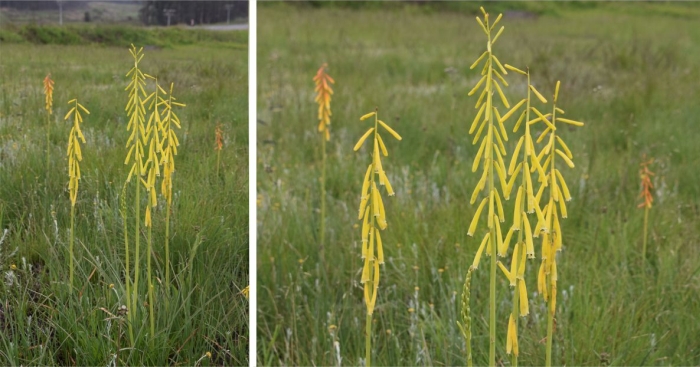 Description
Description
Kniphofias are often confused with aloes, the essential difference between these genera is that kniphofias have long, dull, slender leaves compared to the thick, fleshy leaves of aloes.
Kniphofia ichopensis is a slender, grass-like plant that grows about 1 m high. The leaves are soft, and erect or curving near the apex. Each plant gives rise to of 6 to 8 leaves which are 500-800 mm long and 5-10 mm broad. It has an oblong-cylindrical inflorescence, about 100-300 mm long and 60-70 mm wide. Flowers are tubular, long and narrow, and vary in colour from a creamy-white to a coral pink. Flowering is in midsummer, from January to March. Fruits are 6 mm long with a pellet-like shape.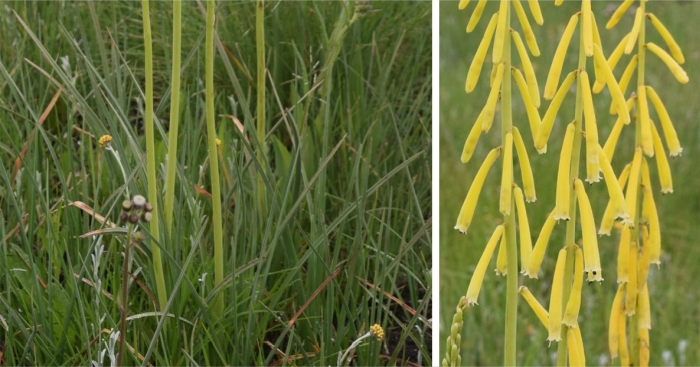 There are two recognised varieties: the typical variety ichopensis (described above) and var. aciformis, the needle-leaved poker, which can be distinguished by its very narrow leaves, about 1 mm in diameter, produced in dense tufts of 20 to 30 leaves, surrounded at the base by fibrous leaf sheaths, and it tends to flower a bit earlier, in November, than the typical variety.
Conservation Status
Status
Although the typical variety is assessed as Least Concern (LC) on the Red List of South African Plants, the variety aciformis is assessed as Data Deficient - Insufficient Information (DDI) but is thought to be rare and possibly at risk of extinction but is too poorly known to be accurately assessed and more research on it is needed. Swampy grasslands, the home for Kniphofia ichopensis, are being lost due to unmanaged alien invasive plants, timber plantations, inappropriate fire management and illegal dumping, all leading to the degradation and loss of this habitat. The poor protection of the habitat of K. ichopensis var. aciformis has led to its possible extinction.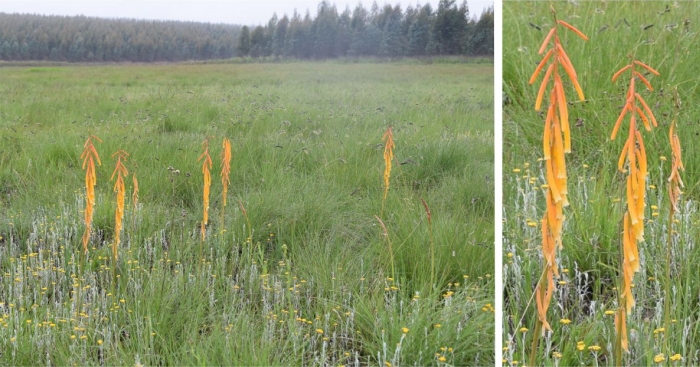 Distribution and habitat
Distribution description
Kniphofia ichopensis is found mostly in the midlands of KwaZulu-Natal, growing naturally in small groups or as solitary plants, in moist grassland, swamps or wetlands, from the midlands to the foothills of the Drakensberg Mountains up to 2450 m altitude. The variety aciformis is known from steep, south-facing slopes in moist grassland in the foothills between Mooi River and Bulwer. This  is a summer rainfall area, and its damp habitat makes them ideal for planting around ponds provided they are given well-drained soil and are in a position to receive full sun or semi-shade, to achieve an excellent show. Prune them after flowering for aesthetic purposes. Many plants in the genus Kniphofia are known to withstand frost and freezing temperatures but unrelenting cold and wet proves to be the death of them.
Derivation of name and historical aspects
History
The genus Kniphofia was named after Johann Hieronymus Kniphof (1704–1763), Professor of Medicine at Erfurt University. This species was named for its place of origin, Ixopo, located in the southern foothills of the Drakensberg in KwaZulu-Natal. The variety name aciformis means 'needle-shaped', referring to its narrow leaves.
The majority of kniphofias originate in Africa, and most species come from the KwaZulu-Natal province in South Africa, except for two species from Madagascar: Kniphofia ankaratrensis Baker. and K. pallidiflora Baker, and one from Yemen: K. sumarae Deflers.
Ecology
Ecology
Kniphofia ichopensis produces upright, brightly coloured flowers which produce a lot of nectar while blooming and may attract nectar-feeders such as sunbirds.
Uses
Use
There is currently insufficient knowledge about the medicinal or cultural uses of Kniphofia ichopensis, however there are only a few species in the genus Kniphofia that are used in traditional medicine, such as K. foliosa, which is reportedly used to treat wounds, abdominal cramps, menstrual pains, infertility, malaria, chest complaints, gonorrhea, hepatitis B, cervical and breast cancer or tumours.
The Ixopo poker is not well known in ornamental horticulture, and is best suited to well-watered gardens in the summer-rainfall region, and is ideal to be planted beside ponds or in water gardens.
Growing Kniphofia ichopensis
Grow
Kniphofia ichopensis can be propagated by division or seed.  Large clumps can be divided and planted directly into the ground, although it is best to pot them and grow them on until they are well established. Sow seeds in spring, in a greenhouse. The seed usually germinates in 2 months. When they are large enough to handle, prick the seedlings out into individual pots and grow them on in the greenhouse for at least their first winter. Plant them out into their permanent positions in late spring.
Grow the plants in well-drained soil, in full sun or semi-shade, and water generously in spring and summer.
References
Aladejana, E.B. & Musara, C. 2021. Kniphofia foliosa Hochst, (Asphodelaceae): Medicinal uses, phytochemistry and pharmacological properties. Journal of Pharmacy and Nutrition Sciences 11:1927-5951.
Carbutt, C. 2020. The curious case of a grass-like poker. PlantLife 50: 1–8. http://plantlifesouthafrica.blogspot.com/2020/12/plantlife-volume-506-december-2020.html.
Foden, W. & Potter, L. 2005. Kniphofia ichopensis Schinz var. ichopensis. National Assessment: Red List of South African Plants version 2020.1. Accessed on 2022/07/25.
Killick, D, 1990. A field field guide to the flora of the Natal Drakensberg. Jonathan Ball and Ad. Donker Publishers, Johannesburg.
Mtshali, H. & Von Staden, L. 2015. Kniphofia ichopensis Schinz var. aciformis Codd. National Assessment: Red List of South African Plants version 2020.1. Accessed 07/06/2022.
Parbhoo Mohan, S. 2017 Observation of Kniphofia ichopensis var. ichopensis, Road from Donnybrook after Creighton turnoff, KZN. iNaturalist. Online. https://www.inaturalist.org/observations/14781929.
Pearse, R.O. 1978. Mountain splendour. Wild flowers of the Drakensberg. Howard Timmins, Cape Town.
Pooley, E. 1998. A field guide to wild flowers Kwazulu-Natal and the eastern region. Natal Flora Publications Trust, Durban.
Credits
Bongekile Ndlovu, Monde Zulu & Mlondi Sikhosana
KwaZulu-Natal National Botanical Garden
August 2022
Acknowledgments: photos by the CREW Midlands team.
Plant Attributes:
Plant Type: Bulb
SA Distribution: KwaZulu-Natal
Soil type: Sandy, Loam
Flowering season: Early Summer, Late Summer
PH:
Flower colour: Pink, Cream, Yellow, Orange
Aspect: Full Sun, Morning Sun (Semi Shade), Afternoon Sun (Semi Shade)
Gardening skill: Average
Special Features:
Attracts birds
Wet sites
Horticultural zones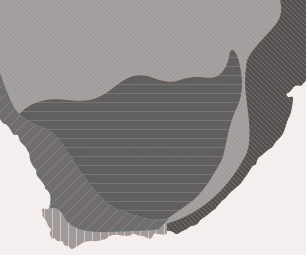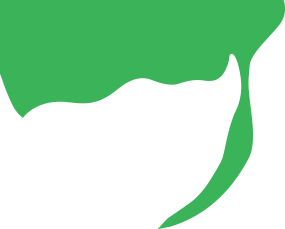 Zone 1 Coastal summer rainfall, frost free
Zone 5 Bushveld summer rainfall, Light frost
Google QR Code Generator