Kumara plicatilis (L.) G.D.Rowley (= Aloe plicatilis L.)
Family: Asphodelaceae
Common names: fan aloe, Franschhoek aloe (Eng.); waaieraalwyn, Franschoekaalwyn, bergaalwyn, tongaalwyn (Afr.)
SA Tree No: 29.6
Introduction
Kumara plicatilis is a unique and striking much-branched shrub or small tree. This plant was previously called Aloe plicatilis.
Description
Description
Large specimens may reach a height of 3-5 m. The stems are forked with clusters of strap-shaped leaves arranged in 2 opposite rows. The clusters resemble an open fan, hence the common name fan aloe. This unusual arrangement and shape of the leaves is what makes this species unique. The leaves are dull or grey-green in colour, with the margins almost smooth, except for some small teeth in the upper part. The leaves are about 300 mm long and 40 mm wide. The leaf sap is clear.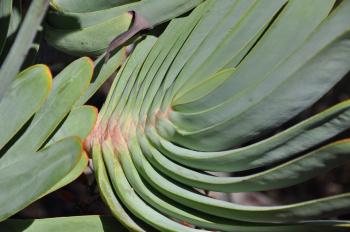 The racemes are cylindrical in shape and are always single and unbranched in each leaf cluster. There are up to 30 tubular, scarlet flowers, each about 50 mm long and somewhat fleshy in texture. It flowers in late winter and spring, from August to October.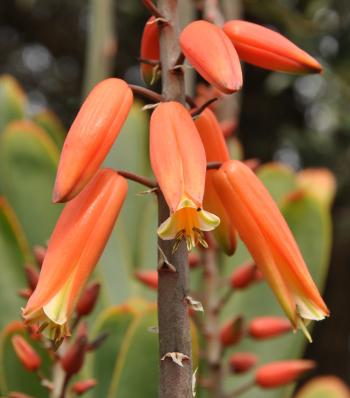 Conservation Status
Status
Kumara plicatilis is assessed as Least Concern (LC). It is endemic to the Western Cape and although its range is restricted it is not rare, nor is it threatened. There are more than 10 known subpopulations, some of which are large, containing up to 500 mature individuals. Some sites are potentially threatened by invasive alien plants, but this is not a serious threat at present.
Distribution and habitat
Distribution description
Kumara plicatilis is confined to the Western Cape, where its limited natural distribution area stretches from the mountains of Franschhoek to Elandskloof in the north. Kumara plicatilis grows on steep, rocky slopes in well-drained acid, sandy soil. It grows among proteas, ericas and other fynbos vegetation and is one of the few aloes found in the fynbos. The fan aloe grows in an area with a high winter rainfall.
Derivation of name and historical aspects
History
Kumara plicatilis was previously known as Aloe plicatilis. Molecular studies showing that the species in the old, broad concept of Aloe do not all share a common ancestor resulted in a revision of the genus, which saw the establishment of two new genera: Aloidendron for the tree aloes and Aloiampelos for the rambling aloes, and the reinstatment of the genus Kumara. There are only two species in the genus, the other being Kumara haemanthifolia (= Aloe haemanthifolia)  which occurs on high mountain peaks in the Hottentots Holland Mountains to Cold Bokkeveld Mountains. 
This genus Kumara was described by the German botanist Friedrich Kasimir Medikus, in 1786. Why he chose this name is not known. The species name plicatilis is from the Latin plicatus and means 'pleated' or 'able to be folded', referring to the fan-like appearance of the leaves.
Ecology
Ecology
Kumara plicatilis flowers are visited by a variety of insects, including bees and monkey beetles, and by nectar-feeding sunbirds, all of which contribute to the pollination of the flowers. The seeds are dispersed by wind.
Kumara plicatilis is often seen growing in areas that are not prone to burning, but they are able to survive fast-moving fynbos fires. Its thick fleshy leaves contain a lot of moisture and resist burning, and it has thick corky bark that protects it from the heat of fires. It's a good plant to choose for a garden in a fire-prone area as it will not pose a fire-threat to the house.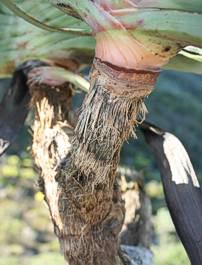 Werner Voigt observed intensive debarking caused by rock hyrax (dassies) on Kumara plicatilis at Goudini during 2009. These agile animals climb to the top of branches where they first chew off the protective corky layer to get to the inner parts which are fibrous and a whitish colour. This contains a lot of water and is eaten right through until the stems collapse and fall to the ground. This behaviour presumably is associated with periods of drought. It was also observed that stems that have fallen to the ground readily root if there is sufficient soil and shelter close by. Those that fall on bare rock simply perish in the sun.
Growing Kumara plicatilis
Grow
Kumara plicatilis makes a wonderful feature in any garden and is an excellent accent plant. It also makes an attractive pot plant. It needs a sunny but cool and well-aerated (breezy) spot, in well-drained (sandy) soil. It is also best protected from the hot afternoon sun, particularly if it is in a container. Feed with well-rotted compost applied as a mulch. In cultivation it should be grown in a free-draining soil medium with a pH of 5.5-6.5. If it is grown in summer rainfall areas it must be planted in well-drained soil and receive ample water in winter and spring. It can withstand only light frost.
Kumara plicatilis can be propagated by branch cuttings (truncheons) planted in well-drained soil. It is easily grown from seed, but it is rather slow-growing.
References
Court, D. 2000. A revised Succulent Flora of southern Africa. Balkema, Rotterdam.
Grace et al. 2013. A revised generic classification for Aloe. Phytotaxa 76 (1): 7-14
Joffe, P.1993. The gardener's guide to South African plants. Tafelberg Publishers, Cape Town.
Palmer, E. & Pitman, N. 1972. Trees of southern Africa . Balkema, Cape Town.
Van Wyk, B-E. & Smith, G. 1996. Guide to aloes of South Africa. Briza Publications, Pretoria.an
von Staden, L. & Helme, N.A. 2008. Kumara plicatilis (L.) G.D.Rowley. National Assessment: Red List of South African Plants version 2015.1. Accessed on 2016/07/14
Credits
Berenice Carolus
Harold Porter National Botanical Garden
November 2002
Updated by Werner Voigt, May 2009
Updated by Alice Notten, July 2016
 
Plant Attributes:
Plant Type: Shrub
SA Distribution: Western Cape
Soil type: Sandy
Flowering season: Spring, Winter
PH: Acid
Flower colour: Red, Orange
Aspect: Full Sun, Morning Sun (Semi Shade)
Gardening skill: Average
Special Features:
Attracts birds
Drought resistant
Feature plant
Good potplant
Feeds honeybees
Horticultural zones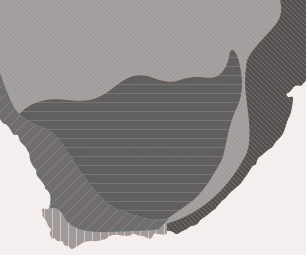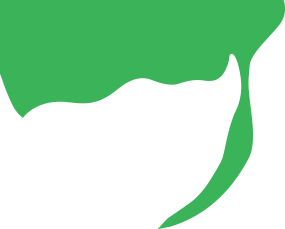 Zone 1 Coastal summer rainfall, frost free
Zone 2 Coastal winter rainfall, frost free
Zone 3 Winter rainfall Karoo, light frost
Zone 5 Bushveld summer rainfall, Light frost
Google QR Code Generator