Lachnospermum imbricatum (P.J.Bergius) Hilliard
Family: Asteraceae
Common names: purple-centre everlasting (Eng.); blombossie (Afr.)
Introduction
A beautiful shrub with pink or purple-centred, daisy-like flowers surrounded by a ring of white, papery bracts. Occurring in the extreme southwestern Cape, it is not very well known, but is deserving of recognition, as it has the potential to be a great addition to any fynbos garden.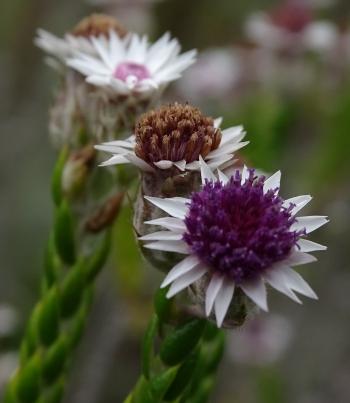 Description
Description
Lachnospermum imbricatum is a shrublet growing up to 500 mm high, with stiffly erect branches and felted stems. The oval leaves are 5–10 mm long, overlapping like roof tiles, pressed against the stem.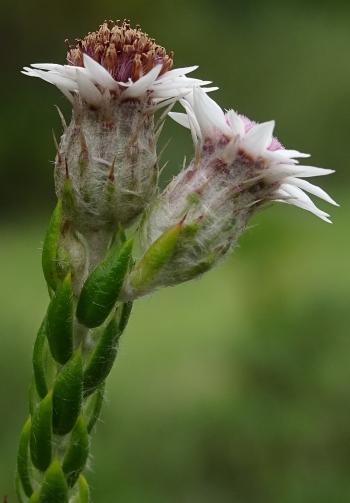 Flower heads are about 8 mm in diameter. They are discoid and occur in loose terminal clusters. There are many cylindrical florets on one flower head that are pink to purple. The outer bracts are woolly, whereas the inner bracts are conspicuous, spreading and have papery, white tips. Flowering occurs in late summer, from January to March.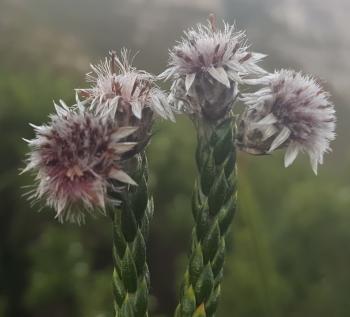 Seed is produced in autumn and winter, from May to June.
Conservation Status
Status
Though this species is endemic to the Western Cape, its wild population is stable and it is not considered to be threatened, and therefore has a status of Least Concern (LC).
Distribution and habitat
Distribution description
Lachnospermum imbricatum is endemic to the Western Cape and is found growing on coastal sands and limestone outcrops in the southwestern Cape. It grows amongst other sandstone Fynbos and coastal Fynbos plants, and experiences cold, wet winters and hot, dry summers.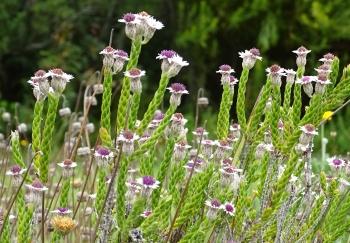 Derivation of name and historical aspects
History
The genus name is derived from the Greek words lachne, meaning 'woolly hair' and sperma, meaning 'seed', and refers to the woolly seed. The species name imbricatum is derived from the Latin word imbricatus, meaning 'overlapping', as with tiles on a roof, and refers to the leaves.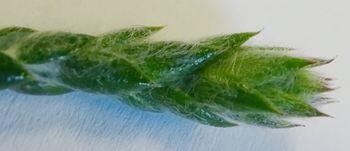 In the genus Lachnospermum, there are 2 other species occurring in the Western Cape. These are L. fasciculatum and L. umbellatum. Lachnospermum belongs to the family Asteraceae and is closely related to the Metalasia group.
Ecology
Ecology
Very little is known about the genus Lachnospermum, and no much information about the pollinators is available. When looking at the fruit, one can say that it is dispersed by wind.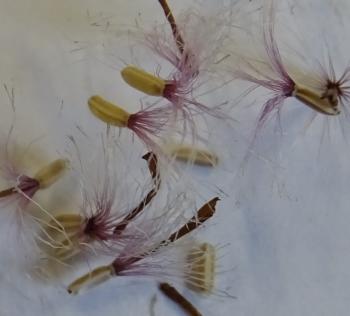 Uses
Use
No known uses have been recorded. This species is not in cultivation yet, but has been collected by both the Kirstenbosch and Harold Porter National Botanical Gardens horticulturists, in the mid to late 2000s.
Growing Lachnospermum imbricatum
Grow
Lachnospermum grows in full sun, in a well-drained, sandy soil. Plants need to be planted in the rainy season so that they can become established in the garden in order to withstand the hot, dry summer. When planting out, space the plants at 50 cm apart. In summer, moderate irrigation will be necessary to prevent plants from drying out.
More information is required regarding the propagation of this species. What has been found is that cuttings are slow to root, but this may be due to the time of year in which the cuttings were made, i.e. late summer. When making stem cuttings, after dipping the cuttings into a rooting hormone, place them into a tray with a propagation medium consisting of 1:1 perlite and sifted bark. Once the tray has been filled, place the tray onto heated benches in a misting unit.
Fruit is ready for collection by May or June. Sow the seed in a well-drained medium made up of equal parts sand, compost and bark; cover them with a thin layer of soil and water lightly and regularly. Once germinated, feed the seedlings with an organic seaweed-based fertilizer to help strengthen the root system.
References
Clarke, H. & Charters, M. 2016. The illustrated dictionary of southern African plant names. Flora & Fauna Publications Trust, Jacana, Johannesburg.
Foden, W. & Potter, L. 2005. Lachnospermum imbricatum (P.J.Bergius) Hilliard. National Assessment: Red List of South African plants version 2017.1. Accessed on 2018/06/05 .
Goldblatt, P. & Manning, J. 2000. Cape Plants. A conspectus of the Cape flora of South Africa. Strelitzia 9. National Botanical Institute, Pretoria & Missouri Botanical Garden, Missouri.
Jackson, B. 1971. A glossary of botanic terms. Hafner Publishing, New York.
Jackson, W.P.U. 1990. Origins and meanings of names of South African plant genera. University of Cape Town.
Manning, J. & Goldblatt, P. 2012. Plants of the Greater Cape Floristic Region 1: the Core Cape Flora. Strelitzia 29. South African National Biodiversity Institute, Pretoria.
Manning, J. C. & Paterson-Jones, C. 2007. Field guide to fynbos. Struik, Cape Town.
Mustart, P., Cowling, R. & Albertyn, J. 1997. Southern Overberg: South African Wild Flower Guide 8. Botanical Society of South Africa, Cape Town.
Smith, C.A. 1966. Common names of South African plants. Memoirs of the Botanical Survey of South Africa No. 35. Government Printer, Pretoria.
Credits
Karen Wall
Harold Porter National Botanical Garden
July 2018
Plant Attributes:
Plant Type: Shrub
SA Distribution: Western Cape
Soil type: Sandy, Loam
Flowering season: Late Summer
PH: Acid, Alkaline, Neutral
Flower colour: Purple, White, Pink
Aspect: Full Sun
Gardening skill: Average
Special Features:
Drought resistant
Horticultural zones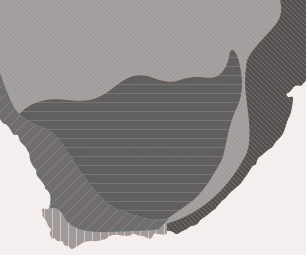 Zone 2 Coastal winter rainfall, frost free
Google QR Code Generator