Lampranthus amoenus (Salm-Dyck ex DC.) N.E.Br.
Family: Aizoaceae
Common names: Darling lampranthus, Darling vygie
Introduction
A robust and reliable succulent shrub that gives a dazzling display of pink/mauve flowers in spring.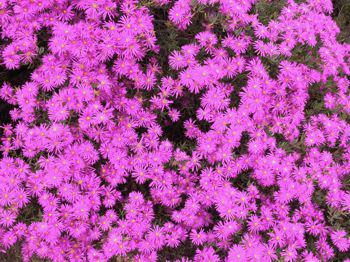 Description
Description
An upright, rounded, perennial succulent shrub, up to 600 mm high, with a robust stem and well-branched habit. Leaves are green to glaucous blue-green and succulent, more or less cylindrical, with a soft tip. The diurnal flowers are 30–40 mm in diameter, and appear in threes at the tips of the branches in August–September. They are pink/mauve/purple (rarely white) with an iridescent/luminous quality, which makes them particularly striking, but only open in bright sunshine. The small fruits are divided into five compartments, each holding many, tiny, dark brown seeds.
Lampranthus amoenus is a fast-growing shrub, forming a sizeable plant within a year or two. It grows well for about five years, after which it starts to become moribund, however, they can live and flower for many years.
Conservation Status
Status
According to the South African Red List of plants, Lampranthus amoenus is recognised as Endangered (EN), primarily due to massive habitat loss from agriculture and urban expansion, and habitat degradation from alien invasive plants.
Distribution and habitat
Distribution description
This plant occurs naturally from the Cape Peninsula to Malmesbury, in the Western Cape Province of South Africa. It inhabits rocky hillsides or sandy lowlands primarily of the Atlantis Sand Fynbos vegetation type. It thrives in full sun and soils with excellent drainage.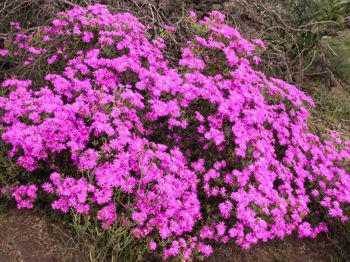 Derivation of name and historical aspects
History
The aptly named Lampranthus is derived from the Greek words lampros meaning 'bright', and anthos meaning 'flower'. The specific name amoenus is Latin meaning 'pleasant' or 'delightful'. It is one of about 227 species in the genus Lampranthus.
Ecology
Ecology
Survival in the harsh, semi-arid conditions of the west coast, is achieved in two ways: succulent leaves which allows the plant to survive the hot, dry, summer months, and through an ingenious and conservative, seed dispersal mechanism. The seed capsules remain closed until it rains when raindrops cause the capsules to rapidly open and shoot small quantities of seed away from the plant. Dry weather causes the capsule to close up again protecting the remaining seed, until it rains again. The large dazzling flowers are pollinated primarily by bees. Most mesembs have to be outcrossed, which means they need another plant flowering nearby in order to produce viable seed.
Uses
Use
There are no known cultural uses of this plant, although it is used in horticulture.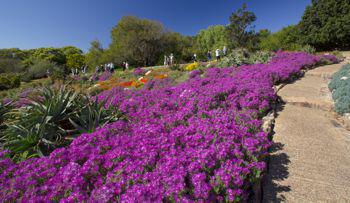 Growing Lampranthus amoenus
Grow
This is an exceptionally easy plant to cultivate, making it a winner for novice gardeners and tough gardening conditions. Being a succulent it is ideally suited to waterwise gardens. Propagation by means of striking cuttings, is very easy - place the base of short 3–8 node stems into sharp riversand. No rooting hormone is required, although it will expedite the process. The tray of cuttings should be placed in a cool, partly shaded position, where it won't dry out or get too wet. Water sparsely at first and then increase as new shoots appear, being careful not to overwater, which may result in rotting.
Raising them from seed is equally easy. Mix cleaned seed in a small quantity of dry riversand, and spread thinly and evenly across the surface of a growing medium in a pot or seed tray in autumn. Water gently so as not to wash the seeds out of the tray. Germination should take place within a few weeks. Good air movement is essential to prevent damping off, but should this occur, treat the seedlings with a damping-off fungicide. Pot up the young plants into small pots/bags or straight into the ground in autumn, in a full sun position, where they should rapidly develop into a sizeable shrub within a year or two. Older leggy plants can be pruned back to reinvigorate them.
References
Goldblatt, P. & Manning, J. 2000. Cape Plants. A conspectus of the Cape flora of South Africa. Strelitzia 9. National Botanical Institute, Pretoria & Missouri Botanical Garden, Missouri.
Leistner, O.A. (ed.). 2000. Seed plants of southern Africa: families and genera. Strelitzia 10. National Botanical Institute, Pretoria.
Raimondo, D., Von Staden, L., Foden, W., Victor, J.E., Helme, N.A., Turner, R.C., Kamundi, D.A. & Manyama, P.A. (eds) 2009. Red list of South African plants. Strelitzia 25. South African National Biodiversity Institute, Pretoria.
Smith, G., Chesselet, P., Van Jaarsveld, E.J., Hartmann, H., Hammer, S., Van Wyk, B., Burgoyne, P., Klak, C. & Kurzweil, H. 1998. Mesembs of the world. Briza Publications, Pretoria.
Credits
Adam Harrower
Kirstenbosch NBG
March 2015
Plant Attributes:
Plant Type: Shrub, Succulent
SA Distribution: Western Cape
Soil type: Sandy
Flowering season: Spring
PH: Acid, Neutral
Flower colour: Mauve/Lilac
Aspect: Full Sun
Gardening skill: Easy
Special Features:
Drought resistant
Feeds honeybees
Horticultural zones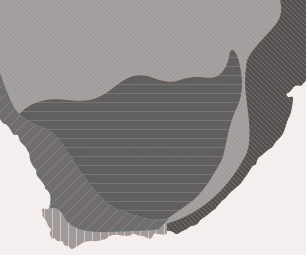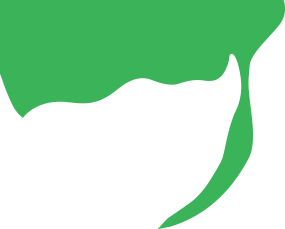 Zone 1 Coastal summer rainfall, frost free
Zone 2 Coastal winter rainfall, frost free
Zone 3 Winter rainfall Karoo, light frost
Zone 5 Bushveld summer rainfall, Light frost
Google QR Code Generator