Lapeirousia anceps (L.f.) Ker Gawl.
Family: Iridaceae
Common names: sandveld cabong, cabung, chabi (Eng.); pienk koringblom (Afr.); cabong (Namaqua)
Introduction
A small bulbous plant that is drought tolerant and thrives on low rainfall, transforming the veld with a spectacular display of masses of tubular, white to beige or faintly flushed pink, slender flowers in spring.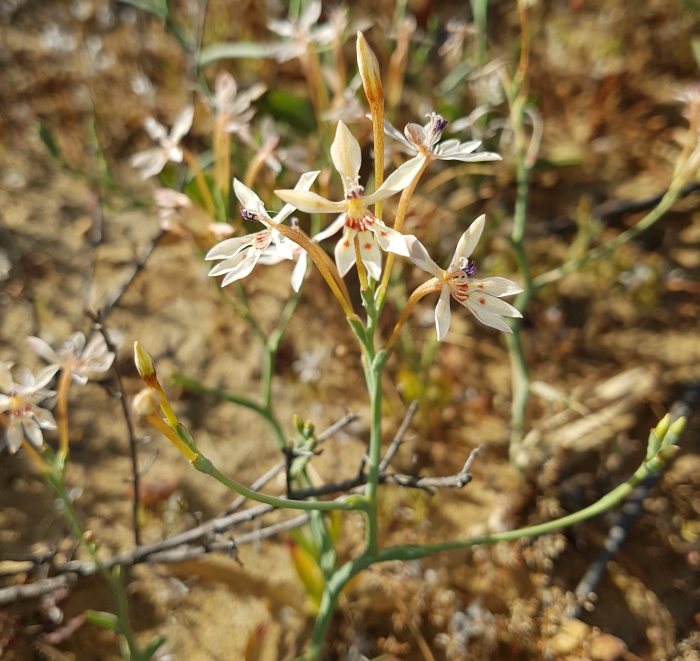 Description
Description
Lapeirousia anceps is a perennial, cormous geophyte (a plant that propagates from an underground tuberous, bulb-like rootstock) that grows to a height of 100–300 mm. The 5–7, ribbed lower leaves are usually somewhat longer and wider than others. The shorter remaining leaves are mostly crowded near the base, becoming more bract-like above. The zig-zag aerial branched stems have multiple flowers borne on short spikes, ranging from white to beige or faintly flushed pink, with red markings on the lower tepals (no differentiation between petals and sepals). The flower has a long narrow tube of 40–80 mm and short floral bracts. Flowering occurs mainly in spring, from September to November.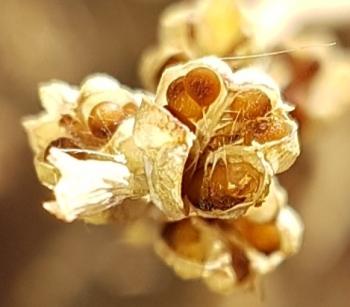 The fruit is a spherical to ovoid, membranous capsule, often showing the outline of the seeds it contains.
Conservation Status
Status
This plant's conservation status is assessed as Least Concern (LC) according to SANBI`s Red List of South African plants, checked on the 28 December 2018. The population of the species is stable and is not endangered.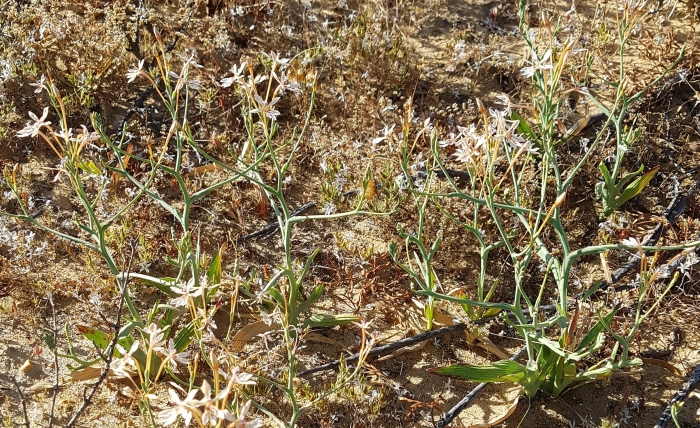 Distribution and habitat
Distribution description
Lapeirousia anceps has the widest distribution ranges of the southern African species of Lapeirousia, extending from southern Namaqualand to Mossel Bay. These plants almost always occur in acidic, nutrient-poor, sandy soils sometimes growing amongst tufts of Restionaceae. This geophyte of sandstone soils, flowers profusely following fires the previous season, that have cleared and fertilized the soil.
Derivation of name and historical aspects
History
The genus Lapeirousia honours the French botanist and mineralogist Philippe Isidore Picot, former Lord of Lapeyrouse (1744–1818). The specific epithet anceps is Latin meaning 'two-edged', referring to its 2-angled stems.
The Khoisan-hunter gatherers gave the common names cabong and chabi to this genus of plants.
Lapeirousia has 27 species mainly in the winter-rainfall, western region of South Africa and southwestern Namibia, also occurring in central South Africa, Botswana and south tropical Africa, mainly in sandy soils or rock outcrops.
Other noteworthy members of the genus are Lapeirousia silenoides, a compact plant with attractive cerise to magenta flowers; L. fabricii that has large, pale yellow to beige flowers, with red markings; and L. jacquinii that has dark purple flowers with cream-coloured stripes and magenta markings. 
Ecology
Ecology
The unscented, white to beige or faintly flushed pink, long, tubular flowers of Lapeirousia anceps are pollinated by long-tongued flies.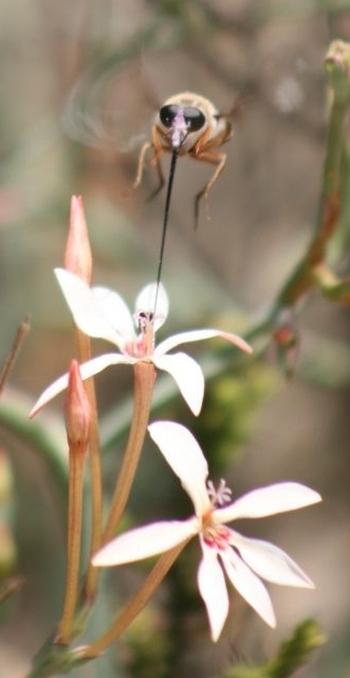 The mouthparts of these flies can be several times longer than the body length of the fly, and are ideally adapted to reach nectar at the bottom of the long, narrow, flower tube. The red markings on the tepals serve as nectar guides to the long-tongued flies.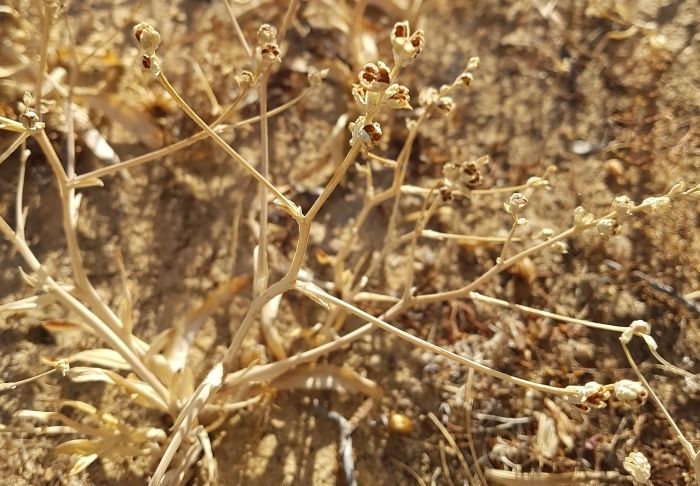 The seeds or capsules of plants of the genus Lapeirousia show no adaptations for dispersal. L. anceps grows in a semi-arid area, and the leaves die off during the dry summer season; this is an adaptation to cope with the seasonally dry habitat. When the dead leaves become detached from the corms, the entire plants are blown about in the wind and the seeds are dispersed in this manner.
Uses
Use
Khoisan hunter-gatherers used the corms (underground stems) of several species of Lapeirousia as a staple food source after roasting them in hot ashes. There are no medicinal uses recorded for this plant.
Growing Lapeirousia anceps
Grow
Lapeirousia anceps is ideal for a rock garden because it can grow to a fair size and produce many flowers each season.
All the species in this genus prefer full sun for much of the day as possible. Plant the corms about 2 cm deep in autumn, in a sharply drained, sandy medium, such as equal parts coarse river-sand, with a 5 cm layer of sifted compost placed at the bottom of the container. They prefer a thorough watering once or twice per week. Being a winter-grower, it is best suited for deep pots that can be placed in a dry place for the summer, when the leaves die off (G. Duncan pers. comm. 2018). Despite sufficient moisture, the corms are erratic and can sometimes remain dormant for one or more growing seasons, therefore, offsets are rarely formed.
When growing from seed, sow in early autumn (March). Only a very low percentage of seeds will germinate in the first winter season (even if the seeds are fresh), but germination improves in the second season and is best in the third season. This is possibly because the seeds are so hard and it takes a long time for the seed coat to wear down. (G. Duncan pers. comm. 2018). Seedlings are fast growing, once germinated and usually flower in the second or third year.
Plant Lapeirousia anceps together with companion plants like Babiana sambucina (fragrant babiana), Gladiolus alatus (kalkoentjie), Pelargonium lobatum (kaneelbol), Hermannia scabra (gold cups), Dicerothamnus rhinocerotis (rhinoceros bush), Erepsia anceps (Breede River erepsia) and Cleretum bellidiformis (bokbaaivygies). The contrast of the leaves and colourful flowers of these plants will complement each other.
This plant does not have any serious pests or diseases, but check regularly for any aphids on the flowers and treat with soapy water.
References
Clarke, H. & Charters, M. 2016. The illustrated dictionary of southern African plant names. Flora & Fauna Publications Trust, Jacana, Johannesburg.
Duncan, G. 2010. Grow bulbs. A guide to the cultivation of bulbs of South Africa and neighboring countries. Kirstenbosch Gardening Series. South African National Biodiversity Institute, Cape Town.
Goldblatt, P. & Manning, J. 2015. Systematics and biology of Lapeirousia, Codonorhiza, Psilosiphon and Schizorhiza in southern Africa. Strelitzia 35. South African National Biodiversity Institute, Pretoria.
Kesting, D. & Clarke, H. 2011. Botanical names: what they mean. Flora documentation programme, Muizenberg
Manning, J. 2003. Photographic guide to the wildflowers of South Africa. Briza Publications, Pretoria.
Manning, J. 2007. Field guide to Fynbos. Struik Publishers, Cape Town.
Trinder-Smith, T. 2006. Wild flowers of Table Mountain. Botanical Society of South Africa, Cape Town
Credits
Shireen Harris
Karoo Desert National Botanical Garden
February 2019
Plant Attributes:
Plant Type: Bulb
SA Distribution: Northern Cape, Western Cape
Soil type: Sandy
Flowering season: Spring
PH: Acid
Flower colour: White, Pink, Cream
Aspect: Full Sun
Gardening skill: Average
Special Features:
Drought resistant
Good potplant
Horticultural zones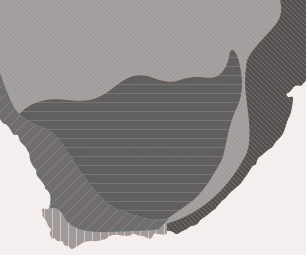 Zone 2 Coastal winter rainfall, frost free
Zone 3 Winter rainfall Karoo, light frost
Google QR Code Generator