Lapeirousia pyramidalis subsp. pyramidalis
Lapeirousia pyramidalis (Lam.) Goldblatt subsp. pyramidalis
Family: Iridaceae
Common names: pyramid cabong, painted petals (Eng.); naeltjie, koringblom (Afr.)
Introduction
This hardy, dwarf irid is ideal for arid areas and has strikingly attractive, fragrant flowers in spring.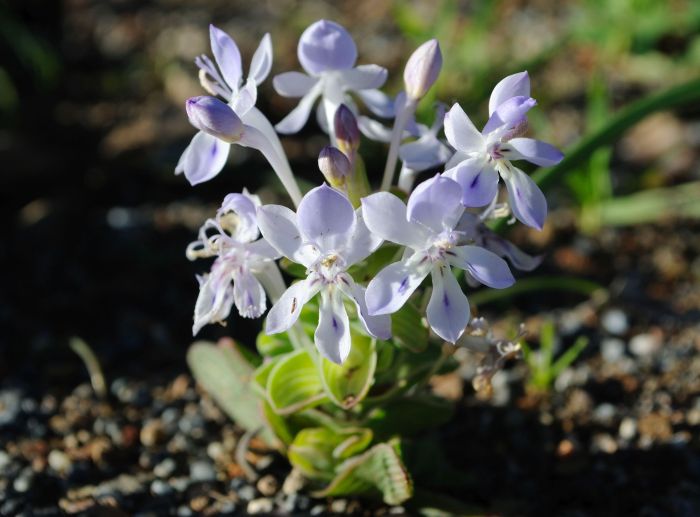 Description
Description
Lapeirousia pyramidalis subsp. pyramidalis is a corm-bearing geophyte which reaches a height of 50–100 mm. The linear leaves are strongly ribbed and horizontal. The inflorescence is a short, dense spike of small zygomorphic (bilaterally symmetric) flowers, with a narrow cylindrical perianth tube, up to 40 mm long. They are whitish to pale bluish or tinged with pink and intensely fragrant. The lower tepals (no differentiation between petals and sepals) are cream-coloured at the base, with a small, thin, basal midline, purple marking and larger midline purple marking. Flowers are borne from midwinter to spring (July to September).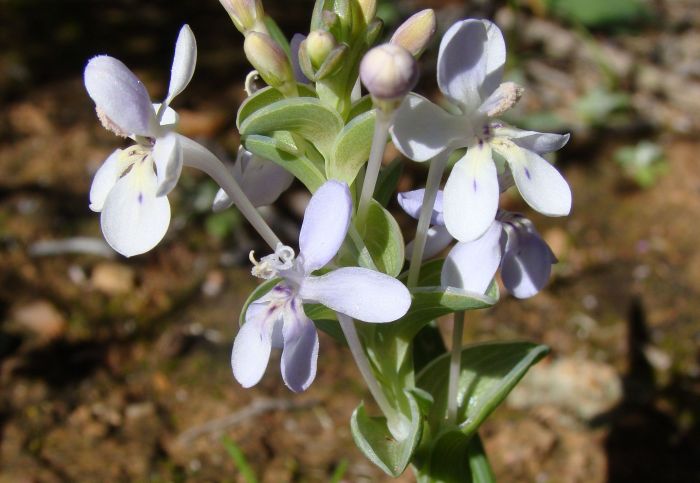 The fruit is a membraneous, obovoid capsule 8–10 mm long and contains smooth brown seeds that are more or less globose to ovoid.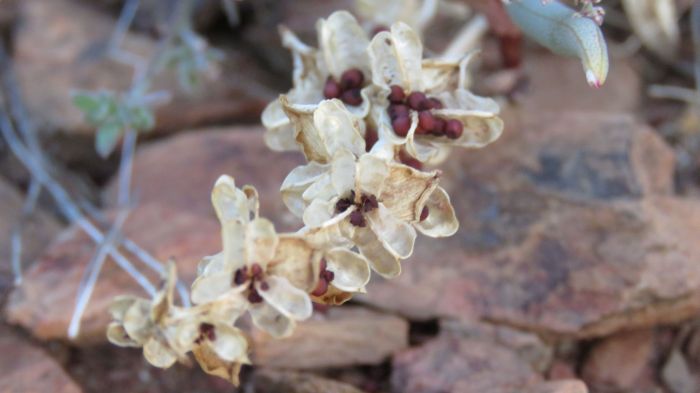 Conservation Status
Status
This species conservation status is assessed as Least Concern (LC) according to SANBI's Red List of South African plants. The population of the species is widely spread and not endangered.
Distribution and habitat
Distribution description
Lapeirousia pyramidalis subsp. pyramidalis is a common and widespread species that occurs from Worcester and Grabouw in the southwest Western Cape, through the Little Karoo and the Overberg to Riversdale and northwards into the arid Tanqua Karoo, and dry sites along the interior Cedarberg and Bokkeveld Mountains, as far north as Loeriesfontein and Nuwerus in the Northern Cape.
In Worcester it is found growing in the karroid areas, amongst low shrubs, in clays and shales, at an altitude of 300–700 m, where the minimum temperature is -1ºC and the maximum temperature reaches 40ºC. The average annual rainfall is 250 mm per year. Plants also occur in stony alluvial sand, but seldom on the poor sandy soils of the Cape Sandstone formation.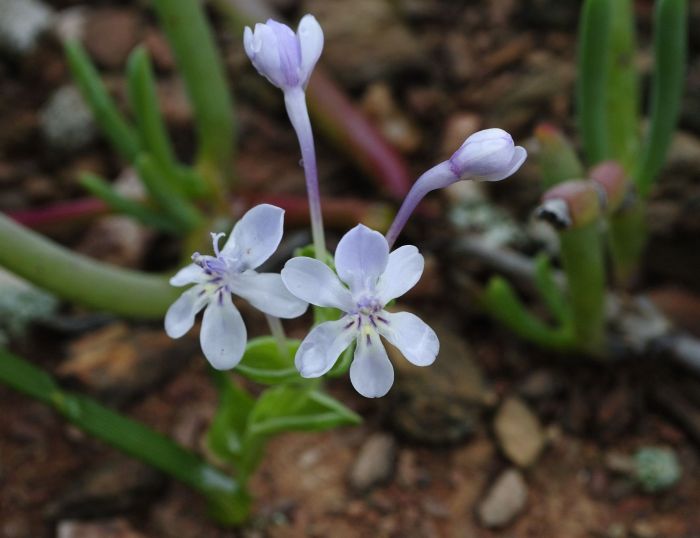 Derivation of name and historical aspects
History
The genus Lapeirousia honours the French botanist and mineralogist Philippe Isidore Picot, former Lord of Lapeyrouse (1744–1818). The specific epithet pyramidalis is Latin meaning 'pyramid-shaped', referring to the short and broad bracts at the base of the young plants that looks like a small pyramid when in bud.
The common names cabong and chabi were given to lapeirousias by the Khoisan-hunter gatherers.
This genus has 27 species mainly in the winter-rainfall, southwestern South Africa and southwestern Namibia, also central South Africa, Botswana and south tropical Africa, mainly in sandy soils or rock outcrops.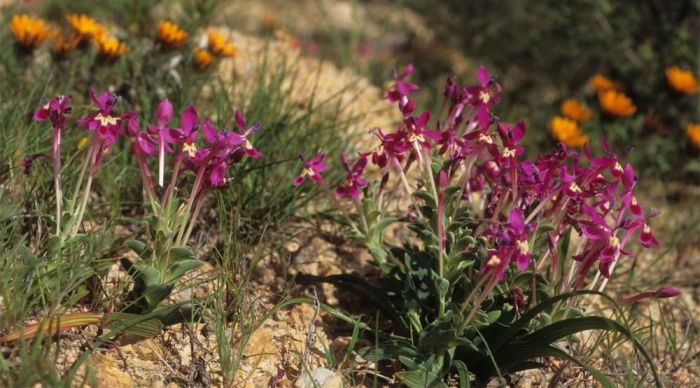 Other noteworthy members are Lapeirousia pyramidalis subsp. regalis, which has red to violet flowers with pale markings on the tepals, L. macrospatha, which has a large flower with white to red tepals on the outside and the lower tepals have red markings, and L. oreogena, which has stunning deep violet flowers and the bases of the tepals are marked with prominent white arrows.
Ecology
Ecology
After good winter rains this plant is abundant in the veld. The strongly scented, long-tubed flowers last for 3 days. The purple markings on the lower 3 tepals act as nectar guides for sphinx moths, which have special sucking mouthparts, that imbibe the nectar at the bottom of the long, narrow flower tube and then coil up into a little spiral. These moths are active during sunset and at night, assisting with seed production.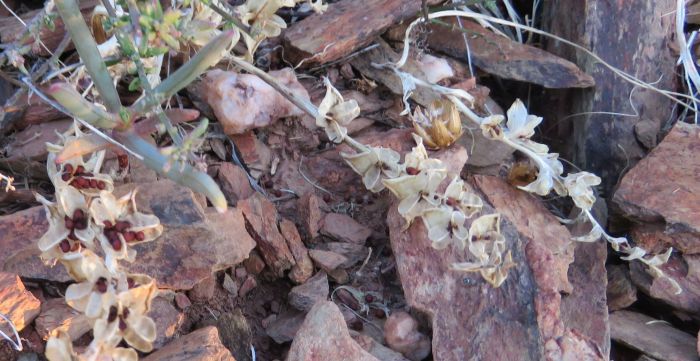 The pyramid cabong's ripe seeds remain in the membraneous capsules of the dry flower heads and are dispersed by wind, where the entire plant dries up in summer and detaches from the corms, and is blown about by the wind, dropping seeds as it goes.
The pyramid cabong reduces moisture loss and survives the drought and heat of summer by storing water in the underground organs (corms) and by shedding its leaves for the summer season.
Uses
Use
Lapeirousia pyramidalis subsp. pyramidalis makes an excellent deep container plant and when in flower, can be placed in the home where their fragrance and beauty can be enjoyed indoors. The white and pale blue flowered forms are preferred for their heady clove-like scent. There are no known medicinal uses of this plant. This winter rainfall species is drought tolerant and ideal for water-wise gardens. When grown in very cold climates, these plants require the protection of a cool greenhouse.
Growing Lapeirousia pyramidalis subsp. pyramidalis
Grow
This plant prefers full sun or bright light for as much of the day as possible. It is best grown in deep containers or it can be planted en masse in the front of a rockery where it will get water in autumn and winter, and no water in summer.
Plant the corms about 2 cm deep, in autumn, in a sharply drained sandy medium, such as equal parts coarse river sand, with a 5 cm layer of sifted compost placed at the bottom of the container. They prefer a thorough watering once or twice per week. Being a winter grower, it is best suited for deep pots that can be placed in a dry place for the summer. Despite sufficient moisture, the corms are erratic and can sometimes remain dormant for one or more growing seasons, therefore, offsets are rarely formed.
Sow seeds in autumn (March). Only a very low percentage of seeds will germinate in the first winter season (even if the seeds are fresh), but germination improves in the second season and is best in the third season. This is possibly because the seeds are so hard and it takes a long time for the seed coat to wear down (Duncan, G. pers. comm. 2018). Seedlings are fast growing, once germinated and usually flower in the second or third year.
Plant Lapeirousia pyramidalis subsp. pyramidalis together with companion plants such as Aloe microstigma (karooaalwyn), Cotyledon orbiculata (pig`s ear), Euphorbia mauritanica (yellow milkbush), Ferraria divaricata, Gladiolus venustus (pers kalkoentjie), Lampranthus haworthii (large, metallic pink, white or light purple flowers), Pelargonium rapaceum (bergpatat), Pteronia incana (vaalbossie), Ruschia caroli, Tulista pumila (soap aloe) for a 'Little Karoo' landscape in your own backyard.
This plant does not have any serious pests or diseases but check regularly for any aphids on the flowers and treat with soapy water.
References
Duncan, G. 2010. Grow bulbs. A guide to the cultivation of bulbs of South Africa and neighboring countries. Kirstenbosch Gardening Series. South African National Biodiversity Institute, Cape Town.
Goldblatt, P. 1972. A revision of the genera Lapeirousia Pourret and Anomatheca Ker in the winter rainfall region of South Africa. Contributions to the Bolus Herbarium 4: 1–111.
Goldblatt, P. & Manning, J.C. 2015. Systematics and biology of Lapeirousia, Codonorhiza, Psilosiphon and Schizorhiza in southern Africa. Strelitzia 35
Goldblatt, P. & Manning, J.C. 1994.  New taxa and revisions to the taxonomy of Southern African Lapeirousia Subgenus Lapeirousia (Iridaceae Subfamily Ixioideae).  Novon 4 (4): 339–346.
Innes, C. 1985. The world of Iridaceae: a comprehensive record.  Holly Gate International, Ashington.
Moriarty, A. 1997. Outeniqua, Tsitsikamma and Eastern Little Karoo. South African Wildflower Guide 2, Botanical Society of SA, Cape Town.
Vlok, J. & Schutte-Vlok, A. 2010. Plants of the Klein Karoo. Umdaus Press, Hatfield, Pretoria.
Credits
Shireen Harris
Karoo Desert National Botanical Garden
January 2020
Plant Attributes:
Plant Type: Bulb
SA Distribution: Northern Cape, Western Cape
Soil type: Sandy, Clay, Loam
Flowering season: Spring, Winter
PH: Acid
Flower colour: Blue, White, Pink
Aspect: Full Sun
Gardening skill: Average
Special Features:
Drought resistant
Fragrant
Good potplant
Horticultural zones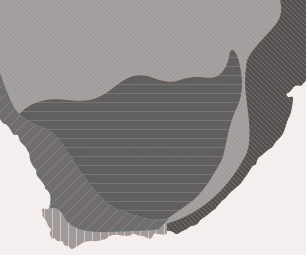 Zone 2 Coastal winter rainfall, frost free
Zone 3 Winter rainfall Karoo, light frost
Google QR Code Generator