Leysera gnaphalodes (L.) L.
Family: Asteraceae
Common names: yellow daisy tea, dune tea bush (Eng.); geelblommetjietee, duinetee, hongertee, teebos, skilpadtee, teringtee (Afr.)
Introduction
Leysera gnaphalodes is a perennial aromatic shrublet with radiant yellow flowers that occurs in the winter rainfall parts of South Africa and Namibia. The plant's aromatic flavours give a pleasant infusion that makes an appetizing tea.
Description
Description
Leysera gnaphalodes is a dwarf short-lived perennial shrub that grows up to about 1 m in height with narrow, hairy, grey to greenish aromatic leaves that are covered with stalked glands.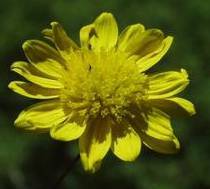 The flower-heads are solitary on very slender stalks, and both the ray and the disc florets are bright lemon-yellow. The flowerheads have pale brown papery involucral bracts which are arranged in approximately 5 overlapping rows.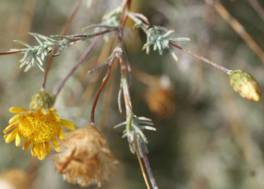 The achenes (fruits, `seeds') are small and dry, with a feathery white pappus which probably aids in wind dispersal. Flowering time is mainly in spring, between September and November, but individual plants may be found in flower throughout the year.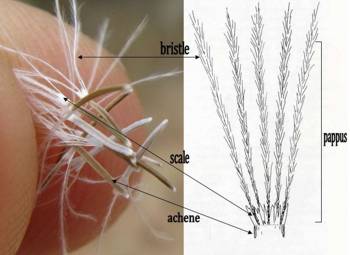 Conservation Status
Status
Leysera gnaphalodes is assessed as Least Concern (LC) in the Red List of South African Plants (Raimondo et al., 2009), probably due to its wide distribution range.
Distribution and habitat
Distribution description
This species thrives in dry areas on the sandy flats and slopes in the Namakwaland Klipkoppe, the Coastal Plain and the Knersvlakte of Namaqualand, in the Western Cape, on Eastern Cape mountains, and also in Namibia.
The genus comprises three species, of which two are endemic to southern Africa (L. gnaphalodes and L. tenella). The third species, L. leyseroides, occurs in arid parts of North Africa, southern Spain, and the Middle East).
Derivation of name and historical aspects
History
In October 1760 a young German botanist, Friedrich Wilhelm von Leysser, sent his new "Flora halensis" to Linnaeus (the father of modern taxonomy). Linnaeus named the genus Leysera after Leysser, who was overwhelmed by the honour and in a letter to Linnaeus, stated that he was "touched to the depths of his heart". The name Leysera was published in 1763 in the second edition of Linnaeus' "Species plantarum" and in the sixth volume of "Amoenitates academicae" (Bremer 1978).
The name gnaphalodes means "resembling Gnaphalium ". Gnaphalium is a genus name derived from the Greek 'gnaphalion', which refers to a plant whose leaves are covered in fine hairs and so are used as stuffing for cushions (Trinder-Smith 2003).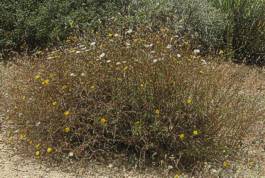 Ecology
Ecology
In areas where this species is found in abundance, it is an indicator of disturbed veld, usually old lands. In the Namaqua National Park, the spring annual flowering display becomes less spectacular year by year as a result of disturbance, and this is reported to be mainly due to the increase in abundance of L. gnaphalodes. The species is therefore considered something of a problem plant by those who wish to cultivate showy wildflower displays in Namaqualand, as it can dominate old lands. According to a thesis done by J. K. Conradie of the University of Pretoria, Leysera gnaphalodes may colonize such areas with a relative cover exceeding 45%. This reduces the aesthetic appeal of the wildflower displays. The most effective means of control was found to be tilling or drought, as the species is resistant to induced grazing.
Uses
Use
The leaves of Leysera gnaphalodes are used to create a pleasant infusion with a blend of aromatic flavours and a sweetish taste. It is used as a tea (as suggested by the various common names) in the Cedarberg region and is also reported to be stimulating. The plant is versatile in function as it is also reported to be used as an emollient in treating catarrh (an inflammation of the throat and nose with a resultant increase in the production of mucus), coughs, as well as pulmonary tuberculosis. In some European and African regions, an infusion of the leaf and flower are used as a tonic in the loss of appetite (Watt & Breyer-Brandwijk 1962).
Both Leysera gnaphalodes and L. tenella contain a unique chemical compound known as 'Leysseral-angelicate' (Bohlmann & Zdero 1972).
Growing Leysera gnaphalodes
Grow
There are no records of this plant being cultivated or grown. However, it should make an attractive and hardy shrub for an informal or indigenous garden where the fine, greyish foliage will provide an interesting texture contrast. Horticulturalists from Kirstenbosch National Botanical Garden advised that for optimum results, the plants should probably be grown from seed sown in early spring. Use a well-drained mixture of bark and coarse or plain river sand. Cover seed with a fine layer of sand and water well. Do not overwater but do not allow the medium to dry out completely (R. Oliver, pers. comm.).
References
Bohlmann, F. & Zdero, C. (1972). Leysseral-angelicat, ein neuartiges Benzofuran-Derivat. Chemische Berichte 105: 2534-2538.
Bremer, K. (1978). The genus Leysera (Compositae). Botaniska Notiser 131: 369-383.
Conradie, J.K. (2003). Modelling population dynamics of Leysera gnaphalodes in Namaqualand, South Africa. Unpublished M.Sc. dissertation, University of Pretoria, Pretoria.
Le Roux, A. & Wahl, Z. (photographer). 2005. Namaqualand. South African Wild Flower Guide 1, edn 3. Botanical Society of South Africa, Cape Town.
Raimondo, D., Von Staden, L., Foden, W., Victor, J.E., Helme, N.A., Turner, R.C., Kamundi, D.A. & Manyama, P.A. (eds). (2009). Red List of South African Plants 2009. Strelitzia 25. South African National Biodiversity Institute, Pretoria.
Trinder-Smith, T.H. (2003). The Levyns guide to the plant genera of the southwestern Cape. Contributions from the Bolus Herbarium No. 21. Bolus Herbarium, University of Cape Town.
Van Rooyen, G. & Steyn, H. (1999). Cederberg, Clanwilliam and Biedouw Valley. South African Wild Flower Guide 10. Botanical Society of South Africa, Cape Town.
Van Rooyen, M.W. (2002). Management of the old field vegetation in the Namaqua National Park, South Africa: conflicting demands of conservation and tourism. The Geographical Journal 168(3): 211-223.
Watt, J.M & Breyer-Brandwijk, M.G. (1962). Medicinal and poisonous plants of Southern and Eastern Africa, edn 2. Livingstone, Edinburgh.
Credits
Bronwynne Busch
Compton Herbarium, Kirstenbosch
August 2011
Plant Attributes:
Plant Type: Perennial, Shrub
SA Distribution: Eastern Cape, Northern Cape, Western Cape
Soil type: Sandy, Loam
Flowering season: Spring
PH: Acid, Alkaline, Neutral
Flower colour: Yellow
Aspect: Full Sun
Gardening skill: Average
Special Features:
Medical plant
Useful plant
Horticultural zones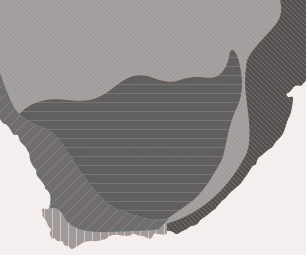 Zone 1 Coastal summer rainfall, frost free
Zone 2 Coastal winter rainfall, frost free
Zone 3 Winter rainfall Karoo, light frost
Google QR Code Generator