Lippia javanica (Burm.f.) Spreng
Family: Verbenaceae
Common names: fever tea, lemon bush (English); koorsbossie, beukesbossie, lemoenbossie (Afrikaans); mutswane, umsutane (Swati); inzinziniba (Xhosa); umsuzwane, umswazi (Zulu); musukudu, bokhukhwane (Tswana)
Introduction
For the avid herb gardener with an interest in medicinal plants Lippia javanica with its dense creamy white, flower heads and aromatic leaves is a perfect candidate.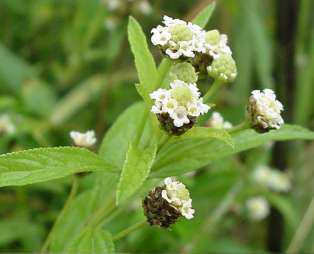 Description
Description
This 1 to 2 m high woody shrub stands erect and is multi-stemmed. The stems have a square appearance when looked at in cross-section. The leaves are hairy with noticeable veins and when crushed gives off a strong lemon-like smell. It is said to be one of the most aromatic of South Africa's indigenous shrubs. The small cream flowers can be found on the shrub from summer to autumn in some areas and in others are produced all year. These flowers are arranged in dense, rounded flower heads. The fruit are rather inconspicuous, small and dry.
Distribution and habitat
Distribution description
These plants are widespread throughout large parts of South Africa, with the exception of the Western Cape. Lippia javanica grows from the Eastern Cape northwards extending into tropical Africa including Botswana, Swaziland, Mozambique, Malawi, Tanzania, Zambia, Tanzania, and Kenya.
It grows in open veld, in the bush, as well as on forest margins.
Derivation of name and historical aspects
History
The family Verbenaceae is a family of herbs and shrubs or small trees often with aromatic leaves. There are 36 genera and approximately 1035 species in tropical and subtropical regions, with just a few representatives in temperate areas. There are 8 genera and approximately 40 species in Southern Africa. There are 6 indigenous species of Lippia in South Africa.
Lippia was named after Augustin Lippi 1678- 1701, an Italian traveller and natural historian who was killed in Abysinnia. This plant also occurs in Java, hence the epiphet javanica, meaning 'from Java'.
Ecology
Ecology
It is possible that its aromatic leaves protect this plant as animals do not usually browse it, except in exceptional circumstances.
Uses
Use
This plant is well known medicinally to many African people and to many avid herbalists and herb gardeners.
Different parts (the leaves, twigs and occasionally the roots) of the plant are used for different reasons. The Xhosa people are known to drink it in a weak infusion as a tea substitute and in a stronger infusion for the treatment of coughs, colds and bronchial problems in general. They use the leaves and stem and drink it with milk or water. In addition the Xhosa people also use Lippia javanica for the disinfection of meat that has been infected with anthrax.
This herb is also said to be affective against fever, especially in cases of malaria, influenza, measles, and as a prophylactic against lung infections. In these cases Lippia javanica is often mixed with another herb Artemisia afra.
The smoke from the herb has proven to be affective, if inhaled, against asthma, chronic coughs and pleurisy. The leaves and stems are burned.
Skin disorders, such as heat rash and other rashes, as well as scratches, stings and bites can also be treated. Here the tea is usually cooled and then applied like a lotion. Even lice and scabies can be treated with it.
Apart from its medicinal uses Lippia javanica is also used ritually in a cleansing ceremony when someone has been in contact with a corpse and apparently for protection against dogs, crocodiles and lightning. The Masai make a red ointment from it, which is used to decorate their bodies.
For those gardeners who are pot-pourri lovers and are looking for a good cupboard freshener, then Lemon bush is the perfect addition to your bouquet. Some people even use it to make perfume.
There may be a commercial purpose for a volatile oil that is produced by Lippia javanica. Apparently it repels and controls Bark Beetles from the genus Ips who can become a plant pest.
Growing Lippia javanica
Grow
This plant is usually selected for the herb garden, rather than the floral display area.
It can be grown from seed, but also grows easily from cuttings. It grows relatively fast and prefers sunny areas. Lemon Bush is not very particular and seems to do well in most soil types.
It is known to colonise disturbed areas, making it a pioneer plant. These plants are usually very hardy and can grow under difficult circumstances, requiring little maintenance.
References
Van Wyk, B., Van Oudtshoorn, B., Gericke, N. 1997. Medicinal Plants of Southern Africa. Briza, Pretoria.
Van Wyk, B., Gericke, N. 2000. People's plants: A guide to useful plants of Southern Africa. Briza, Pretoria.
Pooley, E. 1998. A filed guide to Wild Flowers. Kwazulu-Natal and Eastern Region. Natal Flora Publications Trust, Durban.
Van Wyk, B., Malan, S. 1997. Field guide to the Wild Flowers of the Highveld. Struik, Cape Town.
Fox, F.W., Norwood Young, M.E. 1983. Food from the Veld: Edible wild plants of Southern Africa. Delta Books, Cape Town.
Mitchell Watt, J., Breyer-Brandwijk, M.G. 1962. The Medicinal and Poisonous Plants of Southern and Eastern Africa. E. & S. Livingstone Ltd., Edinburgh and London.
Roberts, M. 1990. Indigenous Healing Plants. Southern Book Publishers.
Credits
Lou-Nita Le Roux
Lowveld National Botanical Garden
May 2004
Plant Attributes:
Plant Type: Shrub
SA Distribution: Eastern Cape, Free State, Gauteng, KwaZulu-Natal, Limpopo, Mpumalanga, North West
Soil type: Sandy, Clay, Loam
Flowering season: Late Summer, Autumn
PH: Neutral
Flower colour: White, Cream
Aspect: Full Sun
Gardening skill: Easy
Special Features:
Drought resistant
Medical plant
Useful plant
Pioneer plant
Horticultural zones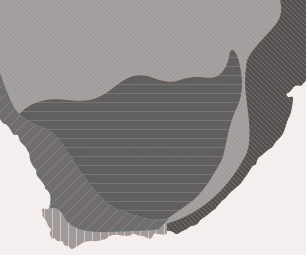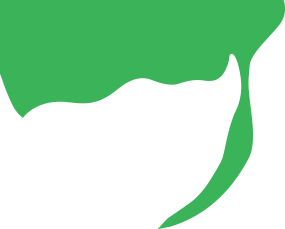 Zone 1 Coastal summer rainfall, frost free
Zone 2 Coastal winter rainfall, frost free
Zone 3 Winter rainfall Karoo, light frost
Zone 4 Summer rainfall Karoo and Highveld, Frost in winter
Zone 5 Bushveld summer rainfall, Light frost
Google QR Code Generator