Lycium ferocissimum Miers
Family: Solanaceae
Common names: Cape box thorn, honey thorn, snake-berry, African box thorn (Eng.); slangbessie, karriedoring, bokdoring (Afr.); ubovu (Xho.)
Introduction
A spiny, evergreen shrub with attractive red berries, that are borne sporadically throughout the year and make it a perfect plant to attract birds to the garden.
Description
Description
This is an erect, woody and large shrub, which grows 2–3 m tall and spreads about 3 m wide. It has an extensive root system that is composed of small roots that spread laterally from the plant, but are generally not deep. The branches are drooping and spread widely. They carry small shoots, which have clusters of leaves that are surrounded at the base by small, light-brown scales. The stems are smooth and light brown, but become grey and rough as they mature, with the main stem carrying strong and thick spines, that are up to 150 mm long. The leaves are oval in shape, bright green and somewhat fleshy, usually borne in groups of 5–12 at the nodes of the stem.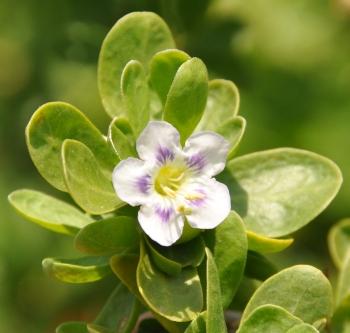 The fragrant flowers are either solitary or in pairs, emerging from the leaf axils and are white or pale lilac, with darker purple markings from the throat. The flowers occur normally in winter and spring, but will also do so after rain in any season.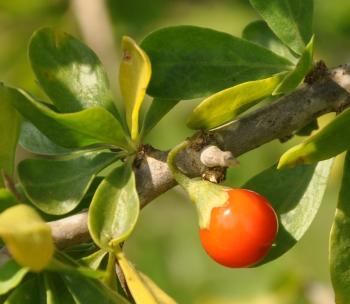 Smooth egg-shaped or rounded berries, with small raised dots, follow after flowering, starting off green and then turning orange-red or bright red when mature.
Conservation Status
Status
According to the Red List of South African plants, as checked on 30 October 2017, L. ferocissimum falls under the category Least Concern (LC). This species is a major weed in Australia and New Zealand. It was introduced in these countries as a hedge or barrier plant and it has naturalized throughout the places it was introduced to.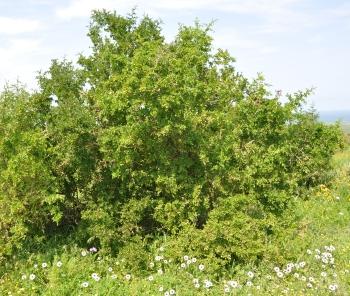 Distribution and habitat
Distribution description
Lycium ferocissimum is not endemic to South Africa. It occurs on dry, stony and sandy flats and slopes in the Western Cape, from Saldanha to Agulhas and Knysna, and into the Eastern Cape and through the interior of South Africa to Free State and Mpumalanga. It also occurs in Lesotho.
Derivation of name and historical aspects
History
From the nightshade family, this species was first officially described in 1854 by a British botanist, John Miers, in Annals and Magazine of Natural History. It is one of 21 species of Lycium that occur in South Africa. The genus Lycium, pronounced 'Ly'cium', comes from the Greek word lykion, the name for a thorny tree with juice and roots used medicinally, from Lycia, a southwest region of Asia Minor. The species name is derived from the Latin words ferocissimum, ferocissimus, meaning 'most ferocious'. This is probably due to the spines on the branches that are quite ferocious and protect the bush from many herbivores.
Ecology
Ecology
Most species from the nightshade family are self-pollinating, but also attract insects and ants. The berries of L. ferocissimum are eaten by birds and small animals. Seed from these plants is dispersed in the droppings of birds and small animals that ingest the seeds that are usually found inside the berries of the plant.
Uses
Use
Medicinally, L. ferocissimum was used by the Xhosa people as a tonic to cure cattle ailments, such as poor appetite and abscesses. The Xhosa people also used the root in lukewarm water to treat swollen legs.
The leaves are nibbled off by grazing goats. In the wild it is known to provide shelter to native animals.
The berries are edible, but are known to produce narcotic symptoms.
Growing Lycium ferocissimum
Grow
L. ferocissimum flowers sporadically throughout the year and will, therefore, produce seed throughout the year, meaning that the seeds will be able to germinate anytime of the year, with spring and autumn seeds usually showing a better yield than those sown any other time of the year. These plants also produce suckers or shoots from the roots; propagation can also be by means of division of these suckers.
When pruned and kept under control, this plant makes a pleasant ornamental shrub, as well as a windbreak. Pruning this plant will encourage the plant to spread. This plant is tolerant of drought, salt spray and sand blasting making, it a good addition to a coastal garden. In fact it is tolerant of a wide range of climates and soil types, though it prefers light soils such as deep loams.
The spines of this plant are robust and long-lived and, therefore, make it an excellent hedging/barrier plant. Due to its spiny nature it is also tolerant of grazing.
References
Batten, A. & Bokelmann, H. 1975. Wildflowers of the Eastern Cape Province. Cape and Transvaal Printers Ltd., Cape Town.
CABI Invasive Species Compendium: Lycium ferocissimum. Accessed 30 October 2017. https://www.cabi.org/isc/datasheet/31903
Weeds of Australia, fact sheet: Lycium ferocissum, accessed 30 October 2017. https://keyserver.lucidcentral.org/weeds/data/media/Html/lycium_ferocissimum.htm
Wikipedia: Lycium ferocissimum, accessed 30 October 2017. https://en.wikipedia.org/wiki/Lycium_ferocissimum
Credits
Sisanda Alakhe Velembo
Kirstenbosch National Botanical Garden
November 2017
Plant Attributes:
Plant Type: Shrub
SA Distribution: Eastern Cape, Free State, Western Cape
Soil type: Sandy, Clay, Loam
Flowering season: Sporadic/All year
PH: Acid, Neutral
Flower colour: Purple, White, Mauve/Lilac
Aspect: Full Sun
Gardening skill: Easy
Special Features:
Attracts birds
Drought resistant
Hedge/screen
Edible plant
Medical plant
Useful plant
Horticultural zones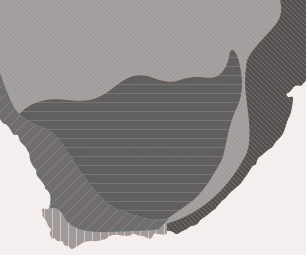 Zone 1 Coastal summer rainfall, frost free
Zone 2 Coastal winter rainfall, frost free
Zone 4 Summer rainfall Karoo and Highveld, Frost in winter
Google QR Code Generator