Maytenus procumbens (L.f.) Loes.
Family: Celastraceae
Common names: dune koko tree (Eng.); duinekokoboom (Afr.); umphono-phono (isiXhosa) umphophonono; (isiZulu)
SA Tree No: 401.1
Introduction
As the species name suggests, Maytenus procumbens is a tidy and procumbent coastal shrub or small tree. It is very pleasing to the eye especially with eye-catching very bright orange seeds during its fruiting season.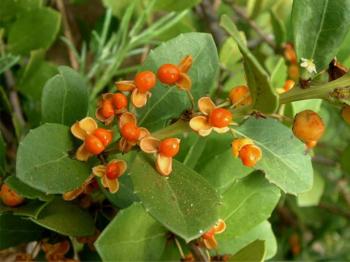 Description
Description
Maytenus procumbens is a scrambling, dense shrub or small tree that grows about 2.5 m tall, and occasionally reaches up to 6 m. The bark of the stem is rather pale, yellowish brown, becoming finely fissured with age. The somewhat drooping branches are smooth and hairless, with young branches greenish yellow. The leathery leaves are pale green above and below, alternate and oblong, with 3 to 5, shallow, spine-tipped teeth, noticeably bent backwards.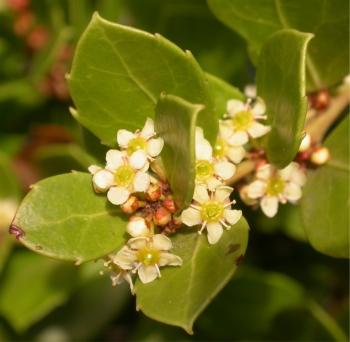 The greenish white flowers are quite small and are carried in short axillary clusters in winter (June to July), but may also occur in mid-summer.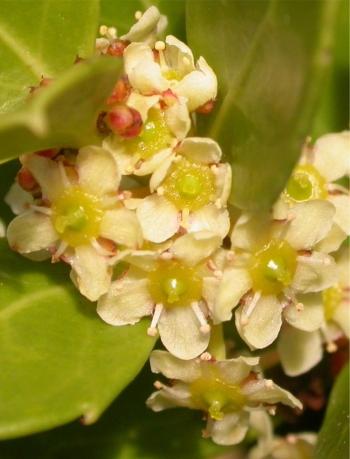 The fruit is quite striking and follows immediately after flowering, from late winter to midsummer (August to January). They are spherical, woody, bright yellow-orange capsules, which split down the 3 sides to release up to 6 seeds covered in a brilliant orange aril.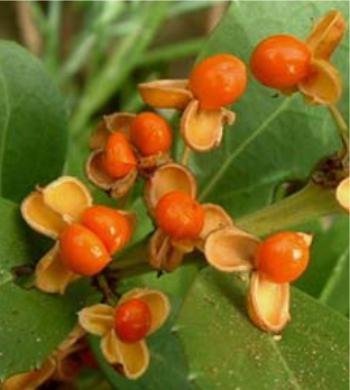 Conservation Status
Status
According to the Red List of South African plants, this species is not threatened and is assessed as Least Concern (LC).
Distribution and habitat
Distribution description
Maytenus procumbens is not endemic to South Africa and is distributed in the following Provinces: Western and Eastern Cape, and KwaZulu-Natal. It also occurs in Swaziland and Mozambique. This plant grows in dune scrub, coastal dune forests and in valleys or wooded areas.
Derivation of name and historical aspects
History
Maytenus is a genus of rhizomatous shrubs or trees that have a tendency to scramble. There are ± 150 species in this genus that occur mainly in the tropics and subtropics of both the northern and southern hemispheres. M. procumbens is one of 13 species of Maytenus that occur in southern Africa, with 8 species endemic to South Africa and 5 species not endemic.
The genus name Maytenus is derived from the Chilean name maiten, and means 'tree'. The species name procumbens refers to the procumbent growth habit the plant usually takes and means 'prostrate' or 'to lie down'.
Ecology
Ecology
The fruit attracts birds, which eat the bright orange aril. Bees, butterflies and small insects visit the flowers.
Uses
Use
No medicinal or traditional uses are recorded. Maytenus procumbens makes a useful hedge, and is particularly suited to coastal conditions.
Growing Maytenus procumbens
Grow
Propagate from both seed and cuttings. Sow fresh seeds in a well-drained general soil mix consisting of 6 parts of compost, 2 parts bark and 1 part sand (6:2:1). It is recommended that seed be pre-treated with a pre-emergence fungicide to control damping off. Use tip cuttings to propagate and apply rooting hormone number 2 on the wound. Plant in a general mix of half perlite and half fine bark (1:1).
It is recommended to feed and water regularly with a fertilizer that is potassium-, phosphate and nitrogen-rich for increased vigour and for root growth, as well as to encourage flowering.
Maytenus procumbens is ideal for coastal gardens as it naturally occurs in the coast. It is an adaptable, hardy and drought-tolerant shrub that is able to withstand the harshest coastal conditions, as well as of poor soils.
It grows well in partial shade to full sun. It can be used as a groundcover for rehabilitation purposes, as it protects the soil with its scrambling branches, also allowing other species to establish themselves quickly, protected under its spreading branches. This lovely shrub makes a good boundary plant and is highly suitable for making hedges. It is also a good foliage plant. For a natural effect either of a shrub or groundcover, leave unpruned.
References
Archer, R.H. & Victor, J.E. 2005. Maytenus procumbens (L.f.) Loes. National Assessment: Red List of South African plants version 2017.1. Accessed on 2018/08/20.
Batten, A. & Bokelmann, H. 1975. Wildflowers of the Eastern Cape Province. Cape and Transvaal Printers Ltd., Cape Town.
Coates Palgrave, K. 1977. Trees of southern Africa. Struik, Cape Town.
Gibson, J.M. 1975. Wild flowers of Natal: coastal region. Trustees of the Natal Publishing Trust Fund, Durban.
Khumbula indigenous garden. Maytenus procumbens. https://kumbulanursery.co.za/plants/maytenus-procumbens. Accessed on 20/08/18.
Operation wildflower gallery. Maytenus procumbens branch with flowers and fruit. http://www.operationwildflower.org.za/index.php/component/joomgallery/trees/maytenus-procumbens-branch-with-flowers-and-fruit-287. Accessed on 20/08/18.
Stearns T.W. 1975. Dictionary of plant names for gardeners. A handbook on the origin and meaning of the botanical names of some cultivated plants. Cassel, Strand.
Wikipedia. Maytenus. https://en.wikipedia.org/wiki/Maytenus. Accessed on 20/08/18.
WordSense.eu Dictionary. Procumbens. https://www.wordsense.eu/procumbens/. Accessed on 20/08/18.
Credits
Sisanda Alakhe Velembo
Kirstenbosch National Botanical Garden
September 2018
 
Plant Attributes:
Plant Type: Shrub, Tree
SA Distribution: Eastern Cape, KwaZulu-Natal, Western Cape
Soil type: Sandy, Loam
Flowering season: Winter
PH: Acid, Neutral
Flower colour: Cream
Aspect: Full Sun, Morning Sun (Semi Shade), Afternoon Sun (Semi Shade)
Gardening skill: Easy
Special Features:
Attracts birds
Attracts butterflies
Drought resistant
Feature plant
Hedge/screen
Feeds honeybees
Horticultural zones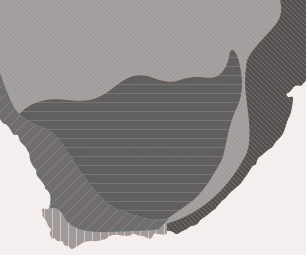 Zone 1 Coastal summer rainfall, frost free
Zone 2 Coastal winter rainfall, frost free
Google QR Code Generator