Metrosideros angustifolia
Metrosideros angustifolia (L.) J.E.Sm.
Family: Myrtaceae
Common names: Cape-gum, lance-leaved ironheart (Eng.); smalblad, smalblaar (Afr.)
SA Tree No: 559
Introduction
At first glance this plant creates an alert reaction in the keen Fynbos enthusiast, as it bears a resemblance to  some South African weeds. However, many people are surprised to learn that Fynbos actually has its very own myrtle. This Western Cape endemic is the only representative of the genus Metrosideros in South Africa, and the only indigenous member of the Myrtaceae in the Fynbos Biome.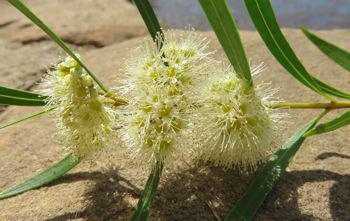 Description
Description
Metrosideros angustifolia is an evergreen, multi-stemmed, spreading, perennial shrub or small tree, reaching a height of 2–4 m, sometimes reaching 7 m, with a dense, V-shaped canopy.
The rough bark is grey to reddish brown and flaky. The twigs and petioles are often tinged pink.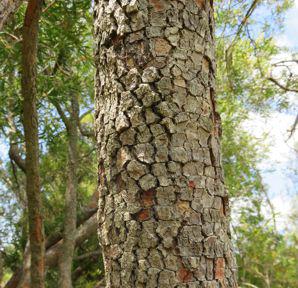 A distinguishing characteristic of Metrosideros angustifolia, is the red-tinged leaves in the tree canopy. The thin, leathery leaves are simple, oppositely arranged and narrowly elliptic with smooth margins. The leaf is 40–100 mm long and 5–12 mm wide, whereas leaf stalks are shorter, being 1–3 mm in length and often obscured by the leaf base; the leaf base and apex taper (Thomas et al. 2008).If the leaf is held up to strong light, tiny glands are visible as dots on the surface. The prominent central vein is indented above and paler below.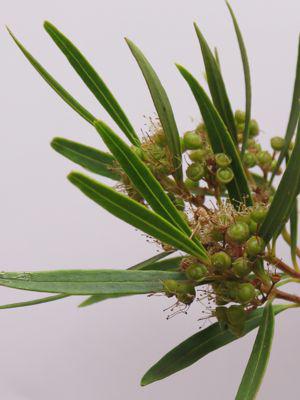 Small, fluffy, short-lived, cream-coloured to pale yellow flowers appear in summer from October to February. Flowers grow in branched heads or cymes up to 25 × 20 mm near the twig ends, and have a central mass of up to 30, whorled stamens protruding from five small, spreading petals. The flowers are bisexual, 6 mm in diameter and have floral parts in fives. The calyx is short and bell-shaped, whereas the spreading petals are longer than the sepals. The ovary is usually 3-chambered (Coates Palgrave 2002).
In mid- to late summer from November to March, the pale brown, many seeded fruit capsules appear in profusion in short-stalked, axillary clusters on branchlets. These cup-shaped capsules are broader than they are long, approximately 3 × 4 mm and contain 3 seeds. Seed capsules look similar to those of Eucalyptus, yet are much smaller and more fragile. Capsules split open and release the seeds once ripened. (Coates Palgrave 2002).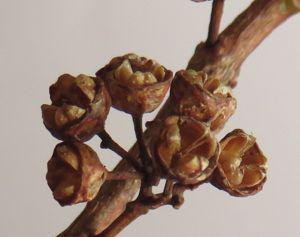 Conservation Status
Status
According to the website http://redlist.sanbi.org accessed on 7 September 2015, the conservation status of this plant is LC (Least Concern). The population trend is stable, with no major threats.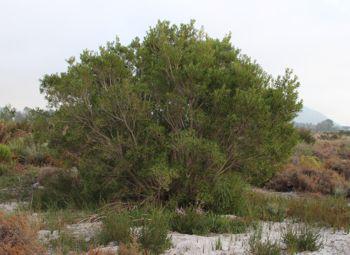 Distribution and habitat
Distribution description
This is an endemic species, growing in an area just south of Mossel Bay, to the Caledon Region in the Western Cape.
Metrosideros angustifolia grows in mountainous areas of the Cape, particularly along river banks and watercourses, with an outlying population on the Gariep River (Milewski & FitzPatrick 2006). It can be found in rocky areas and along the western part of the south coast where there is increased moisture, as well as along cliff bases (Thomas et al. 2008). The trees currently in the Kirstenbosch National Botanical Garden were collected by Ernst van Jaarsveld in the Bain's Kloof area outside Wellington, and planted in the 1970s (Ernst van Jaarsveld pers. comm. 18/08/2015). It grows naturally in wet, acidic, sandstone, stream gravel of the Western Cape.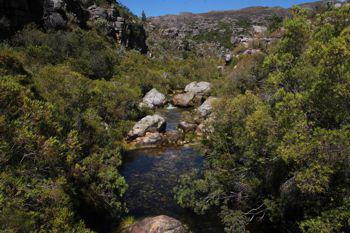 Derivation of name and historical aspects
History
Metrosideros is derived from the Greek word metra, translating to 'heartwood' and sideros, meaning 'iron', referring to the heartwood which is very hard. Angustifolia translates to having 'narrow leaves'.
M. angustifolia was described by William Burchell in 1822 as '…particularly interesting on account of its close resemblance in character to the plants of New Holland (Australia)…' and stated that there is '…a certain affinity between the botany of that country and the Cape of Good Hope…' (Skead 2009).
Interestingly, according to Milewski & Fitzpatrick (2006), Metrosideros is a classic example of an island genus, having radiated widely in the Pacific, yet our local and only species seems to have popped up in the most unlikely place in the Fynbos Biome, quite far from the Pacific. Approximately 60 species of Metrosideros originate from New Zealand, New Caledonia, New Guinea, and the Philippines in the west and even Hawaii in the east.
This plant's distant relatives come in many interesting and fascinating forms and shapes, from woody creepers to epiphytes. M. polymorpha is a Hawaiian species that can even survive being buried in volcanic lava and regenerates its roots once the volcanic ash has cooled (Milewski & Fitzpatrick 2006). The other well-known species amongst South African gardeners is Metrosideros excelsa, the New Zealand Christmas tree, which is now a declared Category 3 invasive plant in South Africa, and may no longer be planted in gardens.
Ecology
Ecology
The fruit and seed of this tree attract birds and animals. The flowers are pollinated by various insects and are visited by bees.
Uses
Use
Horticulturally they can be grown as garden trees and also make excellent bonsai specimens. This tree is also used in planting for the rehabilitation of rivers and disturbed soils in the Western Cape.
In the past, these trees were recorded to reach much larger sizes and height, and were more than likely used as a hard timber wood.
Growing Metrosideros angustifolia
Grow
According to Mr Johann van Biljon (pers. comm. 08/09/2015), of Intaba Environmental Services, M.angustifolia is easy to grow from seed, as well as from cuttings.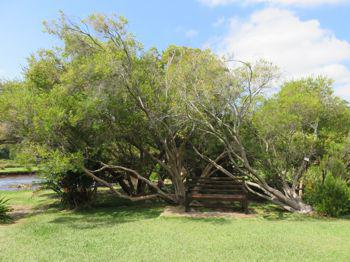 Seed capsules must be collected once they have turned from green to brown. Capsules will burst open to release the seed when it is ready and ripe. Sow the seed as soon as it is ripe, in spring or late summer. Seed does not require smoke treatment, although there is a possibility that it might enhance germination rate. Sowing medium must be coarse in texture and of sandstone origin. It can be made by using a mixture of coir, compost and river sand. Seed should be scattered on top of the sowing medium and not be covered. An appropriate fungicide should be used to prevent dampening off of seedlings. Seed trays should be placed under 40% shade cloth and do not require any heating. Seed will germinate within 2 weeks. Seedlings are very small and need to be grown on until the seedling develops at least two or three true leaves. Thereafter, they can be transplanted into seed trays for further development and fed regularly with an organic fertilizer to aid healthy development.
Cuttings are a bit trickier in terms of propagation. Cuttings made from mother stock plants, root better than those taken from wild collections. Cutting rooting can have up to 100% success if taken from 'tamed' mother stock plants, as opposed to less than 50% success rate of wild collected material. Therefore, culturing a mother stock of M. angustifolia may prove to be difficult (Johann van Biljon pers. comm. 08/09/2015).
Semi-hardwood cuttings must be done in spring, with the new flush of growth. Cuttings should be 70 mm long and be made immediately from freshly collected material, as cutting material must not be wilted. Cuttings should be placed in a medium of perlite and coir, in a plastic tray which aids heat dispersal and insulation. Trays should be placed on a hot bed system with an optimum bottom heat of 25°C, along with an intermittent misting system that will keep cuttings moist. Cuttings should be treated with a liquid rooting hormone to stimulate callusing and rooting. Cuttings will callus within 2 weeks and should be transplanted into a well-drained potting mix, with an addition of slow-release fertilizer, and hardened off before placing them into full sun.
In the garden, M. angustifolia prefers full sun and tolerates semi-shade. It needs regular watering and would thrive in a wet, but well-drained environment. It is not suited to heavy, boggy soils. Since this tree is river-dwelling, it is drought-sensitive and grown best in poor, acidic and sandy soils. It can adopt a leaning and unusual form, however, little pruning or maintenance is required (Thomas et al. 2008).
Metrosideros angustifolia is susceptible to aphid attack, particularly in spring (Johann van Biljon, pers. Comm., 11/09/2015). An organic or chemical control measure should be adopted to treat any potential aphid infestations.
Acknowledgements
I would like to thank the inspiring Ms Alice Notten of the Kirstenbosch National Botanical Garden for always making herself available to help and assist as thoroughly as she can and for greatly improving my writing skills and sharing her vast botanical knowledge.
Thank you to Mr Johann van Biljon of INTABA Environmental Services for sharing his valuable knowledge and experience of growing this fairly unknown tree.
References
Coates Palgrave, M. 2002. Keith Coates Palgrave Trees of southern Africa , edn 3. Struik, Cape Town.
Daydon Jackson, B. 1979. A glossary of botanic terms. Duckworth, London.
Goldblatt, P. & Manning, J. 2000. Cape Plants. A conspectus of the Cape flora of South Africa. Strelitzia 9. National Botanical Institute, Pretoria & Missouri Botanical Garden, Missouri.
Milewski, A. & FitzPatrick, P. 2006. The pacific face of Fynbos? Veld & Flora 92: 100, 101.
Palmer, E. 1981. A field guide to the trees of southern Africa. Collins, Johannesburg.
Skead, C.J. 2009. Historical plant incidences in South Africa. Strelitzia 24. National Botanical Institute, Pretoria.
Thomas, V., Moll, E. & Grant, R. 2008. SAPPI tree spotting Cape: from coast to Kalahari. Jacana Media, Johannesburg.
http://Redlist.sanbi.org
http://posa.sanbi.org
Credits
Megan Blatchford
Kirstenbosch National Botanical Garden
September 2015
Plant Attributes:
Plant Type: Tree
SA Distribution: Western Cape
Soil type: Sandy
Flowering season: Early Summer, Late Summer
PH: Acid
Flower colour: Cream
Aspect: Full Sun
Gardening skill: Challenging
Special Features:
Feeds honeybees
Wet sites
Horticultural zones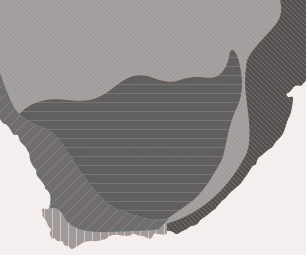 Zone 1 Coastal summer rainfall, frost free
Google QR Code Generator