Oldenburgia grandis (Thunb.) Baill.
Family: Asteraceae
Common names: Suurberg cushion bush, mountain hunchback, rabbit's ears, lamb's ears, donkey's ears (Eng.); Suurbergkussingbos, Suurbergse dikblaarlepelboom, bastersuikerbos, kreupelbos (Afr.); Isiqwane (isiXhosa)
SA Tree No: 737
Introduction
Oldenburgia grandis is a remarkable, small, thick-set, tree similar in appearance to some tree proteas, but this strange plant's thistle-like flowers show that it belongs in the daisy family (Asteraceae). This species has the largest flowers of our indigenous Asteraceae family, having a diameter of 100 to 130 mm.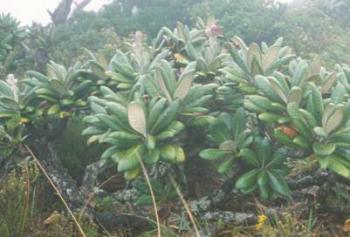 Description
Description
Oldenburgia grandis is a unique, long-lived tree, with a robust, thick-set, gnarled trunk and strong branch structure. It is a slow-growing plant, reaching a height of between 4 and 6 m, with a trunk up to 460 mm in circumference. The bark is dark, thick and corky. It has stiff, spreading branches with a woolly covering on the younger parts. The crown is composed of large leaves that are stiff and leathery.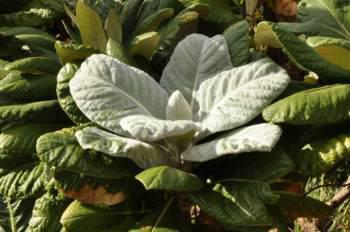 The leaves are arranged on the stems in opposite pairs and at right angles to the next pair; however, the new leaves emerge as rosettes at the ends of the branches. The leaves are up to 360 mm long and 150 mm broad, oblong or egg-shaped, with the leaf margins rolled inwards and the surface rounded above. The mature leaves are deep green, shiny with a greyish white midrib. The undersides are velvety white, with a broad and protruding midrib. The two surfaces make a lovely colour contrast. The young leaves are silverywhite and densely furry. Tthe leaves are said to be poisonous.
The flower-heads are borne on long, stout, velvety white stems (peduncles), which emerge from the centre of the rosette of leaves. Each flower-head resembles a giant thistle with its short, wide, purple brush covered thickly with velvety white hairs.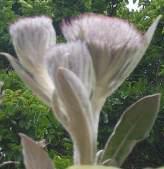 The flower-head opens wider as it matures, reaching 100–130 mm in diameter, to expose the fruits.
The fruits are small, thin, brown nutlets, crowned with a tuft of long, bristly hairs. Flowering is irregular throughout the year, often with a burst in autumn.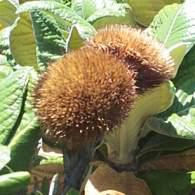 Conservation Status
Status
The wild population of this species is stable and it is therefore Red Listed as LC (Least Concern).
Distribution and habitat
Distribution description
Oldenburgia grandis is an Eastern Cape endemic, occurring on rocky outcrops of the Witteberg quartzites from the Suurberg, near Port Elizabeth, to Grahamstown. Near Grahamstown it grows on hard sandstone outcrops.
Oldenburgia grandis grows on the border of the winter- and summer-rainfall regions of South Africa. It is occasionally exposed to both winter and summer rains at the western end of its distribution, but generally experiences dry winters. It grows in well-drained, acidic soils and is limited to quartzite or sandstone outcrops or rocky ridges, where it is exposed to full sun and good ventilation. It experiences high temperatures between 30–40ºC, and low temperatures between 5–10ºC, and is sensitive to frost.
Derivation of name and historical aspects
History
The genus Oldenburgia was named after P.F. Oldenburg, a companion of the botanists, Thunberg and Masson on their travels to South Africa. Oldenburg died of fever in Madagascar in 1774. The young leaves are remarkably like the ears of a young rabbit, lamb, or donkey in texture, hence the common names. The common name suikerbos refers to the flowerheads that bear some resemblance to those of the true suikerbos in the family Proteaceae. In reality there is little resemblance between Asteraceae and Proteaceae. The genus Oldenburgia has four species that are endemic to areas in Western and Eastern Cape. The other three species are O. intermedia, O. papionum, and O. paradoxa.
Oldenburgia grandis was one of the first species to be introduced to Kirstenbosch Botanical Garden. It was collected near Grahamstown by the Galpin brothers and introduced to Kirstenbosch in November 1913.
Ecology
Ecology
The dense silvery hairs on the young leaves serve to protect them from sun and wind damage.
This species escapes fire due to its habitat, but may survive a light burn due to its thick, corky bark.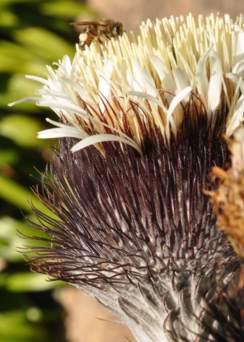 It is visited by the Cape honey bee, Apis mellifera capensis and birds such as the Cape Sugarbird, Promerops cafer and the Red-winged Starling, Onychognathus morio.
Seed is released when flowers mature and each nutlet, with its tuft of bristly hair, forms a small parachute that either floats to the ground or is distributed by wind. This species only colonizes rocky habitats.
Uses
Use
Oldenburgia grandis is a novelty plant that will be of interest to specialist plant collectors. It will make a lovely feature plant in a well-drained, sunny position in the garden or in a large pot. The dry flower-heads make lovely dried flower arrangements.
Growing Oldenburgia grandis
Grow
Contrary to various sources, Oldenburgia grandis germinates easily from seed. Seedlings have even been found germinating in the old flower-head while still attached to the plant. Seed germinates readily when smoke treated or treated with Seed Primer containing smoke extract. Sow seed onto a well-drained, acidic, growing medium consisting of a combination of river sand and well-decomposed pine bark or washed peat in roughly equal proportions. Seeds germinate in about six weeks, emerging as small, fleshy cotyledons that must be lightly watered with a watering can. The seedlings should be carefully potted into small individual pots at cotyledon stage; before the first pair of true leaves develop, as this species does not react well to disturbance. Young seedlings are encouraged to grow, by feeding them with diluted organic fertiliser. Keep in a well-ventilated, warm, sunny position where the seed and young plants are protected from rain. Oldenburgia does not like too much water which will cause the young plants to rot. Water the plants well and then allow the medium to dry out between watering. In other words treat them like succulents.
It is good practice to protect the seeds from rotting by treating them with a pre-emergence fungicide to prevent damping off. These fungicides are available at your local nursery. This species is slow growing and should be kept in the smallest possible container and only re-potted when it becomes well established in its container.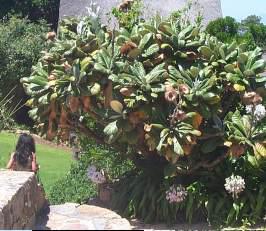 Oldenburgia grandis has also been propagated by truncheon. This is obviously only possible when a large plant is available. It has been reported that a branch that broke from a mature specimen at Kirstenbosch rooted when put into the ground.
Truncheons are branches, about as thick as a human arm that can be rooted and grown into new plants. Truncheons are usually taken when the plant is dormant or in its resting stage. The erythrinas in the Kirstenbosch Avenue were propagated in this way. Truncheon sections are about 1.7–1.8 m long, with the top of the branch cut at a slant, which prevents water from rotting the truncheon. Before planting the truncheon, it should first be kept in the shade for a few days to develop a hard layer over the cut end. If the cut end is not covered with this hard layer, the truncheon may not root. The truncheon should be planted into a narrow hole about 600 mm deep. The best time for this method is the end of the dormant season just before the plant begins active growth.
With Oldenburgia grandis, some of the terminal leaves should be left on the truncheons. These may fall off before new leaves develop, but it is important to be patient because they may take a few months to establish. The basal cut of the truncheon should be treated with a fungicide and then dried out to prevent the stem from rotting. Plant the truncheon directly into the garden or into a large pot containing well-drained potting media. Water the truncheon well, but allow the media to partially dry out between watering. The success of this method of propagation varies, but if the truncheons root then one has a reasonably large plant instead of the much longer process of growing from seed. Plants grown from seed at Kirstenbosch reached 300 mm after five years growth.
Oldenburgia grandis makes a striking specimen. It is slow growing and long lived and suitable for rockeries and other warm, dry and well-drained positions in the garden. This very handsome, decorative tree can also be planted in a small garden, courtyard or in a large pot. It must be grown in a ventilated position in full sun and well-composted, sandy loam. This unusual, decorative tree is only occasionally available in limited numbers at the Annual Plant Fair.
Oldenburgia grandis needs to be grown in full sun with good ventilation in well-composted, sandy loam. This species needs to be watered moderately when in growth and kept dry in winter. In winter, the temperature needs to be maintained at a minimum of 7-10 º C.
O. grandis is propagated from seed and semi-hard cuttings in sand. Seed is difficult to germinate. This little decorative tree grows here at Kirstenbosch and is not commonly available in nurseries.
References
Palmer, E.& Pitman, N. 1972. Trees of southern Africa, vol. 3. Balkema, Cape Town.
Coates Palgrave, M. 2002. Keith Coates Palgrave Trees of southern Africa, edn 3. Struik, Cape Town.
Leistner, O.A. (ed.). 2000. Seed plants of southern Africa: families and genera. Strelitzia10. National Botanical Institute, Pretoria.
Goldblatt, P. & Manning, J. 2000. Cape plants. A conspectus of the Cape flora of South Africa. Strelitzia 9. National Botanical Institute, Cape Town. Author Giles Mbambezeli Kirstenbosch National Botanical Garden February 2004
Credits
Giles Mbambezeli
Kirstenbosch National Botanical Garden
February 2004
Updated and expanded by Anthony Hitchcock
Kirstenbosch National Botanical Garden
September 2014
Plant Attributes:
Plant Type: Shrub, Tree
SA Distribution: Eastern Cape
Soil type: Sandy
Flowering season:
PH: Acid
Flower colour:
Aspect: Full Sun
Gardening skill: Average
Special Features:
Feature plant
Horticultural zones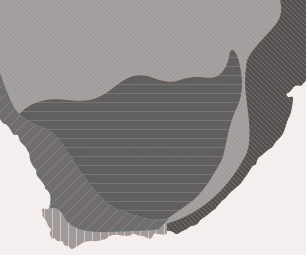 Zone 1 Coastal summer rainfall, frost free
Zone 2 Coastal winter rainfall, frost free
Google QR Code Generator