Othonna herrei Pillans
Family: Asteraceae
Common names: Richtersveld othonna
Introduction
This bonsai-like Othonna is unique and certainly the most remarkable species in the genus.
Description
Description
Othonna herrei, a shrublet up to 300 mm tall, is sparsely branched from a trunk-like stem. The shape of the plant is really distinctive, it looks like a miniature, old tree, with shiny, silvery black bark. The newly formed bark at the apex of the branches is green to golden. The main stem can be 30 mm thick and the bark is built up from knobby, conical leaf-bases. The branching is erratic, and the branches have the same structure as the main stem. At the apex, the spiral rows of leaf-stems can be seen forming. The leaf-bases vary among specimens, some are really tiny and compact, whereas on other specimens, they are thick and spaced far apart. This could possibly be due to the different conditions they face where they are gowing, such as the degree of drought.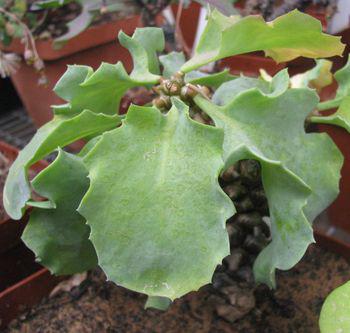 The leaves are obovate to spathulate, fleshy, bluish-green, and 40–70 mm long 15–30 mm wide. They are attached by a slender petiole that has a wavy, irregularly toothed margin, and are clustered at the stem tips.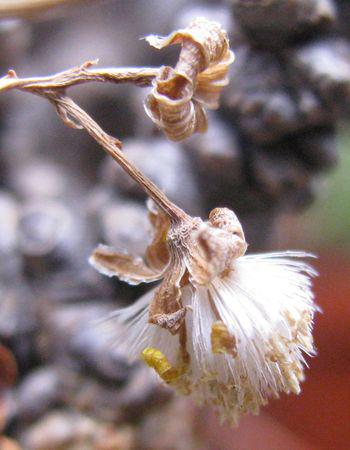 The flower heads occur in early summer, from October to November. The inflorescence consists of 3 to 5 capitulas and they are each 12–15 mm in diameter. They have 6–8 ray florets that are broad, yellow and recurving, and 20 yellow disc florets. The fruit is an achene. The seed has very long hairs, such as found in other othonnas.
Conservation Status
Status
According to the Red List of South African plants, checked on 6 December 2016, Othonna herrei is a rare species that is assessed as Vulnerable (VU). It is a really localized plant and only known from 4 locations. The major threat to these plants are impudent people who are unscrupulously collecting mature individuals from the wild for the succulent trade.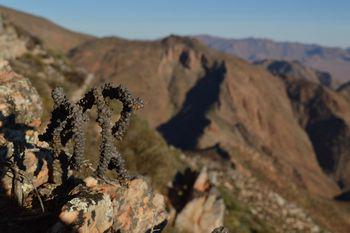 Distribution and habitat
Distribution description
This species grows in the Succulent Karoo Biome, in small scattered populations. It occurs mainly on the central mountain ranges of the Richtersveld in the Northern Cape, where there is not much grazing pressure. It prefers sheltered rocky crevices where it can find some protection from the effects of trampling. Usually on the south and southeast-facing rocky moutain slopes. This plant is more threatened by collectors removing mature individuals, than by grazing.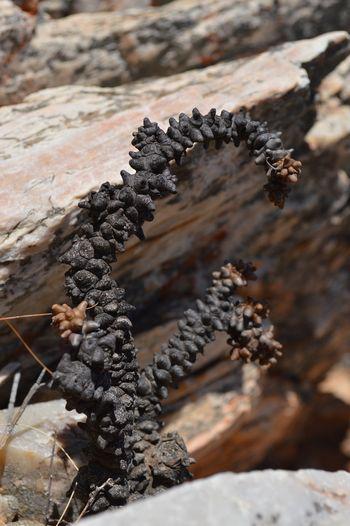 Derivation of name and historical aspects
History
The name Othonna is derived from the ancient Greek word othonne, meaning 'linen' or 'sail', in reference to the bristles of the fruit that act as sails for seed dispersal. The species name, herrei honours Mr Hans Herre, also called 'Mesemb Father', who became the Curator of the Stellenbosch Botanical Garden in 1925 and stayed there untill he retired in 1960.
Othonna belongs to the Asteraceae family which is the largest botanical family on earth; the genus contains 140 species, and occurs from the Western Cape to northern Namibia, and to the east as far as northeastern KwaZulu-Natal. The genus is quite diverse and includes succulent shrubs with pachycaul stems, geophytes with underground tubers and stem succulent caudiciforms. Othonnas can easily be mistaken for Senecio or Euryops, but it is possible to distinguish them by their seeds, which have a persistent crown of bristles.
Ecology
Ecology
Othonna herrei is adapted to survive drought, by storing water in its stem, and by dropping its leaves and going dormant during the summer months.
It prefers growing on quartzite rocks.
Wind disperses the light, hairy seeds.
The older mature plants produce little new growth, few flowers and little fertile seed, whereas the younger plants produce the most flowers and seed. At some localities the species is found growing together with Othonna retrorsa. In cultivation at the Karoo-Desert National Botanical Garden, no plants have made fruits, whereas many of the other othonnas have, so it would appear that this species has a special pollinator in its natural habitat.
Uses
Use
The unusual knobbly stems and attractive ovate succulent leaves, combined with the bright yellow daisy-like flowers, makes this an appealing species with horticultural potential for semi-arid gardens and as a container plant. Gardeners are reminded to buy their plants from reputable nurserymen. No medicinal use have been recorded.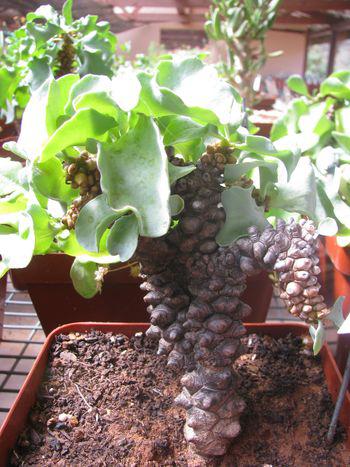 Growing Othonna herrei
Grow
Sow seed in autumn. Use a seed tray, place gravel or stones at the bottom to ensure sufficient drainage and fill it up with at least 10 cm of mixed soil suitable for succulent plants, such as 2 parts of coarse river sand / 1 part loam / 1 part sieved compost. The principal is that the soil should not become compact and have good drainage. Place the seed tray in a warm, sheltered area. During this time, the seed trays must be kept constantly moist, but must not be overwatered. It takes more or less fourteen days to germinate.
Repot the seedlings in the same soil mixture and add about a half part of vermiculite and some bone meal as fertilizer.
Othonna herrei must have a complete resting period during summer. This water-wise plant loses its leaves in early spring. It is an interesting plant to have in a rockery in the low-rainfall, winter-rainfall area, or in a pot where the watering can be controlled. Companion plants should also come from winter rainfall areas. It can be planted with small, non-deciduous, colourful succulents such as Crassula deltoidea, Aptosimum sp.  and deciduous ones such as Albuca spiralis, Cyanella lutea, and small species of Moraea.
Watering depends on the growing conditions: this information is to give an idea to guide the gardener. Use preferably rain water. It could be watered once every fourteen days in the growing season (winter time). Reduce the water gradually in spring so the plant can begin its resting period. Cease watering in summer. Start watering gradually in autumn.
It doesn't need to be fed in cultivation, but it needs to be repotted every 5 years. No pests have been recorded except the attack by caterpillars on the leaves.
References
Raimondo, D., Kamundi, D.A. & Von Staden, L. 2015. Othonna herrei Pillans. National Assessment: Red List of South African plants version 2015.1. Accessed on 2016/12/06
Rowley, G.D. 1994. Succulent compositae. Strawberry Press, Mill Valley, California.
Vlok, J. & Schutte-Vlok, A-L. 2015. Plants of the Klein Karoo. Umdaus Press, Hatfield.
Williamson, G., 2000. Richtersveld the enchanted wilderness. Umdaus Press, Hatfield, Pretoria.
WEBSITE: LLifle. The encyclopedia of succulents. Othonna herrei Pillans. http://www.llifle.com/Encyclopedia/SUCCULENTS/Family/Asteraceae/22893/Othonna_herrei, accessed December 2016.
Credits
Carole Sutty
Karoo Desert National Botanical Garden
April 2017
Photos of Othonna herrei in habitat by Pieter Van Wyk
Plant Attributes:
Plant Type: Shrub, Succulent
SA Distribution: Northern Cape
Soil type: Sandy
Flowering season: Spring
PH: Acid, Neutral
Flower colour: Yellow
Aspect: Full Sun
Gardening skill: Challenging
Special Features:
Drought resistant
Good potplant
Horticultural zones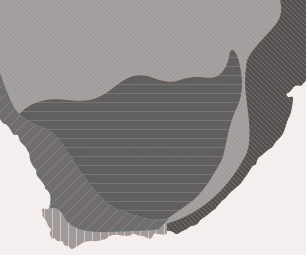 Zone 2 Coastal winter rainfall, frost free
Zone 3 Winter rainfall Karoo, light frost
Google QR Code Generator