Othonna triplinervia DC.
Family: Asteraceae
Common names: three-veined othonna
Introduction
A succulent shrub that flourishes in heavy, winter rainfall areas. Its rounded growth form and velvety foliage, makes this plant a desirable specimen for both indoors and the outdoors.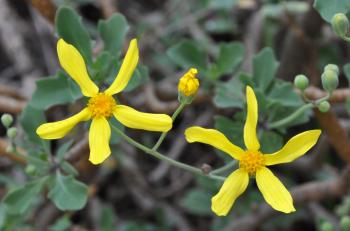 Description
Description
Othonna triplinervia is a brittle-stemmed, succulent shrub from 0.5 m reaching heights of about 1.5–2 m, and evergreen throughout the year. Foliage is light green to somewhat blueish, slightly fleshy, soft, but leathery to the touch. Leaves are obovate (egg-shaped), tapering to the base, entire to scarcely lobed, and crowded towards the tips of the branches, which are thick and fleshy, leafless below the leaves and the scars left by the older dropped leaves are clearly visible.
Flowers are showy, yellow, radiate (like typical daisy flowers), usually with 5 ray florets, on long stalks and produced in loose, many-flowered, terminal corymbs, in autumn and winter (April to June). This plant is not too fast growing, but very rewarding when grown, as it gets more beautiful with age and its stems are upright and give it a nicely rounded shape.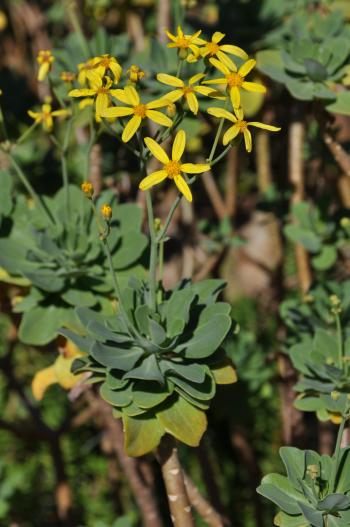 Conservation Status
Status
Distribution and habitat
Distribution description
This beautiful plant is found in the Eastern Cape, often growing on rocky slopes and cliffs, in thicket and scrub vegetation, between Humandsdorp, Jansenville and Grahamstown.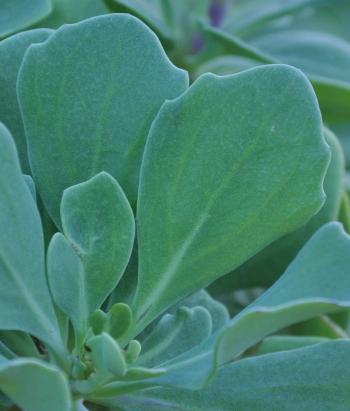 Derivation of name and historical aspects
History
Its genus name is believed to be derived from the ancient Greek word othonne, which translates to 'linen' or 'cloth', referring to the soft leaves of some species. The species name triplinervia means '3-veined', derived from the Greek words, triplus, meaning 'triple' or 'threefold' and nervus, a 'sinew', 'tendon' or 'nerve', referring to the leaves which have three veins from the middle.
Ecology
Ecology
The flowers attract bees, butterflies and beetles.
This plant has fleshy, succulent stems, and it can develop a caudex, or swelling at the base of the stem, both of which store water for the plant, allowing it to survive droughts and dry spells.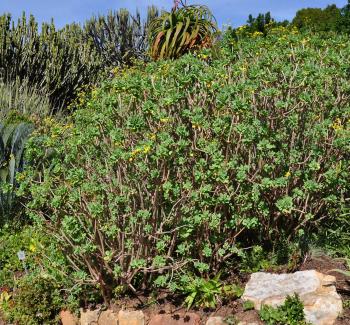 Uses
Use
These plants are of no medicinal value, but are used horticulturally for both indoor and outdoor display. When grown indoors in a container, this plant can be placed on windowsills or grown as a natural bonsai specimen in a shallow pot. Planted outdoors, it makes for a great water-wise, rockery, filler or mixed border specimen.
Growing Othonna triplinervia
Grow
Grow Othonna triplinervia in a sunny position in well-drained soil. It is well suited to rocky sites, rockeries or retaining walls and withstands high rainfall in winter or summer, provided the soil does not get waterlogged. It is water-wise when established. It is probably not hardy to frost.
Othonna triplinervia can be propagated by both seed and cuttings, however, the most preferred method is by means of cuttings, as it allows one to have a mature plant within 4–6 weeks, whereas by seed, it would take three times the period to get seedlings to be of size ready for transplanting.
Sow seeds during late winter or early spring in a well-drained medium consisting of equal amounts of river sand, vermiculite and sifted bark. When sowing seeds, they need to be spread across the medium and lightly covered with sifted bark or sand. When the first true leaves appear, they can be transplanted into small plugs, pots or bags, where they can grow until they are big enough for larger pots. To avoid any pathogens, make use of a soil drenching fungicide when watering both seed and cuttings.
Cuttings can be made throughout the year, but does well when done in hotter drier months, as they often rot when kept in a soggy medium for too long. Cuttings can start from 100–300 mm or even larger, depending on one's preference. The younger the material the easier or quicker it roots with the aid of an appropriate hormone powder or solution. They do not need a mist unit, preferably place them in a cold frame or a similar controlled environment and ensure that the cutting medium is kept moist, plants are not in direct sunlight, and the air is not hot or dry. As soon as the cuttings have rooted, they can be transplanted into pots or bags, proportional to that of the cuttings, in a medium consisting of 50% river sand, 25% well-rotted compost and 25% sifted bark. Plants are self-sufficient but benefit from a drench of high nitrogen liquid fertilizer.
References
Birhmann's caudiciforms: Othonna triplinervia. http://www.bihrmann.com/caudiciforms/subs/oth-tri-sub.asp Accessed 20/11/2016.
Foden, W. & Potter, L. 2005. Othonna triplinervia DC. National Assessment: Red List of South African plants version 2015.1. Accessed on 2016/12/12.
Goldblatt, P. & Manning, J. 2000. Cape Plants. A conspectus of the Cape flora of South Africa. Strelitzia 9. National Botanical Institute, Pretoria & Missouri Botanical Garden, Missouri.
Harvey, W.H. 1894. Flora capensis, vol. 3, page 44, accessed via JSTOR.
Khumbula indigenous garden, a database of indigenous South African flora: Othonna triplinervia: http://kumbulanursery.co.za/plants/othonna-triplinervia, accessed 12 Dec 2016.
Manning, J. 2007. Field guide to Fynbos. Struik Publishers, Cape Town.
Smith, M. 2007. The plant propagator's Bible. Emmaus, PA: Rodale, USA.
Wikipedia: Caudex. https://en.wikipedia.org/wiki/Caudex. Accessed 20/11/2016.
Credits
Jermaine Christoffels and Alice Notten
Kirstenbosch National Botanical Garden
December 2016
Plant Attributes:
Plant Type: Shrub, Succulent
SA Distribution: Eastern Cape
Soil type: Sandy, Loam
Flowering season: Autumn, Winter
PH: Acid, Neutral
Flower colour: Yellow
Aspect: Full Sun
Gardening skill: Average
Special Features:
Attracts butterflies
Drought resistant
Good potplant
Feeds honeybees
Horticultural zones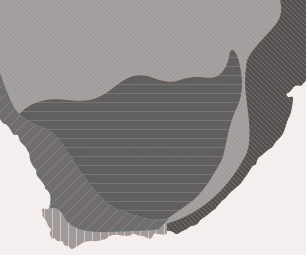 Zone 1 Coastal summer rainfall, frost free
Zone 2 Coastal winter rainfall, frost free
Google QR Code Generator