Ottosonderia monticola (Sond.) L.Bolus
Family: Aizoaceae
Common names: crossvygie (Eng.), kruisvygie, granietvygie, bergvingertjies (Afr.)
Introduction
Ottosonderia monticola is a dwarf, tufted mesemb, with ascending flowering branches above the leaf canopy. The flowering branch remains active for more than one season.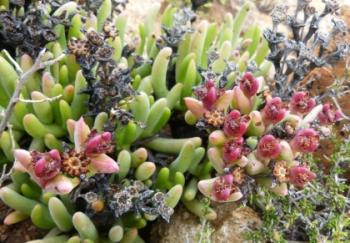 Description
Description
Tufted, sparsely branched succulent shrublet, up to 220 mm high and about the same diameter, with stout, ascending main stem, up to 20 mm wide; other branches about 14 mm in diameter. The roots are fibrous. Branches short, with leaves tufted on short branches, with short sheaths enclosing the internodes. Leaves 40–60 mm long, ascending, somewhat incurved, the upper surface flat, acute, the lower surface rounded to obscurely keeled; the leaf ending in a blunt to sharp point. Flowering branches 80–150 mm long, lasting for two seasons, often purplish; the flowers 20–25 mm in diameter, purplish to light pink, in winter.

Conservation Status
Status
This plant has not yet been formally assessed. Ottosonderia monticola is rarely grown, and not very well known nor seen in cultivation.
Distribution and habitat
Distribution description
Ottosonderia monticula is confined to the winter-rainfall Succulent Karoo in the Western Cape and Northern Cape, from Rooiberg in the south, to near Springbok in the north, always confined to granite and mountainous terrain. At Rooiberg (N. Knersvlakte) it is locally common, on rocky terrain with other plants such as Euphorbia mauritanica and E. decussata, Aloidendron dichotomum and Pelargonium echinatum. Smaller associated species include Argyroderma delaetii, Crassula brevifolia, Didelta carnosa, Cotyledon orbiculata and a species of Ruschia.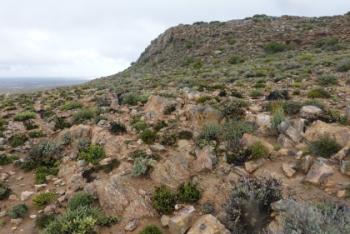 Derivation of name and historical aspects
History
Ottosonderia was named for Dr Otto Wilhelm Sonder (1812-81), a German apothecary and botanist from Hamburg and co-author, with Harvey, of Flora Capensis. The name monticola means 'mountain dwelling', referring to its mountain habitat.
Ecology
Ecology
Plants grow in rocky terrain among granitic grit in the Succulent Karoo Biome, often locally abundant.
Rain falls mainly in winter (May to September) and averages between 250 and 400 mm per annum. The summers are dry and very hot (up to 40°C on hot days). Winters are cooler but warm during the day, and if frost occurs, it is very light and occurs over short periods only. Summers are hot and dry.
Uses
Use
No uses have been recorded for Ottosonderia monticola, except as a collectors' item by succulent enthusiasts and botanical gardens.
Growing Ottosonderia monticola
Grow
Ottosonderia monticola does well in cultivation at Kirstenbosch National Botanical Garden. They grow fairly slowly and are best cultivated in winter-rainfall Succulent Karoo gardens (Van Jaarsveld 2010).
Ottosonderia monticola also grows as a container plant away from its Succulent Karoo habitat. In Karoo regions and where the climate permits, it should thrive outdoors. The soil should consist of gravel and sand (with ample loam or clay added) and planted in full sun. Keep containers in a sunny situation, only water from autumn to spring and dry off during summer, or water sparingly. Containers should be well drained. Place a gravel layer at the base of the container. During the cool months, a liquid organic fertilizer can occasionally be added. Plants can remain in the same container for a number of years. Pests include the caterpillar of the tiger moth. It is easily controlled by hand or by spraying or dusting with a contact poison.
Plants grow from seed sown in a sandy mixture in a coarse gravel or sandy soil in late autumn. Cover with a thin layer of sand (1–2 mm thick) and keep moist and in a sunny situation. Germination is within three weeks and plants should be able to flower in the third year.
References
Herre, H. 1971. The genera of the Mesembryanthemaceae. Tafelberg, Cape Town.
Mucina, L. & Rutherford, M.C. 2006. The vegetation of South Africa, Lesotho and Swaziland. Strelitzia 19. South African National Biodiversity Institute, Pretoria.
Smith, G., Chesselet, P., Van Jaarsveld, E.J., Hartmann, H., Hammer, S., Van Wyk, B., Burgoyne, P., Klak, C. & Kurzweil, H. 1998. Mesembs of the world. Briza Publications, Pretoria.
Jackson, W.P.U. 1990. Origins and meanings of names of South African plant genera. University of Cape Town.
Credits
E.J. van Jaarsveld
Kirstenbosch National Botanical Garden
Babylonstoren Farm, P.O Box 167, Simondium, 7670
Extraordinary senior lecturer and researcher, Department of Biodiversity and Conservation, University of the W. Cape. Private Bag X17, Bellville, 7535 South Africa
October 2015
Plant Attributes:
Plant Type: Shrub, Succulent
SA Distribution: Northern Cape, Western Cape
Soil type: Sandy, Clay
Flowering season: Winter
PH: Acid, Neutral
Flower colour: Purple, Pink
Aspect: Full Sun
Gardening skill: Average
Special Features:
Drought resistant
Good potplant
Horticultural zones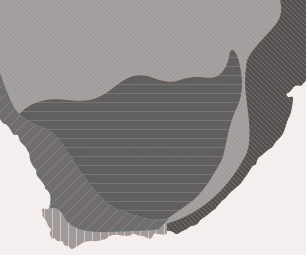 Zone 2 Coastal winter rainfall, frost free
Zone 3 Winter rainfall Karoo, light frost
Google QR Code Generator