Parinari curatellifolia Planch. ex Benth.
Family: Chrysobalanaceae
Common names: mobola-plum, cork tree, hissing tree (Eng.); grysappel, bosappel (Afr.); mmola (N. Sotho); mbulwa (Tsonga); mobola (Tswana); muvhula (Venda)
SA Tree No: 146
Introduction
This attractive shade-providing tree is a prominent aspect in its environment, and it is no surprise that a tribute to the late Dr David Livingstone (a great explorer and missionary) was carved on a specimen of Parinari curatellifolia.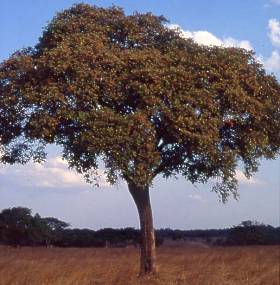 Description
Description
Parinari curatellifolia is a spreading tree that is striking amongst surrounding vegetation because of its semi-circular, almost mushroom-shaped canopy depicting hues of blue-green and grey. It is an evergreen, medium to large tree, 10-13 m high, although heights of 23-26 m have been recorded in certain regions.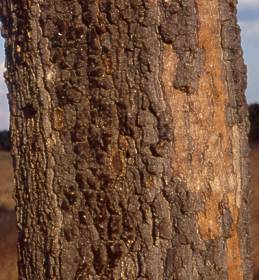 The bark is rough and corky with yellow woolly hairs occasionally present in younger twigs and branches. Silica crystals in the wood are a common occurrence.
The leaves are distinctly bicoloured, having a white-silver undersurface and a dark green-grey upper surface. These simple and alternate leaves are inwardly folded with a base and tip fairly rounded and with a herringbone venation pattern visible on both surfaces. Leaf shape is somewhat oblong having a square base with much tapering at the apex. Petioles are short with an entire leaf margin and velvety hairs covering the surfaces of younger leaves. Mature leaves appear to be darker and more rigid. Glands are usually present at the stalk of the leaf or the leaf base.
The sweetly scented inflorescences appear in shades of white, yellow or pink, and are covered in hairs. These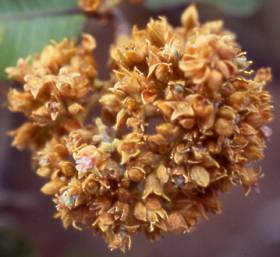 small bell-shaped flowers are usually visible from July to November. The occurrence of terminal panicles is common in the axils, primarily in the smaller leaves.
The fruit is a drupe, and is yellow-orange with grey speckles when ripe. The oval or rounded fruit which has a scaly texture, may take up to a year to ripen and is found at twig ends. These plum-like fruits are ± 50 mm long with a yellow edible flesh. The fruits taste pleasant when completely ripe and tend to ripen on the ground in the months of October to January. Within the fruit is the seed which is encapsulated by means of a lid or operculum. As the operculum ages, it allows moisture to enter, hence prompting seed germination. This process may last up to 2 years. It has been recorded that the mobola-plum tree occasionally produces a rather disagreeable smell-the reason for this is uncertain.
Conservation Status
Status
Parinari curatellifolia is not a threatened species and therefore has no conservation status, though other species of this genus are considered threatened.
Distribution and habitat
Distribution description
Parinari curatellifolia is very widespread, ranging from the south in Mpumalanga and Swaziland, towards Zimbabwe and the Limpopo Province in the north, and into central Africa. It grows singly but usually when one is found, it is not uncommon to find others occurring nearby. It is found in Uganda in grasslands, as well as on the western shores of Lake Victoria occurring at 1000-1300 m.
This tree occurs primarily on well-drained, fairly sour and sandy soils and is common in Punda Maria and Pretoriuskop in the Kruger National Park. The family Chrysobalanaceae itself is generally found in the tropical regions of the world primarily in South America.
Derivation of name and historical aspects
History
The genus Parinari refers to a Brazilian species, whereas curatellifolia is an indication of possessing leaves similar to that of the genus Curatella.
Approximately 43 species exist in both the tropics and subtropics. Tropical Africa boasts 6 species with one occurring in Madagascar. Two exist in southern Africa, Botswana, Namibia and Swaziland. Parinari capensis is the only other species of this genus that is found south of the Zambezi River, comprising 2 subspecies, namely subsp. capensis and subsp. incohata.
Parinari capensis subsp. capensis is more commonly known as the sand apple, as it is frequent in sandy regions. It is a creeping shrub (or may be about ankle-high) which grows in dense groups, often occurring in rocky grasslands. Here the fruits are produced at ground level.
Subsp. incohata is a shrub about hip-high and may be found in Mozambique and Zululand. Their leaf structures are extremely similar to P. curatellifolia.
Parinari excelsa is another species primarily occurring in forests; the lightweight wood is used to make fences and rafters.
Ecology
Ecology
A wide range of wild animals rely on the fruit of the mobola-plum tree as a food source. The leaves serve as a larval food source for the butterfly genus Platylesches (Hoppers). Mainly caterpillars of the Striped Policeman butterfly, Coeliades forestan, feed essentially on the leaves of this tree. Parinari curatellifolia, which is pollinated by bees, produces abundant pollen and nectar and is therefore desired by honey farmers.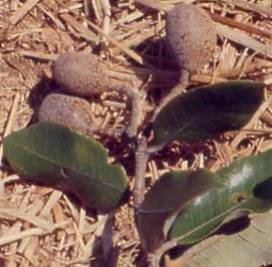 Uses
Use
Despite the presence of silica crystals, which make it difficult to work with, the wood of Parinari curatellifolia may be used for the manufacture of pounding blocks or poles, as well as boats. The presence of silica crystals is also problematic in that it blunts the blades of saws and other tools. Generally, these trees are not cleared away as the fruits are edible (and very tasty at that) and can readily be made into a nutritious syrup or more commonly as porridge. The fruits are also occasionally utilized for the brewing of alcoholic beverages.
The seeds, which bear oil, may be eaten raw in the form of nuts. The leaf extracts and bark may be used as a remedy for symptoms of pneumonia or to treat ailments of the eye or ear. The bark and leaf extracts can be used for tanning purposes, for example the tanning of leather.
Other general uses of Parinari curatellifolia include its use as charcoal or firewood. The tradition of basket-making is associated with this tree as the bark produces a pink-brown dye which is generally used in basket work. Many traditional medicines incorporate the bark of Parinari curatellifolia. The roots are also useful for treatment of cataracts and earache. The roots are soaked in cold water for about an hour prior to being used as ear drops or alternatively soaked for about 6 hours and used as eye drops.
Growing Parinari curatellifolia
Grow
The mobola-plum tree has the capacity to grow to a great size, but this is unlikely in confined spaces. One should therefore consider this when searching for a tree that provides both fruit and shade in a relatively small garden. Parinari curatellifolia is a suitable choice for a large back yard or perhaps even an orchard. The fruit can be collected when ripe and once the pulp has disintegrated, the seeds may be separated, dried and stored. The coat of the seed is fairly hard and therefore it may be necessary to boil the seed, followed by cooling. Once cooled, the seeds should be soaked for a further 12 hours. This treatment is necessary or germination may only occur after a period of about 6 months. Seeds treated in this way will be viable and may be stored for more than 2 years. It is advisable that fresh seeds are collected from trees as ground seeds are likely to be parasitic. Once dried, the seeds are sowed in pots or seedling trays, preferably in river sand. Seeds are then placed level with the surface of the soil before a thin layer of sand is used to cover the seeds.
Care must be taken when transplanting seeds as the taproot can be easily damaged. When seedlings are in the 3-leaf stage, transplant them into nursery bags. These can then be planted into a garden or veld, after approximately 2 years, and tend to grow rather rapidly. When considering growing Parinari curatellifolia, one should take into account that these trees are sensitive to extreme weather, such as frost and very cold winds. One would therefore expect them to do poorly in areas of Port Elizabeth and Bloemfontein for example. However, they should manage to survive in areas that experience light frost occasionally, moderate rain and gentle wind.
References
Carr, J.D. 1994. The propagation and cultivation of indigenous trees and shrubs on the highveld : 30. Sandton Nature Conservation Society and the Tree Society of southern Africa.
Coates Palgrave, K. 1957.Trees of central Africa : 375-380. National Publications Trust.
Coates Palgrave, K. 1977.Trees of southern Africa : 211, 212. Struik.
Coates Palgrave, K., Coates Palgrave, P. & Coates Palgrave, M. 1985. Everyone's guide to trees of South Africa : 29.
Grant, R. & Thomas, V. 2000. SAPPI tree spotting. Bushveld : 170-173.Jacana,
Katende, A.B., Birnie, A. & Tengnas, B.O. 1995. Useful trees and shrubs for Uganda : 474, 475. Regional Soil Conservation Unit.
Leistner, O.A. (ed.). 2000. Seeds plants of southern Africa : families and genera. Strelitzia 10: 226. National Botanical Institute, Pretoria.
Schmidt, E., Lotter, M. & McCleland, W. 2002. Trees and shrubs of Mpumalanga and Kruger National Park : 140. Jacana.
Van Wyk, A.E. (Braam) & Van Wyk, P. 1997.Field guide to trees of southern Africa : 112. Struik.
Van Wyk, P. 1984. Field guide to the trees of the Kruger National Park : 49. Cape Town.
Venter, F. & Venter, J. 1996. Making the most of indigenous trees : 138, 139.Briza Publications, Pretoria.
Credits
Virta Maharaj & Hugh F. Glen
KZN Herbarium
September 2008
Plant Attributes:
Plant Type: Tree
SA Distribution: Limpopo, Mpumalanga
Soil type: Sandy
Flowering season: Spring, Winter
PH: Acid
Flower colour: White, Pink
Aspect: Full Sun
Gardening skill: Average
Special Features:
Drought resistant
Edible plant
Medical plant
Useful plant
Horticultural zones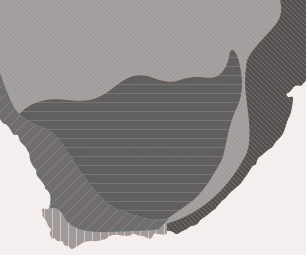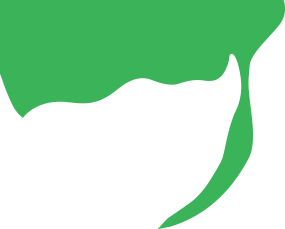 Zone 1 Coastal summer rainfall, frost free
Zone 5 Bushveld summer rainfall, Light frost
Google QR Code Generator