Passerina filiformis subsp. filiformis
Passerina filiformis L. subsp. filiformis
Family: Thymelaeaceae
Common names: bakkerbos (Afr.)
Introduction
Passerina filiformis subsp. filiformis is a shrub growing up to 2 m. It is currently quite scarce in the Cape Peninsula, but a healthy community of these plants occurs on Signal Hill where it is often subjected to mist creeping over the mountain.
Description
Description
P. filiformis subsp. filiformis is distinguished by the linear, almost needle-shaped leaves that are finely grooved along the upper surface. The very common P. corymbosa (= P. vulgaris), is distinguished from this subspecies by narrowly lanceolate leaves and a diamond-shaped bract.
The leaves are dark green to grayish green, heart-shaped in cross section, and the length x width is 5.5-8 x 0.6-1 mm, slightly widening towards the base.
The flowering spikes are not covered by a glue-like substance. A very important characteristic of the plant is the widely obovate bract at the base of each flower, narrowing abruptly into a thin point. The bracts are normally much larger than the leaves, the length x width is ± 7.3 x 2 mm. The salmon-pink flowers are ± 6.0 mm long when pollination takes place, but they become red with age.
Conservation Status
Status
The conservation status of the species is regarded as 'Least Concern (LC)' according to the standards set by the IUCN Species Survival Commission in 2000.
Distribution and habitat
Distribution description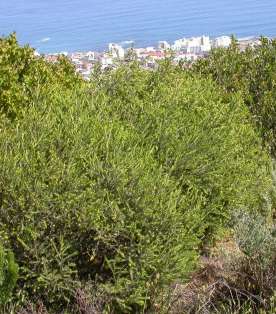 Passerina filiformis subsp. filiformis is endemic to the Northwestern, Southeastern and Langeberg Centres within the Cape Floristic Region. It is found in the Cape Peninsula, and is distributed from Piquetberg, across the Hex River Mountains, to Attaquaskloof in the southwestern Cape. It grows in rocky areas, mostly on south-facing mountain slopes, as well as on sandy plains, like the Rietvallei and Stellenbosch Flats.
Derivation of name and historical aspects
History
The Latin specific epithet filiformis (= thread-like) obviously refers to the narrow leaves of this species.
According to Van Wyk & Gericke (2000) the name bakkerbos commemorates an era in the Cape when the officially licensed bakers used this plant to heat their ovens. The plants used at that time were clearly Passerina filiformis subsp. filiformis. The vernacular name 'sparrow-wort' was suggested by Miller (1768) for all Passerina species, indicating P. filiformis as 'sparrow-wort with linear convex leaves'. Wendland (1798) used the German equivalent fadenförmige Vogelkopf. Marloth (1925) mentioned the names kannabas and kaalgaar. The following Afrikaans names appear in Smith (1966) and some of them also in Palmer & Pitman (1972) and Coates Palgrave (1977): bakbossie, bakkersbossie, bruingonna, fyntaaibos, gannabas, gonnabas, kaalgaarbos, kaalgaring, kabelgaring, kannabas, koordehaar, taaibos, windmakersbessie, windmakersbossie.
Ecology
Ecology
Passerina filiformis subsp. filiformis is wind-pollinated, flowering in spring and early summer, the most windy seasons in the Western Cape. The filiform (thin, wire-like) leaves, that are heart-shaped in cross section are adapted to the dry summers of the Mediterranean climate. These leaves have a thick, waxy outer layer, and contain ample amounts of tannin and mucilage for protection against ultra-violet radiation and dessication. The fruits are dry and when they are ripe they passively drop to the ground, where they germinate or are dispersed by ants, mice or birds.
Uses
Use
When ignited, plants of subsp. filiformis disappear in a blaze of hot flame owing to a waxy secretion on the leaves (Smith 1966). The plants were formerly used for heating up the ovens used to bake bread. Today it is quite scarce around Cape Town, probably because of the impact of the collecting of this once abundant resource. At maturity these plants are quite ornamental and they have been cultivated in Britain and Europe since the time of Linnaeus. Plants of subsp. filiformis are vigorous resprouters, they are well adapted to the Cape climate and would be suitable for reclamation plantings in areas where invasive alien vegetation has been cleared. The bark is very tough and has been used by indigenous peoples as twine (Marloth 1925). According to Laidler (1928) a decoction of this plant has been used by the Khoekhoe for the treatment of shooting pains.
Growing Passerina filiformis subsp. filiformis
Grow
As these plants are small trees, they could make unusual indigenous Christmas trees when cultivated. Attempts may be made to cultivate from juveniles that sprout from adventitious roots or suckers. Growing plants from seed may be easier (Anthony Hitchcock, Kirstenbosch pers.comm.) Plant in well-drained sandy soil. In the Western Cape, under normal climatic conditions, they could be tried as an indigenous substitute for cypress in the garden.
References
Coates Palgrave, K. 1977. Trees of southern Africa. Struik, Johannesburg.
Laidler, P.W. 1928. The magic medicine of the Hottentots. South African Journal of Science 25: 433-447.
Marloth, R. 1925. The flora of South Africa, vol. 2,2. Darter, Cape Town.
Miller, P. 1768. The gardener's dictionary, edn 8. London.
Palmer, E. & Pitman, N. 1972. Trees of southern Africa, vol. 3. Balkema, Cape Town.
Smith, C.A. 1966. Common names of South African plants. Memoirs of the Botanical Survey of South Africa No. 35: 589. Botanical Research Institute, Pretoria.
Van Wyk, B-E. & Gericke, N. 2000. People's plants. Briza Publications, Pretoria.
Wendland, J.C. 1798. Botanische Beobachtungen. Gebrüdern Hahn, Hannover. Author Christien Bredenkamp National Herbarium Pretoria October 2004
Credits
Christien Bredenkamp
National Herbarium Pretoria
October 2004
Plant Attributes:
Plant Type: Shrub
SA Distribution: Western Cape
Soil type: Sandy, Loam
Flowering season: Spring, Early Summer
PH: Acid, Neutral
Flower colour: Red, Pink
Aspect: Full Sun
Gardening skill: Average
Special Features:
Useful plant
Horticultural zones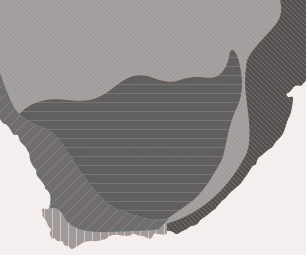 Zone 2 Coastal winter rainfall, frost free
Zone 3 Winter rainfall Karoo, light frost
Google QR Code Generator