Phoenix reclinata Jacq.
Family: Arecaceae
Common names: wild date palm (Eng.); wilde-dadelboom (Afr.); mopalamo (Northern Sotho); moséfa (Tswana); isundu (Xhosa, Zulu)
SA Tree No: 22
Introduction
This graceful palm with its characteristic slender, leaning stems is a feature of riverine bush and forest in the eastern parts of the country. It is almost always associated with water, either on river banks or in swamps.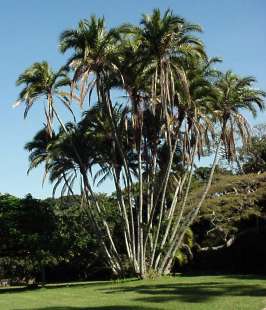 Description
Description
Phoenix reclinata can reach up to 12 m but is most often between 3 and 6 m. It may be either single or multi-stemmed, sometimes forming a dense, bushy clump. The leaves are arching, bright green fronds and form crowns at the top of the stems. The old fronds remain on the tree and become 'petticoats' as they hang straight down beneath the crown. The flowers appear during August, September and October. Male and female plants are separate. The inflorescences form attractive yellow sprays. Male flowers produce masses of pollen which is released in clouds. The orange-brown fruits are borne during February, March and April. They are oval in shape and smaller than the commercial date. It is a protected tree in South Africa.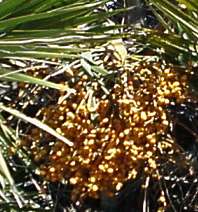 Conservation Status
Status
Distribution and habitat
Distribution description
The wild date palm grows naturally from the Eastern Cape extending as far north as Egypt. Its natural habitat is riverbanks and swamps, although it is occasionally found in grasslands if the water table is high enough. The roots are usually in water, therefore it would be tolerant of waterlogged conditions in cultivation. It will also take light frost but this will most likely affect the ultimate shape, making the palm dense and bushy rather than tall and elegant.
Derivation of name and historical aspects
History
Phoenix is the Greek name for the date palm and reclinata is Latin for bending down, and refers to the arching fronds. The wild date palm is a relative of the commercial date palm, P. dactylifera which probably originates in North Africa and the Arabian Peninsula. The Canary Island palm (P. canariensis) is often seen in older gardens in South Africa, and the dwarf date palm (P. roebelenii from Laos in the Far East) is grown as a container plant. Phoenix palms characteristically have sharp spines on the basal portion of the fronds. These are leaflets which have changed, taking on a protective function.
Ecology
Ecology
Birds, monkeys and baboons eat the ripe fruit. Bushpig, nyala and bushbuck feed on fallen fruit. This is possibly a means of seed dispersal. The leaves are eaten by the palm-tree nightfighter butterfly caterpillar.
Uses
Use
The leaves of Phoenix reclinata are used to make mats, baskets and hats. Brooms for sweeping around rural dwellings are made from the dried inflorescences. The midrib of the frond is used to construct fish enclosures (kraals). Palm wine is made from the sap. The heart of the crown is sometimes eaten by people. Children enjoy the gum produced by the roots. Special skirts made from the leaves are worn by Xhosa boys when undergoing their initiation rites. The fruits are edible and apparently taste quite similar to the commercial date. The spines apparently have traditional medicinal use.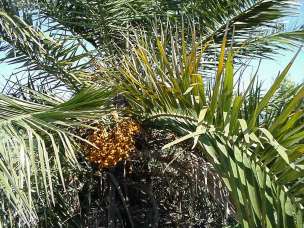 Growing Phoenix reclinata
Grow
This palm could be used as a specimen tree in a large garden with sweeping lawns. It may also form part of a dense wildlife garden planting. When fruiting, it will attract birds and other animals if they are in the vicinity. In smaller gardens ensure that the plant is given sufficient space to spread. When young it could be used as a container plant. As mentioned before, the wild date will tolerate light frost and waterlogged conditions. In colder areas the young plants will need protection from frost for the first few seasons.
For propagation by seed, mature fruit should be selected and all the pulp removed. Sow in a mix of river sand and compost. The seeds can either be pressed gently into the medium or covered lightly. Do not allow the medium to dry out. Germination should begin after about a month. Transplanting can be carried out when the first leaf is 50 mm long. Young plants grow quite slowly and will need slow release fertilizer in the growth medium. For vegetative propagation, suckers from an adult plant can also be removed and planted.
The wild date is best planted in full sun but does grow in light shade. The growth rate is variable, depending on a good water supply which will also probably affect the ultimate size and shape of the palm.
References
Coates Palgrave, M. 2002. Keith Coates Palgrave Trees of southern Africa, edn 3. Struik, Cape Town.
Ellison, D. & Ellison, A. 2001. Cultivated palms of the world. Briza Publications, Pretoria
Joffe, P. 2001. Creative gardening with indigenous plants. A South African guide. Briza Publications, Pretoria.
Palmer, E. & Pitman, N. 1972. Trees of southern Africa, vol. 1. Balkema, Cape Town.
Schmidt, E., Lötter, M. et al. 2002. Trees and shrubs of Mpumalanga and Kruger National Park. Jacana, Johannesburg.
Venter, F. & Venter, J-A. 1996. Making the most of indigenous trees. Briza Publications, Pretoria.
Credits
Alice Aubrey
Walter Sisulu National Botanical Garden
October 2004
Plant Attributes:
Plant Type: Tree
SA Distribution: Eastern Cape, KwaZulu-Natal, Limpopo, Mpumalanga
Soil type: Loam
Flowering season: Early Summer, Late Summer
PH: Neutral
Flower colour: Cream
Aspect: Full Sun
Gardening skill: Average
Special Features:
Attracts birds
Attracts butterflies
Feature plant
Good potplant
Edible plant
Useful plant
Feeds honeybees
Wet sites
Horticultural zones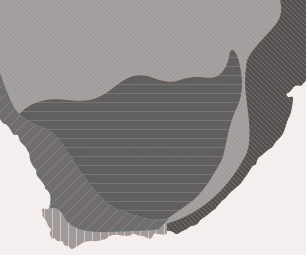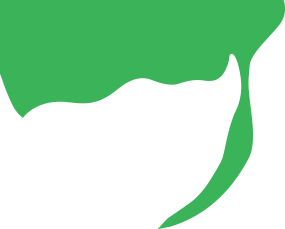 Zone 1 Coastal summer rainfall, frost free
Zone 2 Coastal winter rainfall, frost free
Zone 5 Bushveld summer rainfall, Light frost
Google QR Code Generator