Phymaspermum appressum Bolus
Family: Asteraceae
Common names: none
Introduction
Phymaspermum appressum is a drought resistant, Cape daisy shrub with striking white, fading to pink and finally purple, flowers.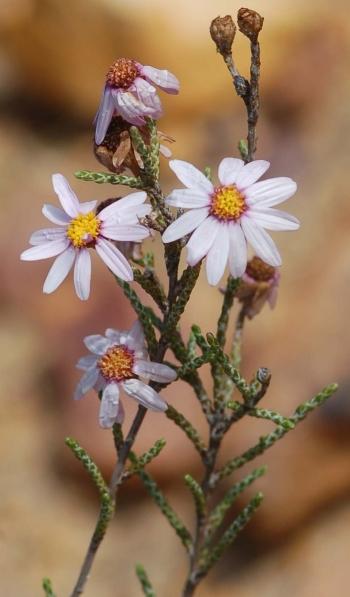 Description
Description
Much-branched, minute-leaved shrub, up to 1 m tall. Leaves are alternate, undivided, appressed; leaf blades scale-like, 1–3 mm long. Flower heads radiate, white fading to pinkish purple, with the central disc yellow. Flower heads solitary or sometimes in small groups of up to 4. Involucral bracts with papery margins and tightly arranged in 3 series. Outer ray florets 11 to 14, white, fading to pink and finally purple, apically 3-dentate, rarely entire. Central disc florets are yellow, 5-lobed. Fruit narrowly obovate, 12-ribbed, light brown, with prominent stalked glands between the ribs; pappus absent; fruit becoming sticky when wet. The species flowers throughout the year, although mostly in late winter to early summer.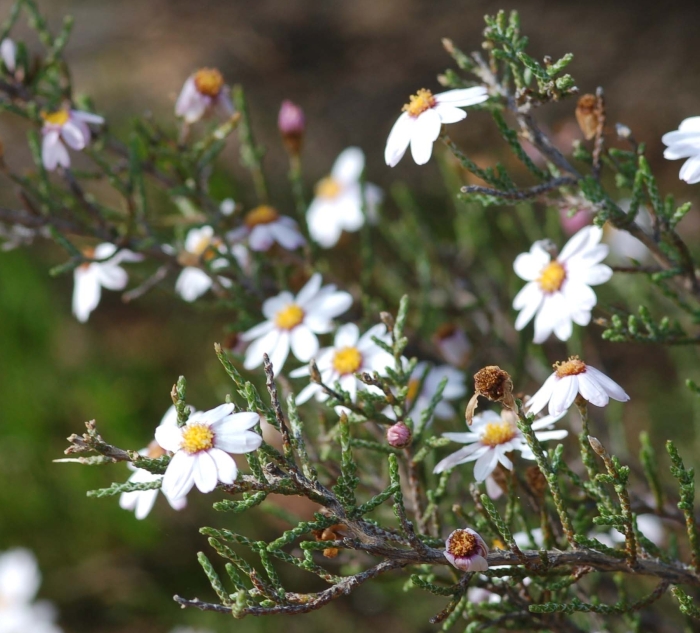 Conservation Status
Status
Although Phymaspermum appressum has a fairly limited distribution, it is sporadically common where it occurs and its montane habitat is currently not threatened. As a result it is listed as Least Concern (Raimondo et al. 2009).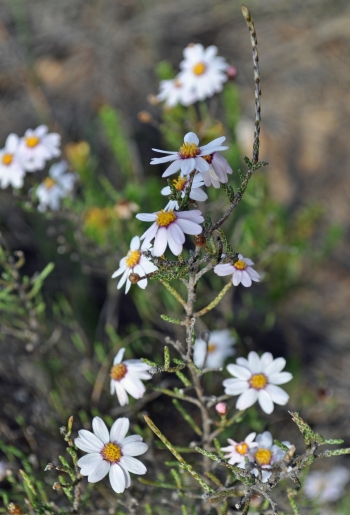 Distribution and habitat
Distribution description
Phymaspermum appressum is endemic to Arid Protea Fynbos in the Little Karoo region of the Western Cape (Vlok & Schutte-Vlok 2010). The species is montane and occurs in rocky sandy soils on sandstone slopes and ridges above 940 m, from Anysberg to the Witteberg (Ruiters et al. 2016).
Derivation of name and historical aspects
History
Phymaspermum appressum was described by Dr Harry Bolus in 1906. The generic name Phymaspermum refers to the glandular fruit, one of the diagnostic characters for this genus, and the specific name appressum, to the leaves which are tightly pressed to the stem in this species.
Ecology
Ecology
The small leathery leaves, tightly pressed to the stems in this species, are adaptations to the harsh arid conditions in which it occurs. The Arid Protea Fynbos vegetation in which P. appressum is restricted, receives a fairly low annual rainfall (300–400 mm) and extreme seasonal temperatures, from cold conditions in winter to very hot conditions throughout summer (Vlok & Schutte-Vlok 2010).
The fruit of Phymaspermum have stalked glands between the ribs which rupture when they come into contact with water, to release a sticky gelatinous substance that possibly helps to glue the fruit to the soil (Källersjö 1986; Ruiters et al. 2016). Phymaspermum is the only genus within the tribe Anthemideae that have these stalked glands on the fruit (although this character has been lost in 2 of the summer rainfall species, P. acerosum and P. pinnatifidum).
Uses
Use
Growing Phymaspermum appressum
Grow
As with Phymaspermum acerosum, this species can be propagated by sowing seed in spring or autumn, or by cuttings taken once the plants have finished flowering. The cuttings should be dipped into a rooting hormone and planted in a light, well-drained medium, with bottom heating and regular misting.
The plants are hardy, drought resistant perennial shrubs which flower throughout much of the year. It is particularly striking because the flowers change from white to pink and finally light purple as they age. As a result, at any one time different shaded flowers can be found on the same plant. Phymaspermum appressum is best grown in full sun and well-drained soil and watered in winter and spring.
References
Källersjö, M. 1986. Fruit structure and generic delimitation of Athanasia (Asteraceae–-Anthemideae) and related South African genera. Nordic Journal of Botany 5: 527–542.
Raimondo, D. et al. 2009. Red list of South African plants. Strelitzia 25. SANBI (South African National Biodiversity Institute), Pretoria.
Ruiters, A.K., Tilney, P.M., Van Wyk, B-E., Magee, A.R. 2016. Taxonomy of the genus Phymaspermum (Asteraceae, Anthemideae). Systematic Botany 41(2): 430–456.
Vlok, J. & Schutte-Vlok, A. 2010. Plants of the Klein Karoo. Umdaus Press, Hatfield, Pretoria.
Credits
Anthony R. Magee
Compton Herbarium
March 2019
Plant Attributes:
Plant Type: Shrub
SA Distribution: Western Cape
Soil type: Sandy, Loam
Flowering season: Sporadic/All year
PH: Acid, Neutral
Flower colour: White, Mauve/Lilac
Aspect: Full Sun
Gardening skill: Challenging
Special Features:
Attracts butterflies
Drought resistant
Feeds honeybees
Horticultural zones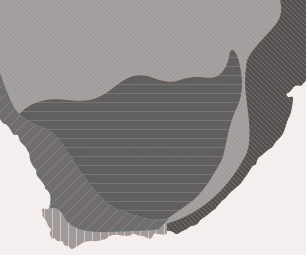 Zone 2 Coastal winter rainfall, frost free
Zone 3 Winter rainfall Karoo, light frost
Google QR Code Generator