Plants of the Week Advanced Search
Search results for "Lobelia" (displaying 6 of 6 on page 1)
Refine your search
Sort by date added
Sort Alphabetically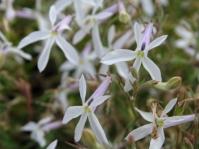 Common names:
rock lobelia
... Porter National Botanical Garden April 2018 Lobelia pubescens is a low-growing, soft, sprawling, herbaceous perennial, ... have blue or white markings respectively. Lobelia pubescens grows in sunny to semi-shaded areas, on rocky slopes and ...
16 / 04 / 2018 | Karen Wall | Harold Porter NBG
Read More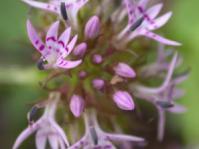 Common names:
No well known common name.
... Plants have been recorded resprouting after fire. Lobelia Lobelia jasionoides is ideal for areas where really low growing ground ...
11 / 11 / 2013 | Jane Forrester | Harold Porter NBG
Read More
Common names:
angled lobelia, swamp lobelia
... National Botanical Garden May 2011 Lobelia anceps is a variable sprawling herbaceous perennial groundcover with ... and are presumably the pollinators of this species. Lobelia As this lobelia grows so easily from cuttings we, in the Harold ...
23 / 05 / 2011 | Jane Forrester | Harold Porter NBG
Read More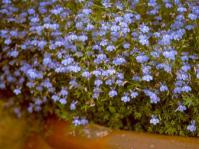 Common names:
Waterberg lobelia
... are some species with mauve, white or pink flowers. Lobelia aquaemontis is a small perennial, and it forms soft, bushy mounds, ... displayed at the tips of the thin stems. Lobelia aquaemontis occurs naturally in the northern part South Africa, ...
02 / 04 / 2007 | Liesl Van der Walt | Kirstenbosch NBG
Read More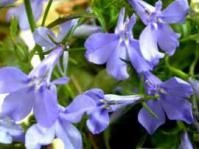 ... as carpels. The fruit is a dehiscent capsule. Lobelia, comprising more than 360 species, has a cosmopolitan distribution, ... damp, coastal mountain slopes and forest floors. Lobelia flowers achieve cross-pollination by being protandrous (male ...
29 / 11 / 2004 | C Cupido | Compton Herbarium
Read More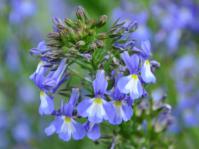 Common names:
limestone lobelia, galjoen flower (Eng.); galjoenblom (Afr.)
... are flat and soft with coarsely toothed edges. Lobelia valida has deep blue flowers throughout summer.  It is a superb ... flowers, crowded at the tops of the branches, are typical of lobelia. Looking closely, one will see the flowers are two-lipped. The upper ...
06 / 11 / 2000 | Liesl Van der Walt | Kirstenbosch NBG
Read More