Plants of the Week Advanced Search
Search results for "Pavonia" (displaying 2 of 2 on page 1)
Refine your search
Sort by date added
Sort Alphabetically
Common names:
pink pavonia (Eng.); indole ebomvu (isiZulu).
... Ashton Welcome National Herbarium, Pretoria July 2021 Pavonia columella has a woody rootstock from which upright ... part of the stalk being closest to the flower base. Pavonia columella flowers throughout the year. The flowers ... The fruit and epicalyx bracts can be used to distinguish Pavonia columella from P. senegalensis and P. burchellii ...
05 / 07 / 2021 | Ashton Welcome | National Herbarium Pretoria
Read More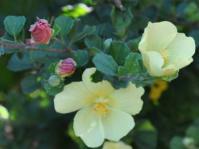 Common names:
yellow mallow
... insects, which in turn will attract insectivorous birds. Pavonia Use as a decorative garden plant. It is a rewarding ... season with an organic or inorganic fertiliser. The genus, Pavonia , is named in honor of J.Pavon, a Spanish botanist in ... refers to the appearance of the leaf tips. The genus Pavonia has ± 150 species, widespread in tropics and ...
06 / 04 / 2015 | Cherise Viljoen | Kirstenbosch NBG
Read More